PowerBar® Plant Protein Bars
New PowerBar® Plant Protein Bars are the first plant-based snack bar released by the brand as part of its Clean Start™, which is an ongoing effort to evolve the product portfolio with cleaner ingredient labels and great tasting

products. These bars are a delicious, flavorful and better tasting option not typically seen in the plant protein category. With no artificial flavors, colors or sweeteners, the bars' high-quality protein comes from simple ingredients like cashews, almonds or peanuts (depending on the flavor), pea protein crisps and rice protein crisps. Photosynthesis meets deliciousness. The bars are Non-GMO Project Verified and come in three flavors: Dark Chocolate Almond & Sea Salt, Dark Chocolate Peanut Butter and Dark Chocolate Salted Caramel Cashew.
Black Diamond ReVolt Headlamp

A revolutionary waterproof and USB-rechargeable headlamp that also runs on standard AAA batteries, the Revolt is a full-featured, hybrid-power headlamp that dolls out a whopping 300 lumens of light. Now fully redesigned to be completely waterproof, the ReVolt is adaptable for any nighttime mission. The proximity lighting gives you a large area of light for running or hiking down the trail delivering superior pathfinding performance. Programmable Brightness Memory gives you the option to set the light's brightness when first turned on. A three-level power meter keeps you from ever being surprised by dead batteries, and the ReVolt can run on standard AAA batteries in addition to the included rechargeable batteries. Settings include full strength in proximity and distance modes, dimming, strobe, red night-vision and lock mode.
Feetures! Elite Merino+ Cushion Quarter
Moisture management and blister control are key factors to look for in a good trail running sock. A serious trail run is going to test your feet so prepare yourself with the Elite Merino+ Cushion Quarter. These socks use a unique blend of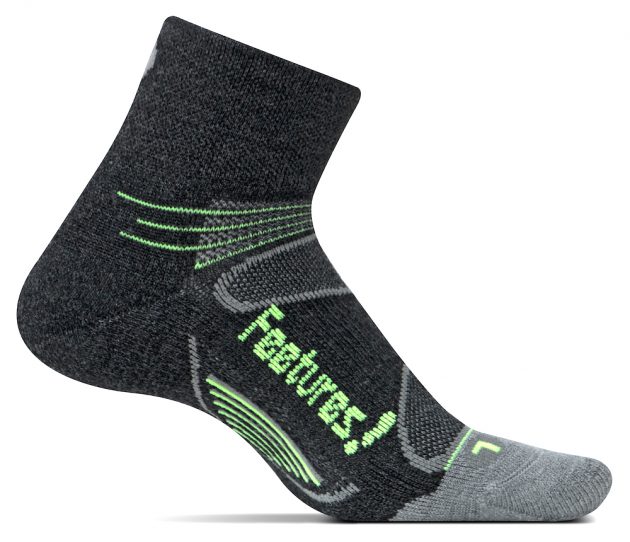 super fine Merino wool and silky soft rayon from bamboo which provide truly unsurpassed comfort. They insulate when wet, keeping feet warm in cool, damp conditions while the Merino+ fibers wick moisture to help keep your feet dry. Patented Sock-Lock Technology provides targeted compression where it's needed most and high density cushioning provides extra protection in high impact areas. The anatomical design of these socks enhances fit and delivers maximum comfort and protection by eliminating blisters. Available in Feetures! "no-show" tab, we prefer the quarter height which hits just above the ankle to keep out debris.