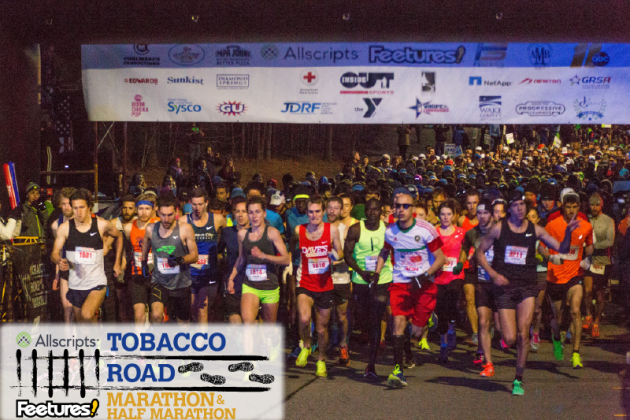 The Allscripts Tobacco Road Marathon (TRM) is the Triangle's only spring marathon. The Cary, North Carolina marathon is the largest in the state with over 1,000 runners, 18 percent of which qualify for the Boston Marathon – and receive a commemorative tee! Combined with the Feetures! Half Marathon, over 4,000 runners will be on hand on race day, March 18, 2018. Use the discount code, BlackFriday to save $10 on your registration!
The weekend event is organized by a non-profit (501c3) organization dedicated with its sponsors to providing financial assistance to partner charities by channeling the passions of runners into a powerful force for good. In 2014 Runner's World Magazine named TRM one of America's best new marathons.
An all-volunteer staff donates 100 percent of proceeds to charity. Premier charities are JDRF, the American Red Cross, Hope For The Warriors, and the Triangle Rails-to-Trails Conservancy. Charitable contributions exceeded three quarters of a million dollars in 2017.
Both the Allscripts Tobacco Road Marathon and the Feetures! Half Marathon courses are USA Track & Field (USATF) certified. They share the same road for approximately two miles, with the full marathon turning north upon entry to the American Tobacco Trail (ATT) and the half going south. The races begin at 7:00AM and the course closes at 2:00PM.
The marathon features over 20 miles of the shady pine tree-lined ATT course, which is flat and fast with a downhill finish. All runners find that the granite-screen cushioned course and ideal March temperatures (averaging 51 F degrees) great for setting personal records. There's even a bell for you to ring and celebrate at the end. Both races start and finish at the USA Baseball/Thomas Brooks Park.
The weekend is supported by a two-day award-winning expo at Cary's Embassy Suites as well as a post race party recognized as one of the best anywhere. In addition to an array of Sunkist fruits, the party provides Papa John's Pizza, Great Harvest Bread, and craft beer from Appalachian Mountain Brewery. You can enjoy all this while taking in outstanding live music and awards presentations.
The TRM Half Marathon always sells out and registrations have never been more brisk for the marathon because it is the only chance for runners to compete in the ideal running conditions of a North Carolina spring.
Use our discount code BlackFriday to make sure you have a place at the TRM starting line March 18!