By Thomas Henson
Riding a bike achieves a feeling of freedom like no other, but safety comes first when I am on my bike, whether I am riding with others on a group ride or just on a long ride by myself. Keeping yourself safe on the road can be a lot easier when you have the right equipment, and the ever-changing technology in the cycling world always leads to exciting new gear that can achieve that purpose. What follows are a few of my favorite safety cycling items to keep in mind as we approach the 2018 cycling season.
Lighting Systems
Garmin Varia Rearview Radar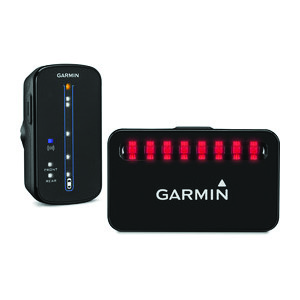 Those of you who have read my previous columns know that I like to be lit up like a Christmas tree when I am cycling on the road, regardless of the giggles my look can sometimes generate. Getting hit from behind is the primary danger for cyclists, and the Garmin Varia Rearview Radar can protect against that.
There are two pieces to the system: 1) the radar light, which attaches to your seat post facing behind you; and 2) the computer head, which attaches to your handlebars. The radar unit senses when cars are approaching from behind for a distance of up to 150 yards, and wirelessly transmits this information to the front unit, where a light system will alert you to the presence and number of oncoming vehicles. As the car gets closer, the rear unit begins to flash faster and brighter to warn the vehicle that there is a bike ahead while the front display shows you the approach. The radar is tuned so that only large, fast-moving objects are registered; you won't get false alerts if you're riding in a pack of other cyclists. The Varia Rearview Radar can also link up with the Garmin Edge 1000 computer, so you won't need two displays on your handlebars.
$199.99 for the radar unit alone www.garmin.com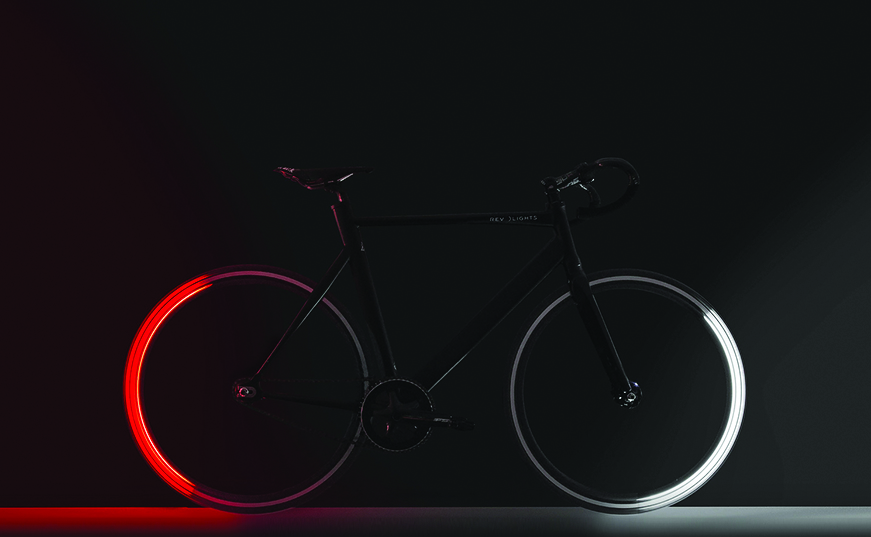 Revolights Eclipse
Next on my list for lighting is the groundbreaking Revolights Eclipse. Voted "Best Bike Lighting System" by Men's Journal Magazine, Revolights is a set of wheel-mounted LED's that creates maximum visibility when the lights are spinning with the wheels. The system includes a Smart brake light and functional headlight, such that the rider is visible from 360 degrees and all angles of approach.
$249.00 www.revolights.com

Zackees LED Turn Signal Gloves
Another great idea that matches movement with light comes from Zackees and their LED Turn Signal Gloves. These riding gloves have built-in blinkers that can really capture an oncoming driver's attention when you use hand signals for turning. With a 54 Lumen LED panel, activation plates and a rechargeable Coincell battery, you can rest assured you will always be able to attract attention.
$55.00 www.zackees.com
Bontrager Flare R Tail Light
The Bontrager Flare R Tail Light is a great rear light that covers all the basics. This gives you 270-degree visibility by sending out a focused, direct beam that can be seen from 2 kilometers away. You will be seen! It can be adjusted for day or night riding (the daytime light is brighter than the nighttime light), and strobe or solid beam. It can be attached anywhere via brackets or clip, and is USB rechargeable.
$59.99 www.trekbikes.com
Fly6 – Tail Light with HD Camera
The Fly6 combines a light with an HD camera that remembers everything that happens to your rear. As I mentioned in my last column, this evidence is crucial for insurance and litigation purposes in the event a rider gets hit from behind but there are no witnesses. The 7-hour battery life and smart looping video helps as well.
$179.00 www.cycliq.com
Sigma Rear Brake Light
This is such a simple safety product that you'll wonder how you ever lived without it. Just clip the light onto your bike's rear brake caliper, and it lights up whenever you apply the brakes to slow down. It's designed for communicating with cyclists behind you to prevent unintended pile-ups. Great for kids, commuters, and group rides as well.
$9.99 www.sigmasportstore.com
Helmets
A large focus of my practice as a personal injury lawyer involves representing cyclists who have sustained concussions and other significant head injuries in bike crashes. Not surprisingly, I am a stickler for helmets. I am amazed how often I see riders without a helmet, and seeing kids without a helmet is especially upsetting. In today's world of advanced helmet technology, I can think of no reason to expose your brain to unnecessary injury.

Giro Savant/Sonnet MIPS Helmet
My favorite brain injury protection system is the Giro Savant/Sonnet MIPS Helmet. MIPS means "Multi-directional Impact Protection System," a technology that lessens rotational forces during impact. These helmets are designed with a sliding layer to reduce the effects of a direct slam to the head, helping to protect the brain in the event of an accident. The Savant (for men) and Sonnet (for women) meet or exceed all other helmet safety standards.
$120.00 www.giro.com
LIVALL BH62 Smart Safety Cycling Helmet
Another incredible option is the LIVALL BH62 Smart Safety Cycling Helmet. The BH62 provides multiple safety features including smart bike lights, SOS warning alert, and communication. The smart lighting system contains 6 red safety lights in the rear of the helmet for safety and visibility. Plus, this amazing helmet has 8 LED lights that serve as direction indicators, which are controlled by the amusingly named Bling Jet Controller. You can also pretend to be in the Tour de France with the built in walkie-talkie, allowing you to communicate with your co-riders just like the pro teams do.
$169.00 www.livall.com
Clothing
Swiftwick Aspire Four Socks
Compression socks may not be the sexiest new item this year, but day-to-day, they may be the most life changing. Swiftwick Aspire Four socks have extreme moisture-wicking capability, without suffocating your skin. The Managed Compression system prevents bunching up, even in the toe box. Look for them in Hi-Vis Yellow for added safety. Swiftwick is so sure their socks are the best they guarantee to replace them—even with a competitor's product—if you're unhappy with their performance.
$17.99 www.swiftwick.com
Other Favorites
ICEdot Crash Sensor
Obviously we want to prevent crashes. But, if it happens, your first priority is to make sure others know if you need help. The ICEdot Crash Sensor can provide peace of mind for your loved ones who want to know you are okay, especially if you are riding alone. The ICEdot attaches to your helmet and senses if there is an impact which could result in injury. Its first step is to contact your smartphone and sound an alert. But, if the alert is not silenced then your predetermined emergency contacts are notified of your location. The battery life is unprecedented, 20 hours in use and 30 hours in standby mode.
$99.00 www.icedot.org
Road ID Wrist ID Sport
Wrist ID bracelets have been around for a while, but the Road ID Wrist ID Sport is the gold standard in ID bracelets. The stainless steel ID portion still fits 6 lines of laser-cut information, and you can add an emergency online profile.
$24.99 www.roadid.com
Our bikes are our connection to good fun, good health, and good friends. Let's make cycling injuries and crashes a thing of the past, and all ride safely.
I'll see you on the road!
---
Thomas Henson Jr. is an avid cyclist, and finds much happiness in bike rides with his family and friends. He leads the complex injury litigation department of HensonFuerst Attorneys. He can be contacted at ThomasHenson@lawmed.com.