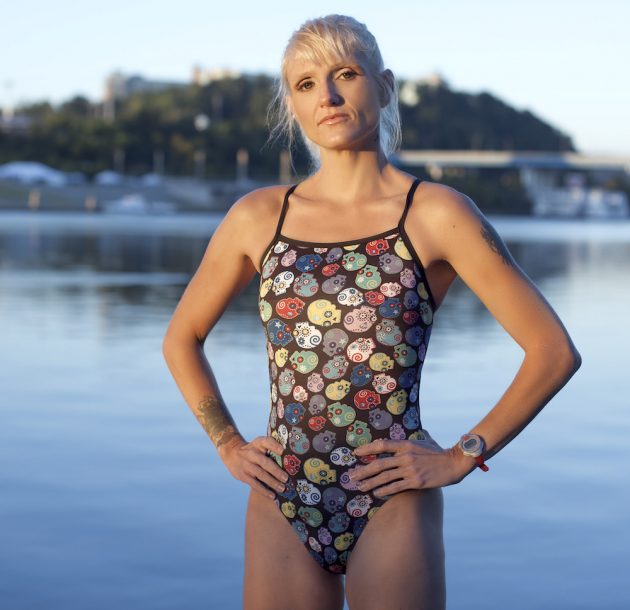 <Photos Credited to Julie Berry>
By Dana MacCorquodale
Have you ever wanted something so badly that you were willing to give up sleep to achieve your goal? TIDE Swimming's very own Lauren Breuer is exactly that kind of athlete!
A proud member of the United States Navy, Lauren would often come to evening TIDE Masters swim practice then work all night and come back to early morning swim practice before grabbing a bagel then going home to bed.
TIDE Coach Kristian Ramkvist says, "Lauren is the type of athlete you want in your group. Dedicated, positive and welcoming. Even after a full night of work, Lauren will come to practice with a smile on her face. She always has the intention to work hard and make the best of her time in the pool." 
Lauren's reputation preceded her when I stepped onto the deck of TIDE Swimming's new Olympic size pool at the Princess Anne Family YMCA. Several swimmers told me about this amazing Navy swimmer who swam for us. I knew who she was as soon as I saw her swim. I also knew immediately that she was an incredible swimmer with a powerful, efficient stroke, and a distance swimmers tell-tale two beat kick. What I had yet to learn was that Lauren is also one of the most positive and humble people I've ever met. She loves to train, loves to swim, and loves to win; the trifecta that leads a swimmer to excellence.
Lauren grew up in Hudsonville, Michigan. She began swimming at the age of five, spurred on by two older siblings already on the swim team. Lauren struck a deal with her parents that she would join the team with the caveat that she would be allowed to stop swimming whenever she wanted and she could hang on the lane lines at practice when she got tired. To this day, Lauren has not stopped nor has she had to cling to the lane lines. Lauren fell in love with the water and it remains an integral part of her life to this day.  "Swimming keeps me sane!" Lauren says.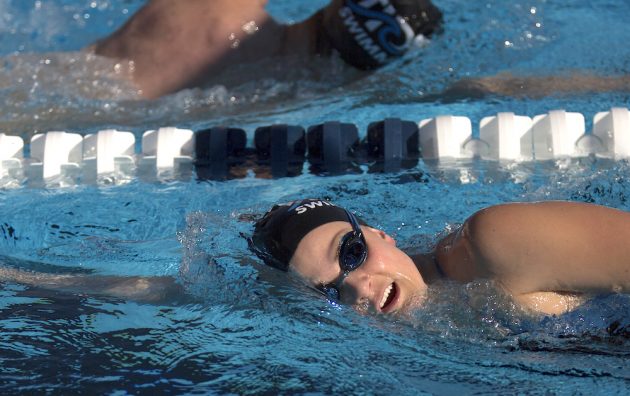 She swam year-round on the Hudsonville Eagles Aquatics Team where she excelled in freestyle and backstroke. In high school she continued swimming, earning too many commendations to count! She was all state, all conference, and all region. She went to junior nationals & senior nationals, and earned a varsity letter all 4 years of high school in water polo and swimming. She still holds six HHS records. Lauren prides herself in her ability to "break down walls" with her swims stating that "it's all mental".
After high school, Lauren attended the United States Naval Academy, where she swam all four years. She was team captain her senior year, earned four varsity letters, and broke the 200-yard backstroke record. Lauren graduated in 2014 with a BS in Oceanography. Her love of the water spills into every aspect of her life as she studied fluid dynamics, wave propagation and ocean parameters for four years!
Lauren began searching for a Masters team to swim with upon graduation but found there was nothing out there for a former collegiate swimmer who still had the desire to swim and compete. TIDE Swimming began its Masters swim program and Lauren joined, excited to be back on a team and back in the water. TIDE's Masters program continues to grow. The new extended practice schedule allows Masters swimmers the choice of 13 practices weekly. When the weather warms up, we begin a new open water swimming program offering two different open water swims weekly.
Lauren will be competing in the Swim RVA Peluso Open Water Swim Series. There are three races located around Richmond. The RVA Mile(s) 2 or 1-mile swim on June 17, the DownRiver Rip 4.4 or 2.5-mile down river swim on August 19, and To The Bridge & Back 10-, 5- or 2.4-mile swims. Lauren will complete the series building up to the 10-mile swim in October.
Let's get behind Lauren as she represents the United States Navy and TIDE Swimming this summer during her open water endeavors! She will make her country and her team proud. Lauren is an exceptional person in every possible way and it is an honor to coach her. 
Lauren would like to thank her husband James for his love and support! He is currently in medical school; after graduation he will be in the US Navy Medical Corps. Thank you James for supporting Lauren as she spends so much time in the pool!
# # #
Dana MacCorquodale is the Head Masters & Open Water Swim Coach at TIDE Swimming in Virginia Beach and also a top 10% Ironman Finisher, marathon open water swimmer & ultra runner.