Sarah Brown of Warrenton, Virginia, started running when she was 12 years old. Last year, at age 29, she trained for and competed in the U.S. Olympic Track & Field Trials. Earlier in the year, she was also training for a different title— "Mom".
Going Downhill Fast
Brown runs the 800 and 1500-meter races. In 2015, she was having one of the best seasons of her life.
"I was running my personal best," Brown said. "At my age, it's really rewarding when you reach your personal best and continue to do so." Her husband, Darren, coaches her. "We were really excited for what the future would hold for me, and then things went downhill— fast."
Suddenly, Brown could barely run at her previous level. "I felt like I was running through sand and I was so tired and we couldn't figure it out." After running several races like that, she wasn't enjoying running anymore and decided she should meet with her primary care physician to have blood work done.
That evening, she received a call from her physician. He asked Brown if she was sitting down and then told her she was pregnant. Brown's pregnancy came as a shock, as she had an intrauterine device, but she took the news in stride.
A New Way to Train
Although the pregnancy was a surprise, Brown knew her body was in the best shape of her life and wanted to continue training for the Olympics.
"We found a physician who was super supportive and understanding," Brown said. "He listened to me as an individual and recognized that everyone's body is different."
Brown and her husband, along with the help of her physician, came up with a new training plan.
"I cross-trained and did a lot of swimming because my muscle spasms were so bad," Brown said. "At one point, I cut out running and worked out using the methods of training I could do." She learned to adapt her training plan as needed.
"As an athlete, you are so in tune to your body," Brown said. "When you throw pregnancy in the mix, everything you know changes."
Welcoming a New Baby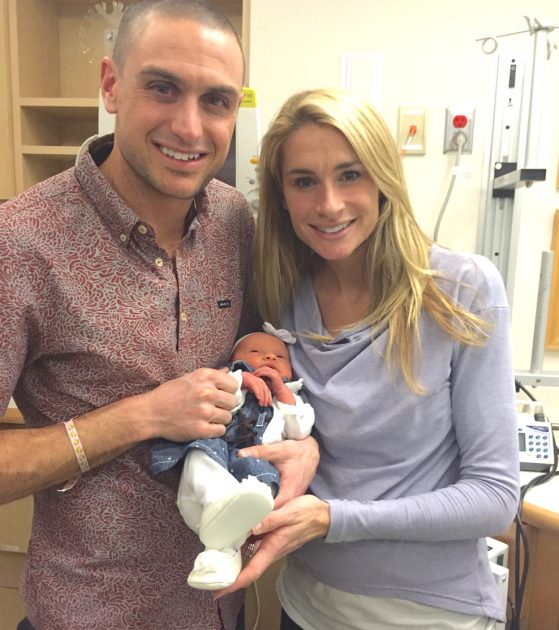 In March of 2016, Brown developed a fever and went to see her provider. It was time. Her physician immediately sent her over to labor and delivery at Novant Health UVA Health System Prince William Medical Center.
"When I went for my appointment that day, I wasn't expecting to stay at the hospital," Brown said. "My water was leaking so I had to be admitted. Luckily we had great doctors and nurses taking care of us and we felt really comfortable even in a situation where everything was unknown."
Abigail Ann Brown was born March 4, weighing 5 pounds, 15 ounces and measured 19 inches long.
Two weeks later, Brown started running again.
"There were a lot of strength deficiencies that I had to work through to offset some of the imbalances and to get my core back," Brown said. "It felt good to get back out there."
Although Brown did not qualify for the Olympics, she persevered toward her goal under extraordinary circumstances. In an Instagram post after the trials, Brown wrote, "This journey never really was about an ending, it's a beginning. A new chapter as a family of three." Her favorite part of motherhood has been the way it changed her.
"I can sit and hold her and feel so at ease and ignore everything else," Brown said. "I am so in tune to this little person and making her happy that I forget about myself. She is a way for me to slow down and enjoy the moment."