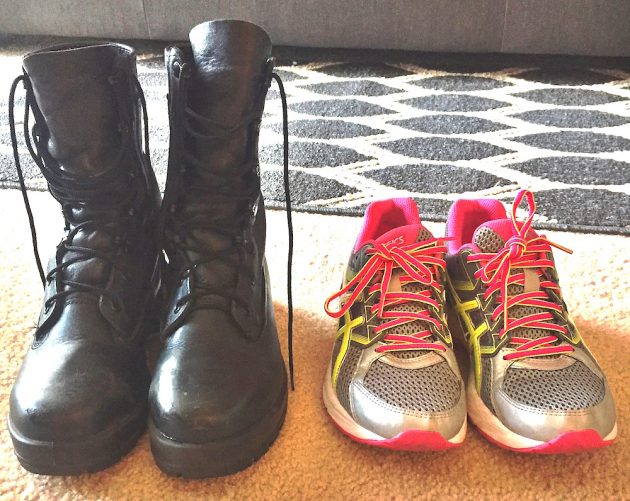 By Dana Ayers
I've learned it's important to have a little stockpile of reasons to go for a run just sitting around in case of emergency. I can pull from those on days when my brain asks "Why are we doing this? Why are we voluntarily sweating instead of eating cheese and watching Dance Moms?"
I run for the free therapy because running clears my head. I run to stay healthy or to be social. I run because sometimes there are shirtless men on the trail and somebody has to stare at them.
This year, however, I have a new reason— I'm about to deploy with the military for the first time and I want to make sure I'm not completely out of shape when I leave.
It's not like I'm going to be kicking in doors or running for cover under gunfire every day. I'm not slated to conduct rescue operations hanging out of helicopter, or to fix broken down armored vehicles. I can only imagine if I was ever asked to fix a vehicle! I'd probably rely on the sage wisdom of an old friend. She joined the Army "on a whim" and "randomly" signed up to be a mechanic and decided her tactic would be "hit the parts until they fit, then paint them to match." She was joking. I hope.
Honestly, though, even though I'm not going to be doing those physically demanding, commando type roles, just thinking about the people with those jobs makes me want to run more. I feel like I don't deserve to be lazy when people out there, some of which I'll be surrounded by overseas, are doing dangerous, difficult jobs and not complaining about it.
My old marathon coach once posted on Facebook after a morning run in D.C. that she passed a group of soldiers running together and it struck her that she was merely running to stay in shape but they were running to maintain fitness enough to keep themselves alive in combat. That always stuck with me and I think about it when I want to quit my runs. It fires me up to push more, like I should be grateful I'm only running for recreation— not for my life.
So one reason I'm running these days is in gratitude for the people doing jobs harder than mine. Another reason I'm hitting the trail more is simply because I can. I realized I'm able to run outside, without fear, in good air quality, any time I want. I'm not sure I'll be able to do that overseas— I may be stuck on the "dread mill" indoors— so I want to enjoy this freedom while I can and not take it for granted.
This deployment is also making me run more for pure pride and personal accountability. I never want to be "that girl" that shows up not able to lug her own gear, or keep up. I don't want to be laughed at, or seen as a burden. So I'm running more to try to be ready for whatever I might face (and because I'll probably break down in tears multiple times at the loss of Starbucks in my life, so I don't need people judging me for that and being out of shape.) 
And finally, I'm running more because selfishly I want to be able to take part in some of the fun "shadow runs" that troops do while deployed where service members overseas run the length of a popular race back in the States in solidarity, like the Army Ten Miler or the Marine Corps Marathon. I have terrible FOMO (fear of missing out) so if there's going to be a fun run, I'm going to be a part of it.
Yes, I'll still be slow—  I wrote a book about being slow, it's just part of my identity now— but hopefully by pushing myself a little more now, I'll at least be able to not totally embarrass myself or my fellow back-of-the-packers while I'm over there. Wish me luck.
# # #
Dana Ayers is the author of the #1 Best Seller "Confessions of an Unlikely Runner (A Guide to Racing and Obstacle Courses for the Averagely Fit and Halfway Dedicated)." Dana accidentally became a runner over 10 years ago and has logged a vast array of average finish times since. She is a former White House staffer, and current military reservist.