By Joe Nuss
I have always been a fan of cushioned running shoes, even throughout the minimalist era. I love the plush feel of New Balance's fresh foam line of shoes— a bit more cushioning than traditional cushioned shoes but, not over-the-top Hoka-inspired cushioning— and have run mostly in fresh foam shoes for a few years. This year, however, I wanted to switch things up so I decided to try New Balance's Vazee 2090. While I don't believe a well-cushioned shoe hinders speed as I have heard some runners complain I do believe that less cushioning "feels" faster and at my age, I need all the help I can get— a well-designed shoe, perceived speed, whatever. But, at the same time, I still have no desire to go minimalist or zero-drop. So, the Vazee 2090 seemed like a good bet, not too mention that it is also a less than 10 ounce shoe and features a moderate 6mm drop.

Right of the bat, I could tell the ride quality of the 2090 was firm as I expected.  The N2 infused midsole offered a mild responsive feel and the Revlite foam was quite firm. It delivered a certain amount of "rebound" during my foot strike that seemed to be missing from more cushioned shoes, which to me, translated into that faster "feel". While the 2090 is certainly firm, the N2 still provides a bit of additional cushioning, and that is further helped by the outsole design. The pod-like structure makes the outsole more pliable, which helps deliver just enough cushioning without sacrificing a feel for the road. Essentially, the pods are used to act as a means for the runner to spring their feet forward during toe-off. Overall, I felt the cushioning was lightweight and responsive with a springy mid-sole which seemed to keep my feet moving at a quick pace suited for racing.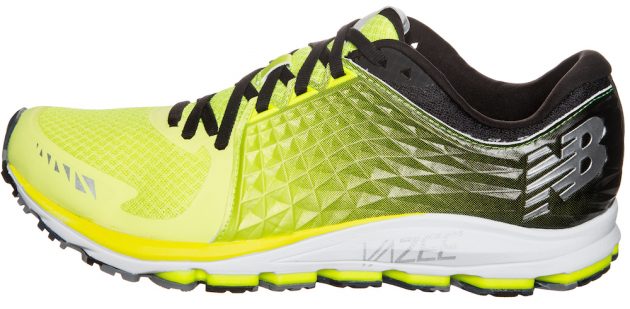 In terms of visual appearance, I chose the bright yellow option as it matches a couple of bright yellow technical runnings shirts I own. Incidentally, an extra bonus of this color choice is that I actually got a few compliments from my kids for wearing matching running shoes and clothes for the first time ever. The forefoot of the 2090 is made of a soft mesh covered with a welded toe-cap, which is important to me as the shoes I've owned without one, tended to wear through right above my big toe. The mid and rear foot side panels are giant pieces of debossed synthetic resembling Japanese Origami. The panels are designed to allow the panel to be stretchable. The same synthetic extends all the way to the heel, where the two panels are joined by a strip. The fabric in the shoe's upper is lightweight and breathable, which is important to me as my feet tend to need a breathable shoe to keep from getting too sweaty, too quickly.
One thing that bothered me at first was a short tongue. I had to intentionally pull on it in order to get my laces tied on top of it. On one hand, yes, it was something I had to think about which was a bit of an annoyance but, on the other hand,  I experienced absolutely no slippage in the tongue. Even on my longer runs (about 5-6 miles) the tongue remained in place which is important to note as I have a few shoes with longer tongues where this is a problem. Perhaps the shorter tongue was a solution? I don't know but, I do like that it doesn't slip.
Another thing I like about this shoe is it's durability. While I had intended to use this shoe for only road or track workouts I actually wound up wearing it on the trail as well. I haven't tackled any gnarly single track with my 2090's yet but, I have got off road and run over some mildly rocky and somewhat root-filled trails in the local park. The forefoot outsole is covered with solid rubber, and the lugs have a rough texture which results in phenomenal grip on the road but, are also big enough to tackle some moderate trails. I wouldn't rely on the Vazee 2090 as a trail shoe but, it is sound enough to get the job done when you need it. As I typically throw my shoes in the trunk of my car before heading out for work it's good to know I can switch up and run a trail if I decide to change up my workout at the last minute.
As I mentioned before, I really hoped to only use this shoe on the road and track. One reason for that is it's $140 price tag, which stretches my budget for a shoe. That being said, I think it is worth the price tag and will be a great shoe for anyone looking for a firm responsive shoe (versus extra cushioning) for mostly shorter faster races with the option to wear for a longer race if needed.