Wendell & Myra John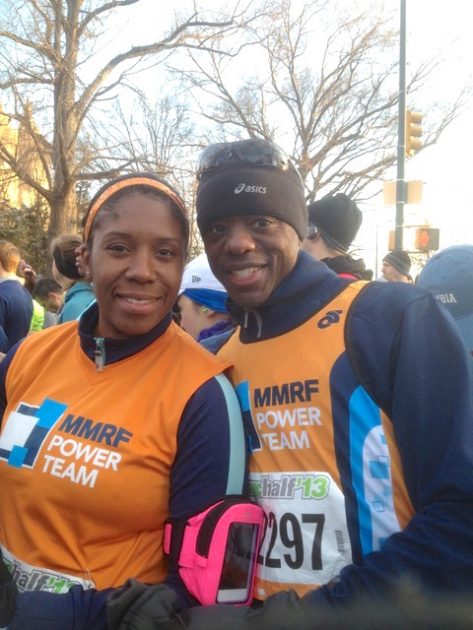 I initially had no interest in running, training, sweating, crying, cramping, or enduring the pain involved with training for— or even completing— an endurance event.
Sure I would dabble in running with a short jog on the treadmill at the gym or grimace while watching clips of the Boston or New York marathons on the local news. This quickly changed in 2004 when a friend asked me to sponsor her for a surgical/medical mission trip to Africa.
Hearing the stories and talking to the individuals and families whose lives were changed encouraged me to get involved. I went from only recruiting medical volunteers to securing donations per mile for my first race, the Marine Corps Marathon.
Hearing the cheers of encouragement from strangers along the run, and crossing the finish line surrounded by my wife, Myra, our supporters, and our military changed my life forever.
In 2007, Myra's mother was diagnosed with, and began battling, Multiple Myeloma, a blood cancer. We both joined the Multiple Myeloma Research Foundation (MMRF) to raise funds supporting research to find viable cures for this very fatal cancer. This involved garnering sponsorship for Myra to run her first race, The New York City Half Marathon.
My brother, an avid athlete, decided to run the race with us, and during the race he became very fatigued and almost collapsed toward the end. Within a week of that race he was diagnosed with Multiple Myeloma. Things became worse within a year of that news when my Grandmother was diagnosed with the same cancer. After bone marrow transplants, new and novel cancer treatments developed in part by the work of the MMRF, all three of them are alive and well.
Life is full of struggles and is too short not to try and make a profound difference in the lives of others. We made a decision to endure the running, training, sweating, crying, cramping, and pain it takes to make it across the finish line. We know these struggles are not for us but for those we carry with us across the finish line. Every mile completed, every dollar raised brings us closer to a finding cure for this cancer that has taken so many. Now over 13-years later and multiple half and full marathons, triathlons, and cycling events between us, hope the funds raised and support given to the MMRF and other charitable organizations have maximal impact across the world.