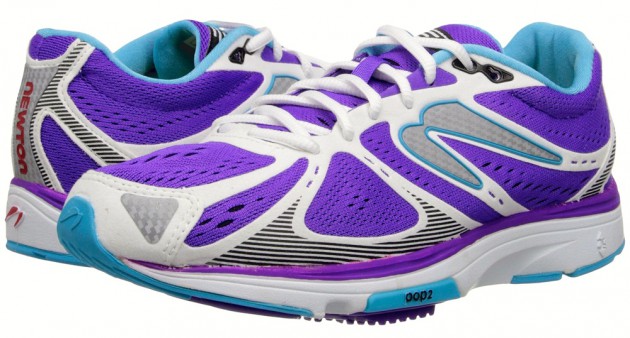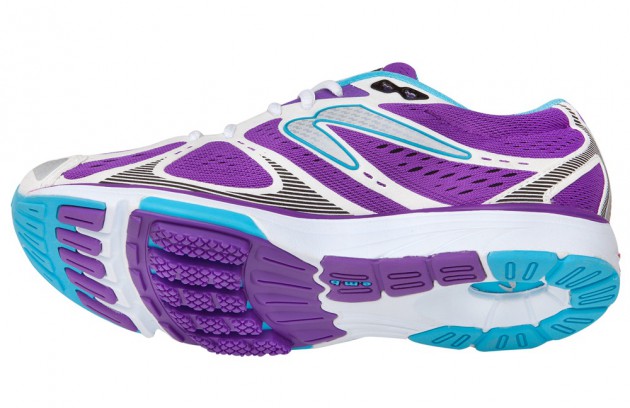 By Jeanna Chain
The first thing I noticed when I opened the box was that the Newton Kismet was a "pretty" shoe.  It is colorful and stylish which is important to some who see past the utility of a running shoe and sometimes like to coordinate their workout outfits.
It's important to note that Newton now categorizes their shoes as P.O.P. 1, P.O.P. 2 or P.O.P. 3 (P.O.P stands for Point of Power).  The lower P.O.P. numbers mean more prominent, responsive lugs.   The Kismet is categorized as a P.O.P. 2 shoe – which means "beveled" or shorter lugs – think "lug lite".   Additionally, the P.O.P. 2  shoes are  at a lower price point than the P.O.P. 1 shoes ($129 versus $175).  This basically means the Kismet represents a cost efficient way to dip your toe in the water of forefoot running via Newton's characteristic and unique lug technology.
Part of my evaluation was done on soft ground running such as  bridle trails and single track.  Honestly, I was a little worried about the lugs adding an extra level of difficulty in clearing rocks and roots because I am a perpetual tripper when I run trails.  However, the lower "beveled" lugs made my Newton experience no different than that when using my other running shoes.  When I ran on the road, the shoes felt great as well. I could really feel the action/reaction of the new 5-lug P.O.P. in the forefoot. The feeling of the lugs pushing me to a forefoot strike were quite noticeable and I felt this did provide significant forward momentum as advertised
As a moderate pronator, I tend to prefer shoes with some degree of stability. The Kismet's E.M.B (extended medial bridge) technology on the midsole proved to be the right amount of stability. The extra midsole material and wider base were enough to offset my falling arches without compromising too much of the flexibility or lightness of the shoe In fact, this is a lightweight shoe – so between the (lack of ) weight and the lugs' assistance, I felt speedy. Note though that the Newton Kismet (without custom orthotics) will likely not provide enough support for a severe pronator with very flat arches.
As far as the upper, I really loved the seamless mesh across the roomy toe box.  This is a huge bonus for me as sometimes a seam or stitching in the forefoot will aggravate the top of my feet on longer runs.  Yet, the Kismet's fairly narrow heel provided me with a snug and comfortable fit, unlike other shoes where wider molds result in a somewhat sloppy fit.
All in all, I feel this shoe is a Newton homerun!   It is lightweight, good-looking and great performing.   It's design makes it a fantastic everyday trainer with the added benefit of providing a tune-up for speed.   If you have the inkling to want to try out Newton and forefoot striking, the Kismet is the shoe for you.
# # #
Jeanna Chain is the Running Manager at Inside-Out Sports and a Triathlon/Multisport coach who has been racing triathlons for 16 years.