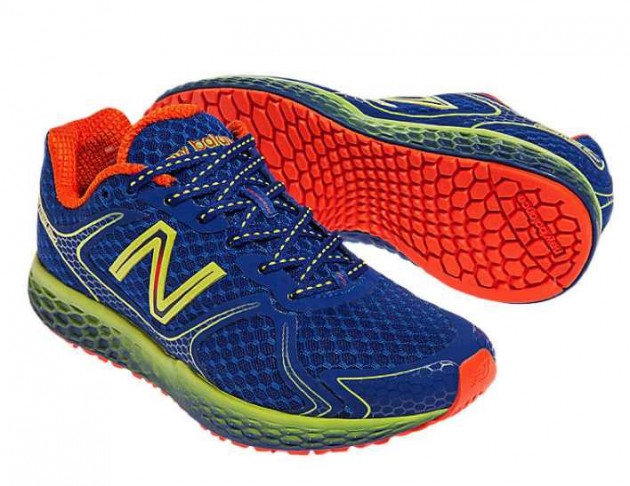 By Joe Nuss
New Balance bills its new Fresh Foam 980 as a shoe that gives runners plush cushioning and stability in a more minimal package. Designed with innovative technologies, the Fresh Foam 980 provides a new approach to neutral running by combining ultra-plush cushioning with a reduced drop from heel to forefoot and offering a super soft, bouncy ride. According to New Balance, all of this is done without sacrificing speed.
The first thing I noticed about the 980s was the midsole, which is made from Fresh Foam, a major departure from New Balance's RevLite midsole and N2 foam cushioning technologies. The outer appearance of the stack height – 16mm in the heel and 12mm in the forefoot – was not an issue for me, though minimalist runners might feel differently. While I have a few pairs of "zero drop" shoes (same stack height in the forefoot and heel) that I run in occasionally, I much prefer a cushioned shoe. Most cushioning shoes have an 8mm drop from heel to toe and while I can tell the difference between an 8mm drop and no drop, I couldn't really feel the difference between my normal 8mm-drop shoes and the 4mm-drop 980s.
But what's most apparent and unique about the midsole is not the height, but the sidewall geometry. The sidewalls of the midsole are composed of hexagonal structures – convex (sticking out) and concave hexagons. The convex hexagons are harder to compress and therefore provide a bit more support, and the concave hexagons offer more flexibility. The convex structure design exists on the inside heel and the outside forefoot. The overall result is a truly neutral ride with lots of cushioning felt in the forefoot.
Another fascinating aspect of the 980s, in my opinion, is the full ground contact outsole. Other than being vaguely aware of the grooves and cups and pockets on the outsole of my other shoes, I never gave the outsole much thought until I ran in a pair of Lone Peaks – Altra's trail shoe. The outsole was completely flat with triangular lugs. I pulled out all my other shoes and noticed that all my trail shoes had full ground contact outsoles. The outsoles of my road shoes were full of grooves and cups and pockets – generally lots of empty spaces.
Now, I must say, I enjoy trail running much more than road running. I always have. People generally say that trail running is easier on the knees and while I have no scientific data to support that, I wonder if that's because of the softer surface, or maybe, just maybe, it's because of the full ground contact soles offered in trail shoes. After many miles of running in my 980s with this particular thought in my mind, I've come to the conclusion that it's the full ground contact sole that allows my feet and legs to experience more of the plush cushioning Fresh Foam offers. I also believe that the 4mm drop allows me to experience more cushioning in the forefoot – one of the reasons I abandoned another model of a different brand of shoe a few years ago. I loved everything about the shoe, but there wasn't enough cushioning in the forefoot.
And this is where I think the 980s really shine – the forefoot. By reducing the 8mm drop standard in cushioning shoes without going to a complete zero-drop shoe, New Balance opens up the doors to more natural running to runners who didn't feel confident buying into the zero-drop movement. The reduced drop allows runners to experience more of the cushioning in all parts of the shoe without sacrificing performance because despite the extra cushioning up front, the 980s have an amazing, really fast toe-off, which in me promoted faster turnover. When I first ran in the 980s, I actually felt like I had to keep up with the shoe!
My overall impression of New Balance's Fresh Foam 980s was a good one. If you are coming from a cushioning shoe background like me, you'll definitely want to try these shoes. If you're coming from a minimalist background but are looking for a bit more cushioning for your longer distance races, the New Balance Fresh Foam 980 would be a great option, especially considering its great price point – MSRP of $110. One caveat to the shoe, however, is that I believe it is a bit narrower than typical New Balance shoes. You'll want to be sure to try out a pair in-store before making a purchase.