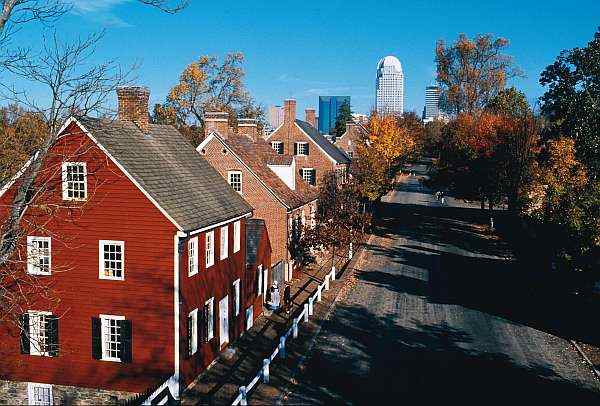 Population (Winston-Salem): 229,617
Median House or Condo Value (Winston-Salem): $143,200
Median Gross Rent (Winston-Salem): $645
Weather: Winston-Salem gets a few more days of snow than Raleigh and Charlotte, but its average of only nine days of snow per year hardly qualifies it as a winter wonderland. Athletes can still enjoy year-round training and cycling with the right gear. Winston-Salem's average high temperature in the coldest month, January, is 51 degrees F. Its low temperature is 28 degrees in January. In the warmest month, July, the average high is 89 degrees and the average low is 67 degrees. Winston-Salem experiences approximately 109 clear days per year.
Terrain: Runners in Winston-Salem and other places in the Triad, such as Greensboro, have access to miles and miles of great greenways and trails. Salem Lake in Winston-Salem offers a relatively flat and shaded 6.94-mile loop around the lake. The scenic run along the lake's shoreline can be extended by taking the connecting paved greenway several miles toward Old Salem. While athletes from all over North Carolina can drive the tallest mountains east of the Mississippi, triathletes and cyclists in the Triad are within riding distance of mountains like Pilot, Caraway and Hanging Rock. The new Greensboro Aquatic Center is a state-of-the-art facility with more than 20 lanes for swimming. Belews Lake is great place for open-water swimming.
Economy: While Winston-Salem has a long history as a manufacturing center with a heavy focus on the textile, furniture, and tobacco industries, it is making a concentrated effort to move its economy to one based on knowledge industries. In addition to Reynolds American Tobacco Co. and Hanes Brands, BB&T Bank and Lowes Foods have established headquarters in Winston-Salem. It is building on this economic base through critical new investments in education, technology, and research with a plan to make its Piedmont Triad Research Park the largest urban research park in the country. The city has invested in wiring the community through a fiber-optic loop that links its research institutions, universities, public sector, libraries, and other institutions.
Triathlons Within Driving Distance
Sprint
3 races within 45 minutes
14 races within 1.5 hours
Olympic / International Triathlons
4 races within 1.5 hours
10 races within 3 hours
Half Iron
5 races within 4 hours, including FS 100 and White Lake Half
9 races within 5.5 hours, including Patriots Half
Iron
Beach2Battleship is within 4 hours and Rev3 Columbia, Md., is within 7 hours