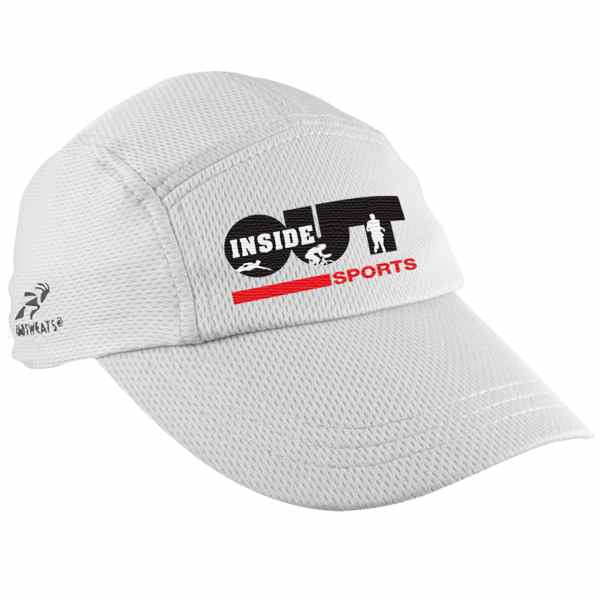 Headsweats® Race Hat: $19.99
By Cid Cardoso Jr.
A hat is not always just a hat. When I'm considering running a marathon in 90-degree weather after biking 112 miles, what I cover my melon with can be one of the most important decisions of the day.
I was never a hat guy. Even in my early years of competing in triathlons, I passed on the idea of wearing a hat. However, as the races got longer and the weather in which I was racing got hotter, I began to think that maybe I was missing out on some extra shading. So I started wearing hats, primarily for half-Ironman and Ironman competitions. I still wasn't crazy about how they fit but I could see some potential benefits.
It wasn't until I met Allan Romick and got introduced to Headsweats®, the company he founded, that I fully embraced the running hat and realized all the advantages without any drawbacks.
Like everything else in our sport, the running hat has evolved quite a bit in the last 20 years. Just pull out an old picture of Scott Molina winning the Hawaii Ironman in 1988 and you will see him wearing what was the standard running hat of the time, a poorly fitting painter-type cap, most likely made out of cotton cloth and with his sponsor's logo on the front, to make it official. Other options at the time were the plastic visors, baseball caps or maybe the John McEnroe headbands.
Yes, they kept the sun out of our eyes (maybe not the headbands) and could potentially reflect some of the sunlight, but only if one could stand to wear them in the heat and intense exercise for more than 30 minutes. Some lost their shape and fit while others resulted in sweat dripping in the runner's face, due to the type of fabric used, creating further discomfort .
Fast forward to the 21st century and we have the Headsweats® "Race Hat," their most popular and one of the most comfortable hats ever made. This classic-style run hat has a rounded Coolmax® fabric shell that conforms easily to the shape of the skull. A flat-front panel allows for even the most intricate logo application. A Coolmax fabric terry headband creates maximum airflow and moisture transfer away from the forehead and the slightly curved bill offers ample shade and face protection.
For a perfect fit, the hat has an adjustable rear buckle with a portal for ponytails. It weighs less than 2 ounces, comes in a wide variety of different colors, and most importantly, it is machine washable.
Like I said earlier, I became a convert to a hat racer once I put my hands on (or my head in) a Headsweats® Race Hat. I guess that the best way for me to describe it is that during races I often forgot that I even had the hat on for most of the time. The fit was snug yet without the headache type of pressure and I don't think I ever had to worry about sweat dripping in my eyes or on my sunglasses, even while racing in Hawaii and in the North Carolina summer.
I don't know how much or even if the hat kept my head cooler but I can say for sure that my forehead was less sunburned during the marathon and long runs while wearing the race hat. Also, being able to pour cold water on the hat and feel the cooling effect while the water evaporated was clearly refreshing.
These days you don't have to go far to spot someone wearing a Headsweats® Race Hat. In a Ford Ironman race, probably more than half of the field is wearing this hat and those who watched this year's Tour de France probably caught a glimpse of Bobke sporting one (or another model of the 17 hats in the Headsweats® product line). Sponsorship alone does not create this kind of success.
I continue to wear my favorite Race Hat during all triathlons and long training runs. The average cost of $19.99 is a little more than most throw-away hats but it is in line with other performance-type hats. Throw-away hats are just that and $20 is not much to pay to keep my head cool for multiple hours under the hot sun.
# # #
Cid Cardoso Jr., owner of Inside Out Sports, has been doing triathlons for more than 20 years. Last October, he competed in his 21st Ironman – his sixth appearance at Kona. A veteran of ultramarathons, he has competed in Team RAAM twice. He has seen equipment evolve with the sport and continues to test new products to assess their impact on performance. He trains, works, and resides in Cary, N.C., with his wife, two daughters, and son. You can reach him at cidjr@insideoutsports.com.