By Jack Caroway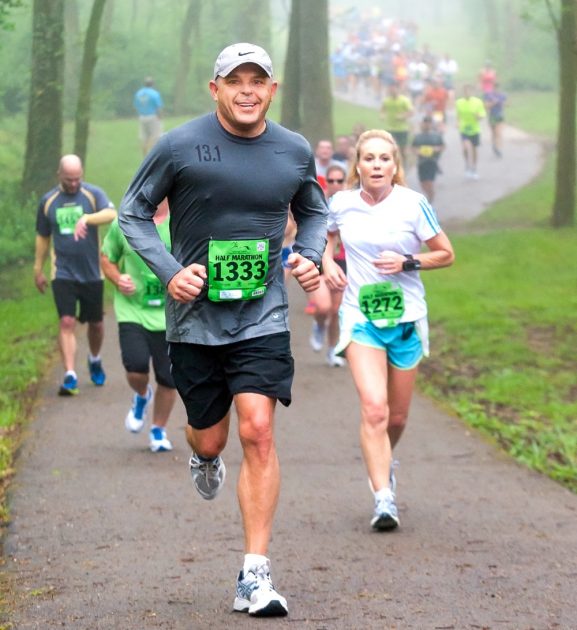 After years of neglect I finally found the motivation to come out of the fog and address the damage I had done to my body over the years. Being inactive for decades and paying absolutely no attention to what I ate I found myself 40 pounds' overweight as I approached my 47th birthday. My health had recently began showing the effects of my lifestyle, my blood pressure was high, my triglycerides were over 300, and my doctor wanted to start me on a couple of prescriptions. I asked for a few months to do something about my predicament before starting down the road of taking pills as a solution.
Shortly after that exam I talked my administrative assistant into walking 4 miles before work each morning. We had both been complaining about our weight so we began walking 5 days a week. At first we just walked but then we started to walk and run and soon we progressed to running the entire trail. After several months of consistently running each day I lost 20 pounds and solved my health problems with what I have determined is the best medicine…EXERCISE. However, I still had my sights set higher as I wanted to lose the 20 pounds that remained so I bought three things that changed my life… a road bike, a Garmin GPS Fitness watch and a Champion juicer.
After buying a road bike I fell in love with biking, living in Knoxville I had spent many days in the Smokey Mountains enjoying the scenery but had never imagined pedaling a bike up the steep hills. I bought the bike, shoes, pump, pants, jersey and gloves on Wednesday then went home to google bike rides. The first thing that popped up was a ride a few hours away in Asheville, NC, the following Saturday called the Hot Doggett, it offered a 100 mile and 100 kilometer ride.
Myself and a friend had just conquered our first 10K the week before so I thought my new-found fitness level was adequate to get me through the shorter 100-kilometer option. What a miscalculation, I rode what I could, walked what I had to and somehow finished the ride in a little over 6 hours. I was so taken with my first ride that I have since completed that same 100-kilometer ride each of the last 7 years, in 2016 my finish time was 4 hours and 53 minutes a personal best.
Realizing that I had work to do I soon changed my Wednesday golf game to a four-hour bike ride over the Foothills Parkway. My body responded and began getting leaner and more muscular, soon my weight went from 200 to 180 leaving me in better shape than when I was in college. It was incredible how my stamina, strength, and endurance improved, but the most noticeable difference was the clarity of the mind after a four-hour bike ride.
The next two purchases connected a lot of dots for me. My diet was not clean and needed to improve so I bought a Champion juicer. No matter how much you exercise a bad diet will undermine the whole process. I found the ability to make nutrient dense juices that I liked which made a huge difference. I juice beets, carrots and lemons one day while using raspberries, melons, blueberries, and pomegranates the next. I had found a secret weapon that helped advance me nutritionally and something I still use every day.
The third purchase of a Garmin GPS Fitness watch provided the consciousness and the data keeping that helped my training progress. Each run, bike ride, or casual walk was now recorded and saved on my online calendar. As a competitive person, this provided information that helped me evaluate my workouts and always feel that each activity was important. It improved my results greatly and serves me today because I can go back and see how I performed at an event or activity in previous years.
As an insurance broker that sells health insurance to hundreds of physicians and their employees I wanted to inspire them to become active. In 2011 I started directing 20% of the revenue from the group health insurance sales into an entity called Nature's HMO. This entity has the sole purpose of promoting Self Care and wellness lifestyles to the employees of the employers I insure.
Nature's HMO provides incentives for participation in area outdoor events, over the years we incentivized hundreds of employees to do their first 5K or half marathon.  We also give away Garmin's, juicers, race day shirts, pay for entry fees, and give gift cards to motivate those who seek motivation.
As I look to the future my quest for good health will be driven by activity and nutrition, and my hope is to inspire a few open minds along the way.