By Joe Nuss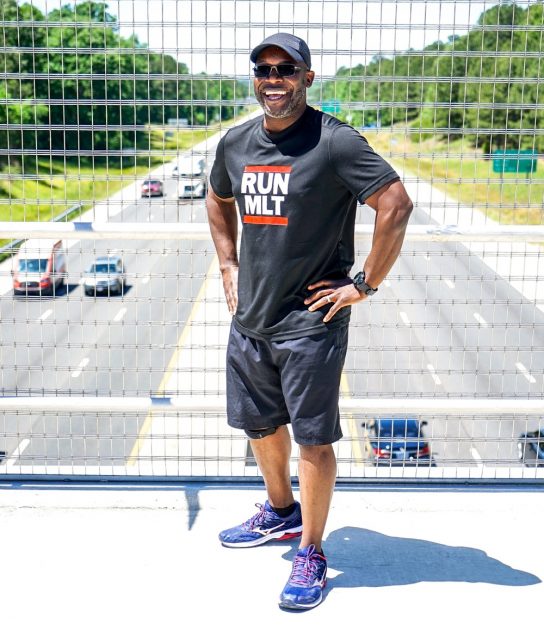 Like many men, Matthew Thompson, a social worker in Durham, thought he was in good health, so why visit the doctor? In the do-it-yourself world of men, "losing a few pounds" isn't something we need help with— we can do it ourselves. It's this line of thinking that leads us to avoid the doctor and possibly put our health at risk. In fact, it wasn't until Thompson was required to get a Health Risk Assessment for his employment that he discovered he was in trouble.
There were plenty of signs, however.
"My wife has always been health-conscious about exercise and what she eats," said the 47-year-old Thompson. "We actually met at the YMCA. I used to take some of her classes. I had these periods where I would lose a significant amount of weight but I always gained it back. One time in the 90's I lost about 30 pounds. Then, I spent all of the early to mid 2000's gaining it all back. I remember when I was at my heaviest, we were in Las Vegas and we just walked The Strip. I'd never been so tired in my life— just walking! I remember thinking, 'God, I'm about to die.' So, it was always there, the notion that I needed to do something. I just didn't know how serious it was."
Thompson, a graduate of NC Central University, had periodic doctor visits where he was advised to lose weight. But, he never imagined he could have borderline high pressure and be at risk for diabetes. It was about that time in 2012 that he took the Health Risk Assessment required by his employer.
"The health risk assessment is kind of like a report card," said Thompson. "They handed it to me and I was like, 'Wow. I'm almost at a level of having high blood pressure. I'm at a level where, if I keep going, I'm going to be a diabetic. This says that I'm obese. Not overweight, it says that I'm obese'. The assessment was eye-opening because I thought I was healthy."
As a person who helps others for a living, Thompson knew then he needed to seek help for himself. He started with his wife.
"My wife helped me focus more on what I ate in addition to exercise because getting up early and going to the gym wasn't a problem for me," said Thompson. "But, we were supposed to be going on a cruise and by the time the cruise was a month away, I hadn't lost the weight I said I was going to lose. My problem was intake versus outtake. There was definitely more going in than coming out. I think that was because for the outtake, the exercise, I'd go to the Y and talk about football for an hour and maybe work out for 20 minutes. I knew I had to now think about health as a whole – proper exercise and nutrition"
With his new focus, Thompson started to lose weight.
"I focused on exercise with purpose. Instead of going to the gym and talking, I actually got a workout. I also started wearing a heart rate monitor and taking classes like boot camp, Crossfit, weight lifting and cycling. I remember I would take this early morning boot camp class on Wednesdays at 6 in the morning. The instructor would have us do things like run from the Y to the third stoplight and back again. Over time, before I knew it, I was able to run that a few times. Then I was able to run a mile, then a couple of miles, and then three miles pretty much without stopping."
Shortly after that a group of runners asked Thompson to run with them, which wasn't a problem since he could easily run three miles.
"But, that was the limit," he said. "Why would you run more than two or three miles? I didn't realize those little sneaky devils were training for the Bull City Race Fest. They were basically asking me to come out and train for the race, but I didn't realize it. Six or seven weeks in and I realized I was training for a half-marathon! But, I just didn't think it was possible. I just thought that was the most ridiculous thing in the world to run 13.1 miles."
Thompson reluctantly agreed to run the five-mile option at the Bull City Race Fest but continued to train with the group. About three weeks out from the race one of the coaches asked him to run 10 miles to see how he felt with the caveat that if he felt good he would upgrade to the half marathon. Thompson ran the 10 miles, which at the time was the furthest he had ever run. As agreed, he upgraded to the half marathon though he was still a bit nervous about it. Come race day, he lined up far in back of the starting line
"I think I was so far in the back that my chip time and my gun time were almost seven minutes off," laughed Thompson.
But, that's when the running bug struck.
"I had never seen such an electric atmosphere! It's early morning. Everyone else is excited. The atmosphere is just electric," he said about the start of the Bull City Race Fest Half Marathon. "You're waiting for the gun to go off. You can't wait to start, you can't wait to finish. That kind of started there. It was the most alive I've felt in a while. You go to work, you do the stuff there, you check emails, your wife sends you to the grocery store and you fold clothes. It's just mundane. But, at the race… you are there for no reason other than you WANT to be there. You are there to test yourself. You have a goal. Are you going to do it? You are ready. You're trained. You don't have to do this but you WANT to!"
Even after the race, Thompson wanted more. So, when he got home from the race he immediately signed up for three more half marathons the following year.  He has been consistently running ever since, participating in several races a year.
"That's the thing with racing that I really like— it kind of brings all the elements of fitness together," says Thompson. "Especially if you are a middle of the pack runner like me who is really goal-based. I know what I want. I want to beat certain times or I want to do certain things, so focusing on training, focusing on cross-training, weight lifting, nutrition, all that factors in and if you'll do it right, you'll get those certain results that you're after. If you don't, then you'll probably still finish the race, but you won't have to wonder why you didn't reach the particular goal that you thought that you could make. With some of the other races, you can kind of get by, but with the marathon if you're carrying extra weight or if you haven't been eating right or getting enough sleep, the race is going to shove all that back to you."
Now, with well over 40 races under his belt Thompson is the captain of the Raleigh-Durham-Chapel Hills Black Men Run (BMR) group and uses his story to get other men active. Thompson's advice to potential runners— see a doctor first!
"You need to know where the ground floor is before you get started," he says. "You get that bill of health first. Especially with men, we tend to avoid the doctor. We don't go until something is broken or we damn near are seeing the light! So, I would tell them to start there. Then once it's been determined that, yeah, you can exercise, but start slow. Start slow and try to get manageable results. Don't say, 'I want to run the Boston Marathon' when the furthest you've gone is to the mailbox. Start off slow. It's all about health and using running as that vehicle to health. Running can be very hard to do, but it can also be pretty easy to do, too— get some sneakers that don't hurt, open your front door, left foot, right foot. Pretty easy."