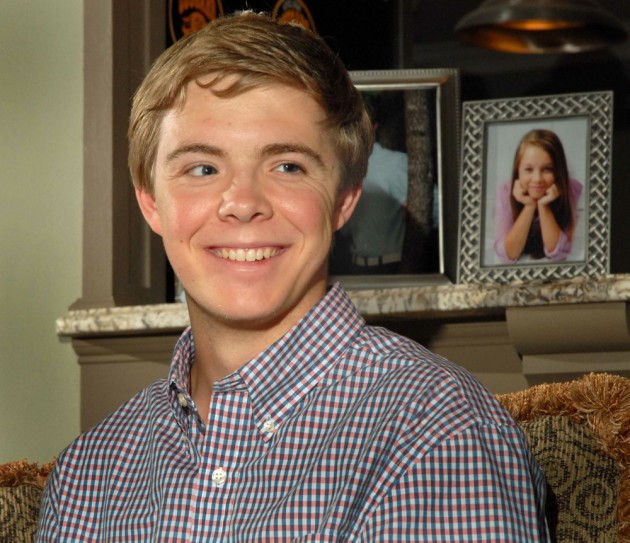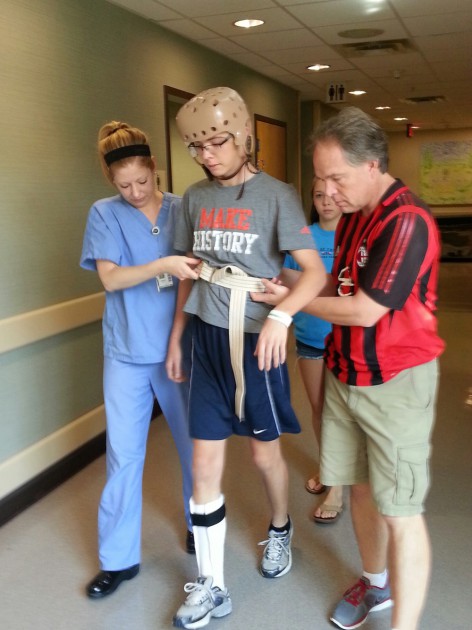 By Alisa Wright Colopy, MA, MPH
In July 2013, Austin Harrell, 18, enjoyed a unique perspective on his world while doing inverted push-ups. Within seconds his life also turned upside down when he suffered an ischemic stroke, an incredibly rare medical event for a healthy teenager.
Austin, an ever-smiling recent high school graduate who was only weeks away from leaving for orientation at Liberty University, had been active all his life. Family vacations centered on fun activities like hiking, skiing and wake boarding. At home, the Harrell family trained hard for running, volleyball and soccer.
This stroke was a game-changer not only for Austin but for his family and friends too. In the brief seconds that Austin's brain was denied oxygen, his motor and language skills were severely damaged. Within minutes, Austin exhibited all the signs of stroke: headache, inability to focus, weakness in his right arm, and disrupted speech. To save his life, Austin was flown to Duke Medical Center, where part of his skull was removed to reduce pressure on his brain from severe swelling.
Austin's stroke occurred in the part of the brain controlling speech. A condition called aphasia diminished his language and communication skills, robbing him of the ability to express and understand written and verbal language. When Austin was brought out of sedation, it was as if he woke up in a different country where he didn't speak the language. Not only had he lost the use of the entire right side of his body but he couldn't communicate with his family and medical staff.
Austin's sister Margo reflects on that time: "The doctors told us they are never sure what will happen or the length of recovery time. It was possible that my brother would never talk or walk again and would need help for the rest of his life. My parents and I couldn't bear the thought of Austin never having the normal life he deserved."
Austin's recovery began at Atlanta's Shepherd Center with four months of aggressive rehabilitation. With the center's doctors' and therapists' help, Austin's family was able to begin the hard road to recovery, including re-learning to walk and talk.  Dr. Donald Leslie, Shepherd's medical director, says that "the outcome is not just where a patient is at the end of his hospitalization. It a lifelong process."
Despite the stroke, Austin is still a dedicated athlete preparing himself to face all that life puts in his path. He feels lucky because he has many teammates to help him get back in the game. Austin also has support from the community. The Apex High School soccer team honored Austin by having the fall 2013 practice jerseys printed with Austin's number and nickname, "Hoss," which was given to him by his middle school soccer coach.
Austin's family closely follows rehabilitation instructions but also benefits from their relationship to both God and athletics. Susan, Austin's mother, says, "Of course you wonder why, but while we might not understand why at this time, there is a God who does have a plan for Austin. God promises to give us strength each day – one day at a time if we look to him." Austin communicates by writing key words on an erasable white board and words of faith flowed out of Austin onto the board with ease.
"Austin's recovery will always include physical activity – it is part of staying healthy and who he is. Being able to set a goal and work towards it gives Austin a sense of accomplishment – just like anyone else," Susan says.
The Harrell family has tapped into a key element of athletic success to aid their recovery: internal motivation. They follow a path of hard work because they want the improvement and they recognize the intrinsic value and payoff of doing what is necessary to reach their goals. They know the direction they need to take for Austin to be the best he can be. They made the decision to commit the time and effort to reach Austin's goals. And they have the dedication to not waver in their direction or commitment.
Aided by the Harrell family's faith and strength Austin was quickly up and running again, and was able to train to participate in this year's Night Ride Tri over the Fourth of July weekend. Flanked by his college friends the entire way, Austin completed the run leg of the sprint triathlon, crossing the finish line with one of his signature big smiles lighting up the night.
As Zig Ziglar said, "When there is hope in the future, there is power in the present." There is no denying that Austin is powerful in his recovery and athletics. Whether it is college, daily living, or the playing field, this athlete is highly motivated to get back in the game.
# # #
Coach Alisa Wright Colopy, MA, MPH has been a lifelong advocate for personal fitness. Coach, race director, health educator and mom, Alisa knows how to get kids and their families moving together. Alisa founded Fit & Able Productions, Inc., a nonprofit organization dedicated to building healthier communities.