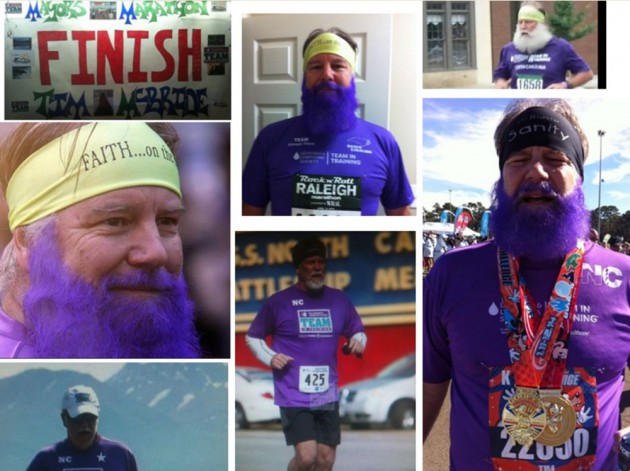 By Laura Hannon
Most people heed their dentist when they're told to take it easy after major dental work, but not Tim McBride. Nothing can stop him from running – every single day.
He's on a roll – a more than two-and-a-half-year streak to be exact. Tim hit 1,000 days of consecutive running in September and he's still going strong with no end in sight. He says he would feel too guilty missing a day, stating that "people with cancer don't get to take a day off." In order to maintain the streak, which started in December 2011, he's set out to run at least a mile a day, but most days, 1 mile turns into 4 or 5! Wondering what would make someone decide to run every day for almost three years straight?
In January 2011, Tim's brother-in-law was diagnosed with lymphoma. The very next day, Tim saw a billboard for Team In Training (TNT). By the 17th of that month, he was registered for the Mayor's Midnight Sun Marathon in Alaska with TNT, running in honor of his brother-in-law and in memory of his parents, both of whom he lost to cancer. Not only did he raise more than $6,000 for The Leukemia & Lymphoma Society (LLS) for that event, he also crossed something off his bucket list. "It was a childhood dream of mine to go to Alaska because I saw Curt Gowdy and Daryl Lamonica on the 'American Sportsman Show' when I was about 8 years old," says Tim. He still considers that marathon his favorite race – it was his first one and he says, "You can't beat the scenery."
Since then, Tim has showed no signs of slowing down, completing five marathons (and one half) with TNT, with one more in the works: Rock 'n' Roll New Orleans in January 2015. He's not just running though; he's also raised a whopping $17,500 (and counting) to help fund blood cancer research. What's Tim's secret to raising so much money? Perseverance – something he has a lot of practice with. He keeps a jar marked "Change for a Cure" on his desk year-round and accepts any amount, no matter how small. He fundraises for LLS's Light The Night Walk every year and starts fundraising for his next TNT race before he's completed the last one. It's clear that this isn't just a fad for Tim; he's running for a cure! "I keep thinking that one day, it might be that one additional dollar I raise that [helps] find a cure."
When asked why he keeps coming back to TNT, he says it's a way to pay his parents and brother-in-law back. While Tim's parents didn't have blood cancers, he sympathizes with anyone who's lost a parent and works hard to ensure that no child has to grow up without a dad because of cancer. He also credits the program with some lifelong friends he's made that he wouldn't have had the pleasure of meeting otherwise. He's a solo runner most days but mentions that the miles go by faster with his TNT teammates and coaches.
So what's next on the list for Tim McBride? He mentions wanting to PR at Kiawah or Savannah before settling on some slightly more challenging goals – maybe an ultra-marathon (100 miles) or running a marathon in all 50 states. One thing is for sure: he's not taking a break anytime soon, so if you see a fellow with a (sometimes) purple beard wearing a Team In Training shirt, you can bet that it's Tim, running for a cure. Make sure to give him a big "GO TEAM!" as he goes by.
# # #
Laura Hannon is a campaign specialist for Team in Training and can be reached at Laura.Hannon2@lls.org.