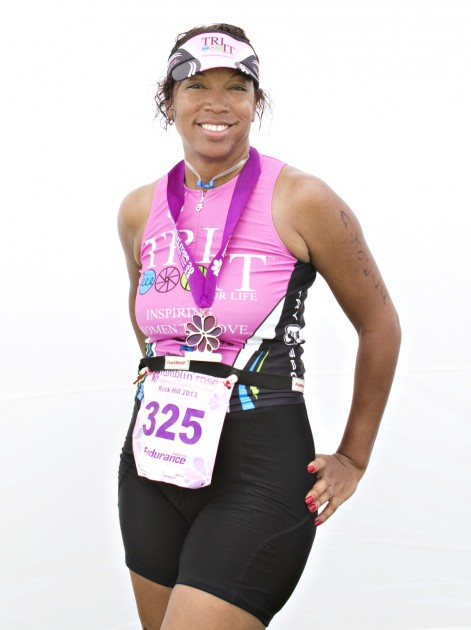 "The support you have, the friends you make along the way … it's all priceless. I just hate I didn't start racing earlier but as the saying goes, better late than never!" 
In the past when I would hear about triathlons, I would immediately think of it as something that was so far beyond what I was capable of. Although I've never had any weight or medical issues, I've never been one to work out. So the idea of swimming more than a lap (scary!), biking more than 100 feet to the end of my street, and running without passing out seemed impossible. But once I started "slowly" training, I found that the one-mile bike ride became eight miles before I knew it.
During the race as I struggled to pedal I started to get off and walk but there was a lady standing on the sidewalk with a sign that simply said "You can do it, you can do it." The message was simple but profound. I stayed on the bike and made it all the way to the top without stopping. The feeling was so overwhelming I felt like crying. I shared my experience with one of my friends and she has signed up for the June 1, 2014, race in South Charlotte. Most importantly, it was fun!
"Family, friends and people I didn't even know were cheering me on and when I crossed the finish line there was this huge rush that came over me and the realization that I actually finished!"