By Nandini Kanagaraju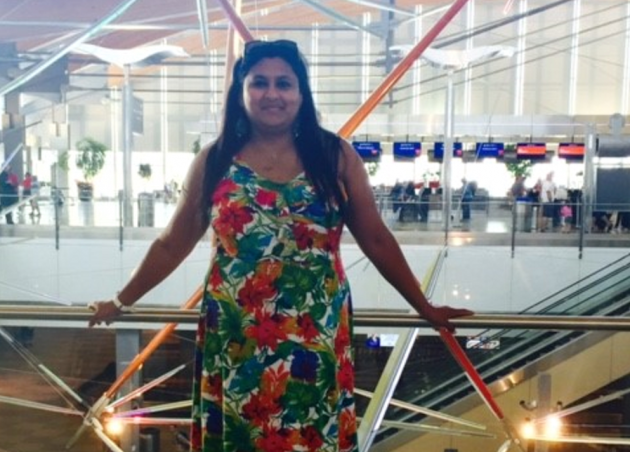 After having my second child, I was diagnosed with thyroid disease.  I gained 40 pounds and spent the last 10 years struggling to lose weight. I tried many diets, but if I didn't see results, I would binge eat. This took a toll on my health. However, I refused to put the blame on unsuccessful weight loss products and diets. Instead, I realized that I lacked the proper guidance and mentality for this journey.
A few years back, my menstrual cycle ceased. I was given treatments that didn't help. Instead of giving up, I changed doctors and learned it was due to my glucose levels being too high. My new doctor changed my medication and prescribed a pill for weight loss. I lost 30 pounds in one year, but my insurance began to decline the medication and I gained the 30 pounds back.
After the weight gain, I realized I had two choices: stay the same or change.  I chose change! I didn't want temporary solutions—I wanted a lifestyle change. The first challenge I faced was tackling thyroid issues. To address this, I began working out twice as much as usual. I also changed my food and drink consumption. Being Indian, I ensured that my nutritionist understood my culture. His plan included no sugar for the first few weeks and then reduced sugar. For the first six weeks, I exercised for 30 minutes and ate four small meals a day. It was a struggle in the beginning, but as time progressed, I felt the changes mentally and physically.  I was finally on a "diet" that did not deprive me of any food.
I now feel great! After 11 weeks of this changed mentality, I have lost 18 pounds and plan to lose another 20.  I've been making healthy choices and most importantly, taken responsibility for my health. My unhealthy cravings have decreased and I've become very aware of the food that I purchase for my family. I notice physical changes and this makes me proud. Why? Because I did this on my own will! It was not because I was committed to a diet, but because my mindset changed. I feel active, healthy, and motivated. I am becoming a more positive role model for my children! I will continue to have the same positive mindset and forever remember that I, just like you, am responsible for my own health!
###
Nandini can be contacted at Nandini.Kanagaraju@QuintilesIMS.com