By Dana MacCorquodale
To see him run is like watching poetry in motion; he is nimble, graceful, with strides long and sure. His feet deftly graze the ground as he picks off his competition one-by-one seemingly without effort. He stalks them like a wild cat after his prey. They are at his mercy and fall away until he is in the lead, a familiar place for this young, talented, and driven athlete.
Grant Wiggins is about to take the road less traveled as he makes a bid to become a professional triathlete. He has the drive, talent, and support to make his dreams a reality and is putting off his chosen career to follow his dream of representing the USA in the ITU Triathlon circuit. Triathlon world… take notice. It is a choice not made lightly; it is a decision many will not make because of the risk. Putting your life on hold for the fleeting chance at athletic greatness is not something 99.9% of people will do. They will do what is easy, comfortable, and safe. They will do what is expected of them. However, to win big, sometimes you have to take big risks.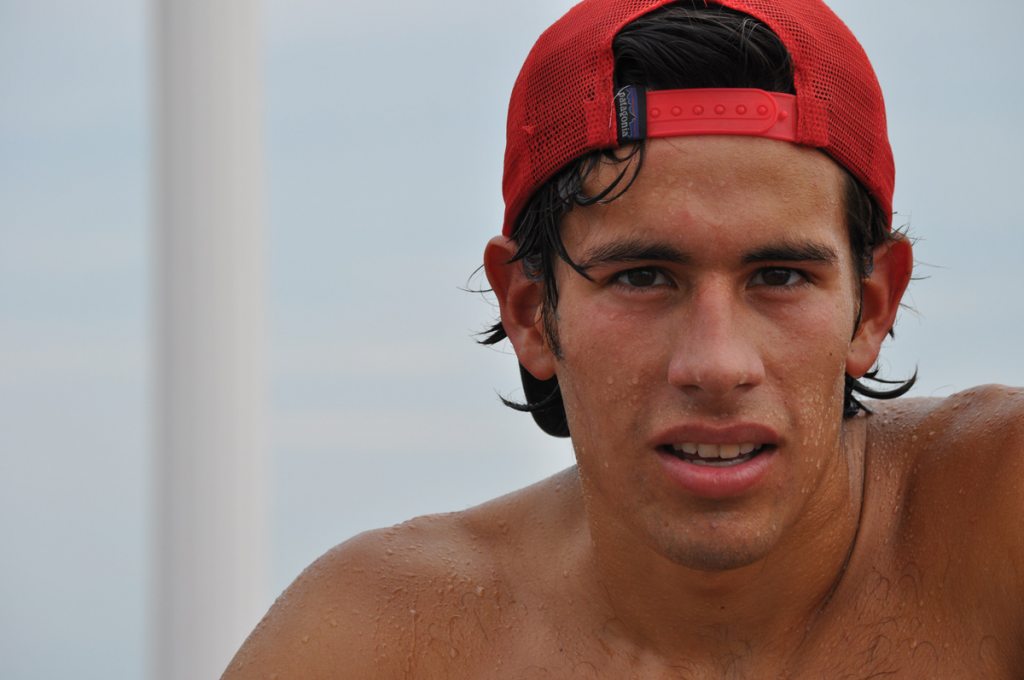 Wiggins grew up swimming, running, and playing soccer in Norfolk, VA and Virginia Beach. He excelled in every sport he puts his mind to. A national level runner from age 7, Grant still holds nearly all the middle distance and long distance school records at Norfolk Academy. He is a youth All American and 6-time VISAA state champion in track and cross-country. He swam for TIDE Swimming through middle school and although he calls himself a second tier swimmer, he is good; I mean really good. And he has a penchant for the open water, which should not be underplayed. This guy is FAST, like crazy fast. And he is humble, not a combination many people can muster.
He is a recent graduate of Villanova where he ran track and cross-country for 3 years and trained with the swim team to hone his skills, improve his stroke and fitness in the water. Wiggins trains with ferocity and has never been one to shy away from the hard work of training. I had the pleasure of coaching him for a few months last summer. He is willing to push and gives 100% taking direction and doing exactly what is asked; Wiggins is always eager to get out of his comfort zone. I never heard a complaint from him, ever. Not even when asked to do a 1500M for time followed by 3×200 IMs and 20×25 hypoxic (no breathing, or without oxygen). It is indeed a sign of pending greatness when an athlete asks for more work and listens to their coach. Wiggins doesn't push past injury but shows clarity well beyond his years in treating his body like the fine tuned machine it is. He trains smart and that is the key to having a long and successful athletic career.
When asked which sport is his best he says running. However, he really enjoys the bike and his swim is fast enough to keep him in striking distance of his competition. There are simply not many athletes that are really good at each of the 3 events. They are a rarity. Everyone has a weak sport, yet Wiggins does not appear to have a weakness making his blistering run times all the more dangerous. He has the kick of a track runner and in ITU races it often comes down to a sprint.
Wiggins has won the Allen Stone Run/Swim/Run the past 2 years in a row and has been adding more triathlons to his racing roster. He competed in an Elite Development Race in Florida in March. After dealing with bike mechanical issues during the first race, Wiggins was on point during the second race with a strong swim, a great bike, and a fast run. He told me the water was murky and dark with alligators known to be in that lake. Only a triathlete will comment on how terrible a mechanical failure is but make light of swimming in a lake where there are known to be alligators.
It is my honor to announce that Grant Wiggins is the first athlete to be sponsored by Hawaii Blue Medical Aesthetics. We are proud to have him represent us and be a part of our team! He will make everyone in Hampton Roads proud as he begins his journey to be the very best. I am even willing to go out on a limb and say that Paris in 2024 could be a very good year!
---
Dana MacCorquodale is Executive Clinical Director, Health & Lifestyle Specialist at Hawaii Blue Medical Aesthetics in Virginia Beach. She is also a top 10% Ironman Finisher, marathon open water swimmer & ultra runner.