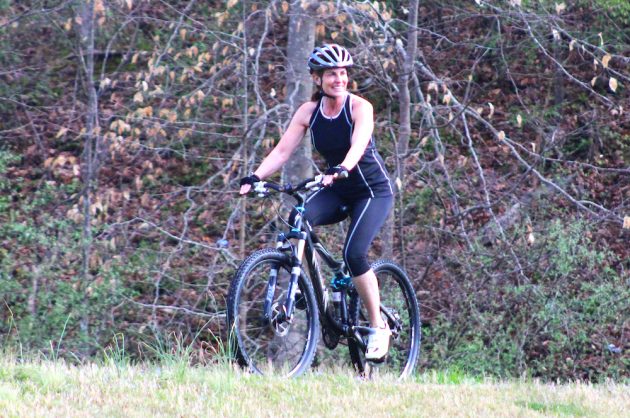 By Casey Clark Kelley
Riders can have many different relationships with their own cycling. Some push hard for the speed and burn, while others may enjoy pedaling along with a relaxed smile on their face. Whether you're one of these or somewhere in between, maybe you've considered participating in a cycling event. There are various cycling opportunities available for different types and levels of riders and it can be hard to know which one is right for you. Here are some things to consider before signing up.
Training Plan
Before deciding on an event or cycling activity, consider making a structured training plan to help ensure you are physically ready for the event. Kim Highfield, veteran cyclist and sportswear founder & CEO for SportPortActive.com, enjoys doing her training in challenging areas with scenic views. "I've been riding for years now and the older I get, the more I prefer training on back roads, like on the slow grinding uphill climbs of the Blue Ridge Parkway. Due to my inner drive and self-motivated competitiveness, I like to challenge each ride against the last, pushing myself a little harder each time."
If you're hesitant on how to proceed, consider these two styles to spur new riding goals:
Charity Rides
Looking to enjoy the scenery as you cruise along a well-marked course? A charity ride may be your best bet. Many of these styled events are non-competitive so you may not feel the pressure to push yourself faster or finish under a certain time, but can still enjoy the energy of the crowd as you pedal. These events are often offered in various distances: 30 miles, half-century (50 miles), metric century (62 miles) century (100 miles), or even longer. With the non-competitive atmosphere, you have the opportunity to take your time and enjoy the experience. There are often rest stops with food, water, bathrooms, first aid supplies, bike maintenance tents and check-in maps along the way so you may be able to skip carrying extra supplies on your bike.
Charity rides are labeled such because there is often an entry fee with a portion of the proceeds donated to the event's beneficiary. There may also be a fundraising goal required or encouraged for each participant to raise individually. Get to know the organization you are raising money for so you feel connected to the event as you raise money and ride.
Cycling Races
Do you consider competition a factor that drives your performance and experience? You may prefer a classic bike race. High energy and adrenaline packed, these races are offered in various locations across the US. Some events are held at race tracks which may require a certain amount of skill with sharp curves and high speeds.
While you do not have to be a professional athlete to participate in a competitive race, it may be best to consider if an event like this is right for your riding style. The urgency and tension that can fuel a competitive athlete's ride may be intimidating to less aggressive riders. There are often many prizes at stake, with varying categories which may include overall place, distance and age groups, so even though the person beside you may not be pushing to win the race overall, they may be striving to win a certain category. If you are not determined to meet a certain goal other than finishing, but still want to participate, you may want to consider starting behind the pack so you can go at your own pace without added pressure.
While trying a new event can be daunting, you will never know the experience until you try it. Having a goal in sight is often the fuel that lights an athlete's fire, while participating in the actual organized cycling event can be extremely rewarding on many different levels. Find the event that is right for you and enjoy the ride!
###
Special thanks goes to Kim Highfield for offering us some valuable training information and insights for this article. Kim is a veteran athlete and founder of an elite compression sportswear company, Sportport™, located in Charlotte, NC. You can learn more about her company at SportPortActive.com
Casey Clark Kelley is a writer, certified lifestyle coach and fitness instructor. She enjoys staying active with long distance running, cycling and cross-country skiing as New England weather allows. Info@caseyclarkkelley.com