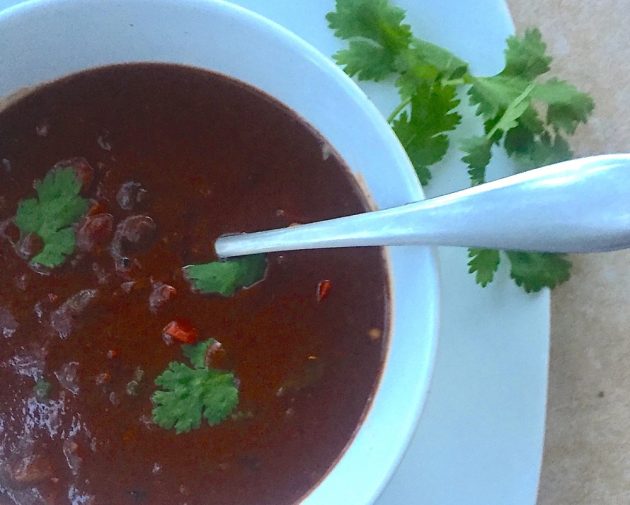 By Brandon McDearis
This month's recipe is an easy to prepare black bean soup with hints of spicy southwestern flavors. It is very filling, but is low in calories and fat, and high in protein and fiber. This can be a great first-course or can be the center of the meal by itself. There is the option to blend part or all of the soup after it is finished cooking, but it is not a requirement. Blending half of the soup gives it a nice consistency, and is less work on the digestive system, however the flavors remain evident regardless. The recipe makes about 8 servings.
Ingredients:
2 tablespoons olive oil

1 yellow onion, diced

1 red bell pepper, diced

1 jalapeno, seeded and diced

4 cloves garlic, minced

2 Roma tomatoes, diced

2 teaspoons chili powder

1 teaspoon cumin

1 teaspoon paprika

2 14oz cans black beans

2 cups vegetable stock or broth

pinch of salt and pepper

dash of hot sauce

juice of 1 lime

2 tablespoons chopped cilantro
Preparation:
Heat the olive oil in a soup pot at medium-high heat. Add the onion, bell pepper and jalapeño and stir often for about 5 minutes.

Add the garlic and continue stirring for another 2-3 minutes or until the vegetables are soft.

Add the tomatoes and the next three spices. Cook down, stirring continuously for about another 3 minutes.

Add the black beans and the vegetable stock/broth. Cover, reduce heat to medium-low and simmer for 30 minutes, stirring every 5-10 minutes.

Remove pot from the heat. Season liberally with salt, pepper, hot sauce, lime juice and taste. If needed, add more seasoning and thin the soup with more stock/broth.

Blend half of the soup in the blender or with an immersion blender and return to the pot (optional). Garnish with the cilantro before serving.
Makes about 8 servings.
Nutrition Facts:
Calories: 168 / Fat: 3.5g / Saturated Fat: .5g / Carbohydrates: 26g / Fiber: 6g / Protein: 8g
# # #
Brandon McDearis is the owner of Your Way Cuisine, www.yourwaycuisine.com, a personal chef and nutrition consulting business. He is also a professional wanderer that spends much of his year trotting the globe and working in places such as Alaska, Australia, and Antarctica.