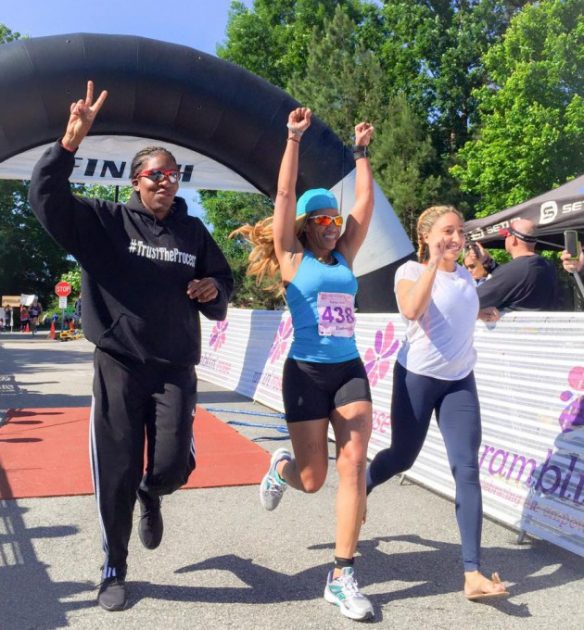 THE SWIM | 225 Yards
The swim takes place in the indoor pool. Athletes will be called to the pool area by swim ability, starting with those who rate themselves as a 10, 9, 8, etc. Once you complete 9 lengths of the pool, you'll exit, and then it's a short run to the Transition Area.
NOTE: Spectators will not be allowed inside the YMCA.
THE BIKE | 8 Miles
The course will begin and end via Baileywick Rd and continue through the beautiful Stonebridge residential area. YOU CAN DO IT!!
THE RUN | 2 Miles
The run course keeps runners on the YMCA campus and close to the spectators. It's a 2-loop course that is flat and fast, and gives you two chances to take advantage of an aid station.
THE FINISH
Located right next to the pool, the finish line/sponsor village is sure to be a big hit and a perfect place to end an amazing event!
Ramblin' Rose Raleigh 5K
Want to experience the fun at Ramblin' Rose but not sure about doing a triathlon? Or maybe you are supporting someone training for Ramblin' Rose and want to also race while there. Come and run the 5K race! Visit http://ramblinroseevents.com/raleigh-tour-home/
Ramblin' Rose Raleigh Beneficiaries
Ramblin' Rose events are not only about "empowering" the participants, but they also provide great benefit to several very important non-profit organizations. Ramblin' Rose Raleigh benefits the AE Finley YMCA's We Build People Campaign, Beautiful Together and Tri It For Life.