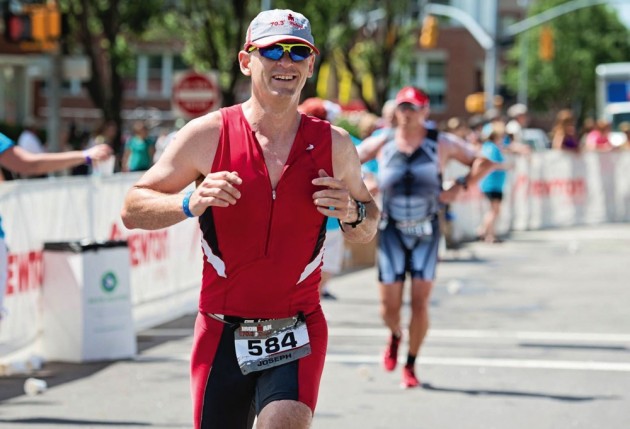 Now in its 12th year, the Ramblin' Rose Women's Triathlon family continues to grow. Since the first event in Chapel Hill in October 2006 more than 30,000 women have become Ramblin' Rose triathletes. In addition to welcoming these new triathletes to the Ramblin' Rose family, we also welcome the husbands, sons, fathers, brothers and other family and friends who come out to support their soon-to-be triathlete on race day. The signs, shirts and cheers of an athlete's support crew help define the magical moment of their loved one becoming a triathlete. Endurance Magazine is proud to kick off this season with our annual Ramblin' Rose Triathlon Guide. I hope that you will be inspired by the triathletes who have shared their personal stories with us in this issue.
I sincerely hop to inspire not just the women reading this issue but, the men as well. There is no better time of year to make a commitment to lead a healthier life than now. As the women in this issue have shown, it all starts when you sign up for a race. When you put your money down for a race, like the Tar Heel 10 Miler, the QuintilesIMS Bull City Race Fest & Food Truck Rodeo or one of the many triathlons taking place in the Carolinas and Virginia this year, you are more apt to do the work to finish.
That work starts with a visit to your doctor for a check-up. Far too many people wait until they are not feeling well to visit the doctor, who after a brief exam and review of symptoms, will make a reactive diagnosis and perhaps prescribe some medication. While he or she might also suggest eating better and getting some exercise, there's usually not a lot of guidance for a better diet and more exercise. Instead of playing a passive role like that in your health care take charge this year and build your own health care team. The core of good health care team would consist of the following:
A Doctor. It's always a good idea to get a health assessment prior to any type of exercise regimen. Now that many of us have renewed or purchased health insurance for the new year, this is the perfect time of year to get a physical. In fact, many plans require an annual physical.

A Trainer. This could be a personal trainer, a trainer in a group fitness club or gym, a yoga instructor, or running or triathlon coach. These are the people who have the knowledge to help you achieve your fitness goals, whether that is losing weight or finishing an Ironman.

A Registered Dietician. A registered dietician can help you sort through the myriad of misinformation about healthy diets, gluten intolerance, heart health and more. More than 20 year ago I was 30 pounds heavier and eating what I thought was a healthy diet only to find I was doing more damage than good. A registered dietician helped me create a plan for making better food choices and I gradually lost weight and greatly improved my high cholesterol and high triglycerides.
Whether you are sick or not building a team of professionals around you to help optimize your nutrition, exercise, sleep, and stress management, will help you best manage your unique health factors. What's more is that it will not only bring down the cost of your healthcare in the long run, it will help bring down the high cost of healthcare in the United States, too. After this past election, it is clear that cheaper healthcare is something we all want. Let's make 2017 the year that we take responsibility for it in our own hands.
— Joe Nuss
Inspire. Perform. Endure.