By Brian Diaz
Summer is definitely here! The hot and muggy days, a staple of North Carolina this time of year, are in full force! This usually means cycling enthusiasts are trying to get on the road early in the morning or finding shade off-road in the woods on a mountain bike.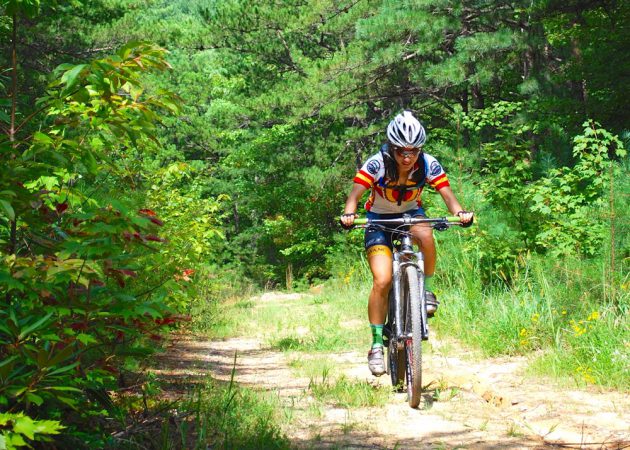 Mountain biking is a different beast compared to road cycling. First off, for most challenging single-track trails you need a specific mountain bike. Whether it is hard tail or full suspension, single speed or not, 29" wheels or 27.5" wheels doesn't matter, as long as the tires are bigger and built to handle the rugged terrain. What does matter is adding some cross training and resistance training to your routine if you get competitive. There are changes required to address the demands of mountain biking.
Legs are still the focus; this doesn't change from road cycling. Legs are the power source and need to be the focus when strength training for mountain biking. Variations of squats and lunges are necessary. If you can have a Functional Movement Screen done by a local Physical Therapist or physiology expert, this helps target imbalances specific to your physique.
Core strength also needs to be a part of the routine; here's where you get creative. There are hundreds of core exercises. However, the standard plank, if done correctly, is one of the best to activate all the trunk and pelvic stabilizers, the center of the power transfer from body to pedal.
Upper body fitness for mountain biking differs from road cycling If you watched the Tour de France, did you notice the riders' physique? Most had strong legs and a much smaller upper quadrant (unless you're Peter Sagan and racing in the Olympics for mountain biking as well). Mountain biking requires more upper body strength for bike control. Not just handling the tighter turns and rugged terrain, but also descents. Mountain biking is a constant up and down with very few straights. This requires more upper body strength and combined multi-joint movements. The snatch, clean, and push press are excellent ways to incorporate upper body strength while still having a lower body and core focus.
If you aren't able to see your local physical therapist or physiology experty for a more refined routine designed for you based on the results of a Functional Movement Screen, below is a basic group of exercises you can perform a couple times a week for a solid cross training day during mountain biking season. Should you have any pain or current injuries/pathology, consult with your doctor or PT first. Try and complete 2-3 full sets after a good warm up. You can find all of these exercises and more at www.YouTube.com/ActivEdgeFit.
Single leg Romanian deadlift x 10 each
Overhead squats x 10
Overhead drop back lunges x 10 each
Dumbbell single arm snatches x 10 each
Kettlebell swings x 12
Planks with glute raises and reaches x 10 each side
Burpees with pushups x 12
Mountain climbers x 50
# # #
Brian Diaz is the head physical therapist and sports specialist at ActivEdge Fitness & Sports Performance. He is a Level II Certified TRX Suspension Trainer and a USA Triathlon Certified Coach. Follow him on Twitter (@JediTriathlete) or go to his website at ExperienceTheEdge.com for more exercise ideas.
<photo courtesy Paul Stahlschmidt>