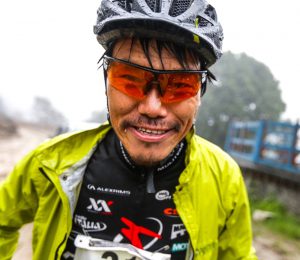 Back in 2009, Brian Sain was a high school student preparing to ride his 5th 24 Hour of Booty event in honor of his brother. Brian's brother Aaron heroically battled a brain tumor for seven years before losing his fight in 2005, the year Brian rode 80 miles on his father's old 1985 Fuji road bike in Aaron's honor. We featured Brian on our cover in March 2009 and are proud to see that not only is he still riding, he's sharing his love and knowledge of cycling with others through his new bike shop, Rhoddie Bicycle Outfitters in Blowing Rock. We caught up with Brian recently and got the scoop on his shop and services, the great riding nearby, and a new segment of cycling called "gravel riding" which Rhoddie Bicycle Outfitters can help you enjoy with their guided service.
— The Editor
The mission of Rhoddie Bicycle Outfitters is to connect cyclists of all ages, abilities, and interests to the abundant cycling opportunities the Blue Ridge Mountains have to offer. Rhoddie Bicycle Outfitters is located in Blowing Rock, North Carolina in the heart of the High Country. Our name is derived from the iconic Rhododendron, found in great abundance throughout Appalachia. It is impossible go without seeing and smelling these beautiful plants while out on a ride in the mountains and while in bloom the pink and white of their flowers add striking contrast to the deep greens of other surrounding flora.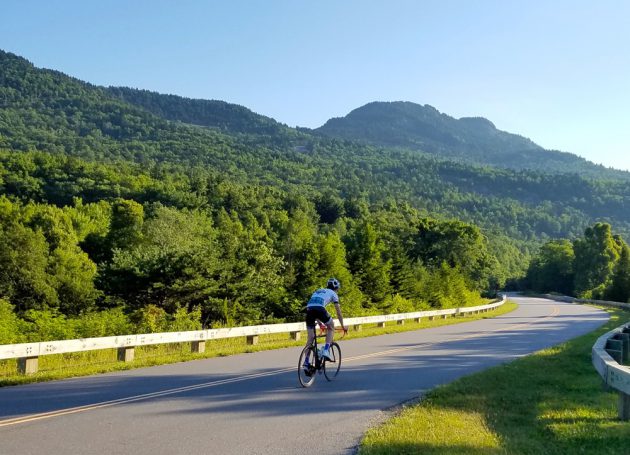 Within a mile of Rhoddie's door, one can be on the Blue Ridge Parkway and within Pisgah National Forest. Rhoddie's geographic location makes it the perfect cycling destination for all types of riding. During a weekend visit, one can cycle on the most-scenic sections of the Blue Ridge Parkway, ride some of the best gravel roads in the country, and immerse themselves in a network of classic East Coast style cross-country mountain biking trails within Pisgah National Forest.
Because of our location as well as the growth and interest of gravel riding, Rhoddie has focused its rental bicycles and guide services to specialize in this area. Within a mile of Rhoddie's door, one can be on the first mile of several hundred miles of interconnected gravel roads. These roads twist and turn through Pisgah National Forest from Blowing Rock to Asheville. These roads vary greatly from steep and extended climbs gaining a few thousand feet over multiple miles to undulating roads that bend and curve just below the ridgelines of mountains, and even to gentle grades meandering along river valleys.
Truly there are gravel rides for every type of rider, all promising beauty, adventure and serenity. Although there are too many places to mention, we have to name our favorites — Our favorite climb is Pinola Road from Edgemont to Jonas Ridge. Our favorite descent is Maple Grove Church Road aka Maple Sally. Our favorite valley road is Brown Mtn Beech Road. Our favorite road to see waterfalls is Anthony Creek Road. Our favorite road for long range views is Edgemont Road. Our favorite places to refuel are Betsey's Ole Country Store and Coffey's General Store. If someone is interested in exploring these great gravel roads, Rhoddie is delightedly willing to provide support.
Along with our fleet of rental bicycles, we offer route planning and mapping, and the very best way to experience the gravel of Pisgah is with a Rhoddie guided ride. We welcome riders of all abilities and happily accommodate our clients based on sites they want to see, distances they want to ride, and elevation they want to gain.
A typical guided gravel ride starts at our shop in Blowing Rock. We set our clients up with their bicycles and make sure they have everything necessary for the days ride. We then load up our 4X4 with bicycles, a cooler full of drinks and food, and other essentials for the day. Based on the proposed route we will then take off for our starting point or roll right from the shop.
During a guided ride, clients are encouraged to ride at whatever pace they feel comfortable with, but we do suggest before descents, everyone regroups and uses the buddy system to insure everyone makes it down safely and does not get separated. Typically, we will also make a few stops along the way to refuel at one of the General Stores and capture plenty of pictures. Although the atmosphere is casual with our rides, the terrain is not and will challenge riders of all abilities, the scenery and experience is well worth the effort.
In the shop, Rhoddie offers repair services, bicycle fitting, and provides the best products for equipping our customers for the ultimate enjoyment of cycling in the Blue Ridge. In addition to carrying Cannondale, Pinarello, and Grava bicycle brands, the shop carries Giordana, Defeet, Ridge Supply, Handup Gloves, Fizik, Mavic, Fulcrum, Topeak, Giro, Lazer, Kask, Garmin, Maxxis, Continental and Lezyne.
Rhoddie seeks to connect patrons to quality products and resources for the ultimate cycling experience of the Blue Ridge. Rhoddie Bicycle Outfitters is located at 257 Sunset Drive in Blowing Rock, NC. Our hours are 11am to 6pm Monday through Saturday and 1pm to 6pm Sunday. You can reach us at 828.414.9800 or info@rhoddiebicycleoutfitters.com.