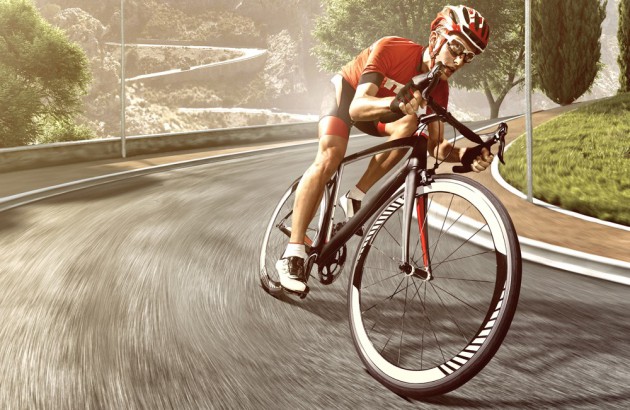 By Amanda Kerr
Laura Cordes knows endurance. She knows a thing or two about what it takes to push yourself – physically and mentally – to stay the course and go the distance.
But about a year ago, Cordes started having lower back pain after years of cycling. As an avid cyclist, who participates in triathlons and century rides, the initial twinges of back pain didn't initially standout as a big deal.
But when a few days of discomfort turned into weeks, and weeks turned into months, Cordes wasn't sure what was going on. Her typical remedies of massage and Ibuprofen weren't working; she couldn't pinpoint the exact cause of her pain.
"I was stumped on how to address it for a while as my usual fall backs were not working," she said.
After nearly a year of persistent pain, Cordes finally sought help.
Comfort is King
Back pain is among the most common ailments a cyclist can suffer. Other typical areas of discomfort for cycling enthusiasts – knee pain, hip pain, and neck pain – should come as no big surprise when you consider the physical requirements of the sport.
Age and overuse injuries can contribute to the onset of pain, but bike fit and form are often the driving factors behind chronic discomfort for cyclists.
How important is bike fit? "It's key," says Karen Kovacs, PT, MPT, OCS a physical therapist with the southeast and central Virginia-based Tidewater Physical Therapy. "Everything from knee pain to back pain to neck pain, it does come down to bike fit."
The reason for that is because a professional bike fitter can match a cyclist's anatomy to the ideal proportions and angles of his or her bicycle. From form to knee flexion to posture to height, a qualified bike fitter is someone who understands a rider's anatomical limitations and can adjust a bicycle's function to maximize the cyclist's performance, says Kovacs, who is also a USAT Level 1 coach and an avid and competitive endurance athlete.
"The whole point is to take your anatomy, your limitations, to get an ideal fit, so you're not straining your knees, back, neck or hips," Kovacs says.
Form and Function
There are times, though, when bike fit is not enough. Sometimes bad form can take its toll on a rider.
Tired knees can put a strain on the hips or back. The strain of an hours-long ride can put pressure on the lower back. And then there's the taxing nature of holding that hunched over form for aerodynamic performance. As fatigue sets in and the upper back rounds, so does the neck, causing pain as the rider cranes his or her head up to see the road.
There's little doubt that cycling can create pain from stem to stern. Mike Satterley, PT, DPT, SCS, CIMT, CMTPT, CSCS, also with Tidewater Physical Therapy,  says over time poor form can cause a domino effect where slight imperfections in knee and hip flexion, and posture and mechanical technique can create a perfect storm of throbbing misery.
"Just because you're not getting proper flexion in your hips, doesn't mean that's the only thing causing a problem," Satterley said. "Other ranges may also not have the appropriate amount of flexion or positioning."
A physical therapist can evaluate a cyclist's form from top to bottom to identify possible problem areas. A basic musculoskeletal evaluation is essential to identifying general areas of weakness that can be improved through targeted exercises and stretches.
"If your hips aren't as strong as they need to be, that can cause your knees to lose their form and create tracking problems at the knee cap," Satterley said. "If your back is not positioned correctly for the duration of a ride, that can put a lot of flexion on your lumbar spine. When you're sustaining that position for hours, that's when you tend to have a problem."
Artful Training 
There's the science behind training a cyclist to have technically correct form and then there's the art of it. At least that's what Michael Harlow, founder, and chief-executive-officer of Richmond-based Endorphin Fitness, thinks.
From Harlow's perspective a smooth, comfortable ride starts with fit and form. As a coach for Endorphin's Junior Team, Harlow helps assess and train cyclists ages 5 to 19. Everything from pedal position and making sure a cyclist's knees are straight forward to reaching a proper seat height and posture that supports the back to the way the hands are contacting the handle bars and how that affects hip and shoulder angles, all of that comes into play in terms of rider comfort.
"Then we start to talk about what should be happening when you're pedaling," he says.
Kovacs agrees the fit will drive the form.
"It all does come back to proper form based on fit," she says.
And when fit and form alone won't eliminate discomfort, a physical therapist can create treatment plans that tackle physical limitations.
Evaluating a rider's impairments, whether it's core stability, muscle tightness, balance issues or joint restriction, will determine what exercises, stretches and massage may be needed to address the problem at hand.
"We take a look at the anatomical limitation and ask 'Can we do anything about that," Kovacs says.
Getting back on the road
In Cordes' case, the president of the Yorktown Triathlon club, finally found relief from her back pain once she connected with the right massage therapist, saying after one session "he gave me relief of pain I had been living with for over a year."
And a bike refitting was also crucial to eliminating Cordes' long-standing discomfort on her bike.
"It turns out the physical dynamics of your cycling can change after a while, and a refit can help put things right," she says. "As a club, we try and bring our members this type of information – bike fitting, physical therapy, massage therapy and riding mechanics – in monthly clinics open to all, members or not."
The point of it all, Harlow insists, is to help rebuild riders after an overuse injury and get them back on the road better than they were before.
"We do strength training to increase performance and pinpoint areas that could potentially lead to injury," he says. "We attack those areas with the goal of making them strong, so the injury doesn't occur again."
# # #
Amanda Kerr is a freelance writer for Consociate Media based in South Carolina. A professional writer with experience in daily newspapers and magazines, Amanda covers a variety of topics, ranging from sports to healthcare and hospitality