<Photos by Tamara Lackey | Tamara Lackey Photography>
The cover of Endurance Magazine's October 2012 issue features "Chuck", a homeless man at the time who was participating in an inspiring new organization called, RunningWorks. RunningWorks was created by one of the world's most accomplished endurance athletes, Meredith Dolhare, and uses sport and education to empower individuals and families to break cycles of abuse, neglect, poverty and homelessness one stride at a time. It is a "sport for social change" organization.
The same values one accrues from participation or competition in any sport translate well to life—including but not limited to discipline, confidence, teamwork, self-respect and respect for others. Each one of their six programs follows the same curriculum, most importantly the concept of one team, one family, where each member has a place to be heard in the life skill component that takes place after the runs. RunningWorks is a value-based, mentorship-driven organization focusing on volunteerism rather than "handouts". They want their team to learn how to fish, not simply be given a fish; therefore, they volunteer before and after every race they participate in to earn entries. At this point, RunningWorks navigate more than 15 races a year from 5k to the full marathon.
Endurance Magazine caught up with Meredith Dolhare recently to talk about her personal story that drove her to create RunningWorks, how it has progressed since 2012, and it's exciting new partnership with another non-profit, Beautiful Together.
WHAT WAS YOUR REASON FOR CREATING RUNNINGWORKS?
From 2008-2011, I was racing Ironman events pretty much back-to- back-to-back, and raising funds for
another nonprofit based in California, who I still support. However, I felt that I was simply raising money and passing it off to someone else to solve the issues. My hands were not getting dirty although I found within myself the ability to successfully fundraise and draw people to the mission. Upon some self-reflection and thinking about my own struggles, I realized there was much to be done in our region with the homeless, who are virtually the forgotten population. I kept thinking that somebody ought to really reach out to this demographic, and then realized, "I am somebody!" Yes, there is extreme poverty all over the world, and kudos to anyone trying to do their part in other countries, but we have dire circumstances right in front of us in our Carolina hometowns. My mission has become to challenge the stigma associated with the homeless; they are not who we think they are, they are not lazy, do not all panhandle, and do want to enact change for themselves. If someone finds the RunningWorks program and continues their investment in time with us, he or she wants a different life. It may take six months or even four years, but eventually they will believe in themselves. We attempt to be that solid beacon who loves each member until they can love themselves. Running does work!
DO YOU FEEL YOUR PERSONAL STORY IS A MOTIVATING FACTOR FOR YOU WANTING TO HELP OTHERS?
My personal story of sexual violence and addiction has been a driving factor from Day One in the creation of RunningWorks. When speaking to groups or starting a new program, I often challenge the listeners bias by saying they might think I have had no hardship in life upon looking at me, but that is the same stigma associated with their lives on the street. I've been blessed to have struggles in life, which I believe allows me to feel with, not for, the groups I am serving.
The quickest way to turn a new team member off in RunningWorks is to not empathize or have compassion—to feel sorry for them and not share your own story. My story lends credibility to the mission, and I am an open book during every life skill session, team run and race. Many of our men, women and children have been subjected to the very same issues of domestic violence, addiction, sexual trauma and loss of trust; therefore, RunningWorks becomes a safe haven for talking about their emotions and feeling a part of something bigger than themselves.
Many of our core team members tell me that they cannot afford therapy, but RunningWorks is just as good! It is a family of choice. Believe me, I get just as much out of the life skills and lending a hand to others as they get from their participation. It is a cathartic exercise for all—including me. By getting outside of myself to assist those in great need, I do not have time to feel sorry for myself or allow myself to ever be a victim again. Someone always has it worse than I do—something we talk about often in group.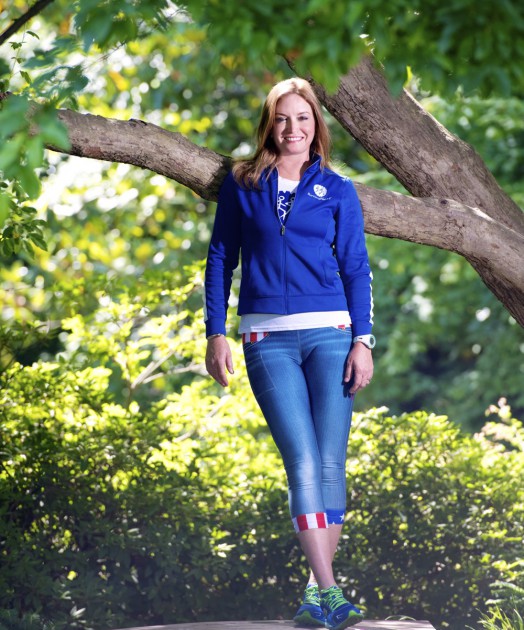 <Photo by Tamara Lackey | Tamara Lackey Photography>
HOW HAS YOUR EXPERIENCE AS AN ENDURANCE ATHLETE ENABLED YOU RELATE TO AND HELP THESE PEOPLE ENDURING THE HARDSHIP OF HOMELESSNESS?
My experience as an endurance athlete has most definitely helped me to relate to and help those I serve on a daily basis. Having raced distances from the Ironman to the Brazil 135 to Ultraman to Badwater and Furnace Creek 508-mile Bicycle Race in extreme conditions, my family of choice never leaves my mind. When it gets difficult, I think about Chuck digging a hole to sleep in, or Charles choosing shelter for his dog over himself. What a blessing it is to be able to even toe the line at these incredible events, let alone finish them. As I mentioned, there is always someone who has worse struggles, so I attempt to keep my racing in perspective and make the RunningWorks team proud at the same time. Once they are aware I have subjected myself to the limits of pain and struggle yet again, our group realizes that I am not soft. How can I give up on myself out there when I refuse to give up on them? Plus, if I continue racing at a high level, it garners attention for the people I care about the most by raising awareness for RunningWorks.
HOW HAS RUNNINGWORKS CHANGED, IF AT ALL, SINCE 2012?
In the beginning, our mission was to simply assist the homeless using the core values associated with running during our group times, and volunteerism on the weekends at races. We had one program on Tuesdays and Fridays at the Urban Ministry Center of Charlotte. As we had more and more success finding jobs and housing in addition to other emergent services for our original group, many of whom still attend after four years even if they have a job and/or housing, they reached out to us themselves and expressed an interest in helping a younger demographic—in addition to others who had been subjected to abuse or neglect.
Most of our men and women did not grow up with a supportive family environment, and now they have found it within the RunningWorks team; therefore, our team presented that pre-emptive strike before negative consequences arrived to younger populations of at-risk youth and children. They emerged as a cohesive unit trying to pay it forward by suggesting we reach out to programs supporting kids in DSS custody, runaways, those cycling out of foster care at 17-years-old in North Carolina, people in recovery or attempting recovery and others not shelter or group home eligible under 24-years-of-age.
Now, we have programs five days a week in North and South Carolina assisting a demographic from age 4-60 plus years of age. We are partnered with the Urban Ministry Center of Charlotte, The Relatives On Ramp, the Children's Attention Home and The Palmetto School in Rock Hill, and Charlotte Rescue Mission's Dove Nest in addition to one evening a week with the amazing NoDa Run Club where we provide a family-style meal following a three or five-mile run. Our new programs make life extremely busy and funding a necessity, but they also have proven to be the most beneficial way to really reach this population at its core.
WHAT ARE OR HAS BEEN THE BIGGEST CHALLENGES FOR RUNNINGWORKS?
There are many challenges associated with RunningWorks—including but not limited to attempting to receive funding for a population that is not valued in society. Many uninformed people truly believe that the homeless are out of reach and incapable of hard work or reform. They could not be further from the truth and need to get to know those they consider their foe—or do not consider at all! I've found those we assist to be brilliant, witty, hardworking, resilient and forgiving.
We will continue challenging that stigma as a team. As we have expanded, so has our need for staff, which cannibalizes any budget. This can no longer be a few person crusade because real work is being done with results to speak for themselves. Running is working, but that requires assistance on every level to give each and every homeless man, women or child the best we have to offer in time, talent and treasure.
On the flip side, it is extremely challenging to work with someone for months or even years, see them succeed in their goals and flourish—only to have one setback and walk out on everything they have accomplished. In my opinion, those souls are the ones we need to embrace and lift up during the darkest hours so they continue to believe reform is possible. Otherwise, we lose them forever.
PLEASE SHARE WITH US ONE OF THE MOST MEMORABLE SUCCESS STORIES OF RUNNINGWORKS.
There are so many memorable success stories within RunningWorks in our first four years, but a few come to mind with star quality. Your cover model from 2012, Chuck, has been on the street for nine years. He has been with RunningWorks since our very first day in April 2012, and has completed upwards of 25 races with us including two marathons and two half marathons—both half marathons in under two hours and one marathon in 3:57!
This month and through much perseverance, Chuck is housed and working. He is more stable and focused than I have ever seen him, and is already attempting to pay it forward by helping others on our team go through the proper channels to achieve the success he has. We refused to give up on him even when he wanted to give up on himself.
Structure is often an inhibiting factor for the chronically homeless—it frightens them. Overcoming that fear and attempting to reason with them on their level with patience, love and a soft nudge ensures success, but on their timeline.
HOW MANY PEOPLE IN ALL HAVE YOU HELPED FIND JOBS THROUGH RUNNINGWORKS?
Each week, we are serving between 70-100 men, women and children in the most dire of circumstances. I recently had someone ask me, "Are these people really on the street? Come on. Tell me where they live. How many are in shelters versus on the street?" She was incredulous and had never realized that people living on the street, behind magnanimous churches, digging holes for themselves at night to sleep or finding a grounded transfer truck to shimmy under, can and will be able to work. They are nothing short of amazing and find ways to utilize whatever resources our cities have to shower, feed themselves and still appear at work and the RunningWorks program. Since our inception in 2012 and with only one program for the first two-and-a-half years, we have secured employment for more than 60 individuals and housing for nearly as many.
WHAT INSPIRED YOU TO WORK WITH STEVE AND TAMARA LACKEY FOR A BEAUTIFUL TOGETHER PROJECT?
Steve and Tamara Lackey embody everything we are attempting to project and accomplish with RunningWorks. They understand having a family of choice. Steve and Tamara want to shine a light on children living in extreme poverty, foster care or orphanages via DSS custody by raising funds and awareness through video, photography and social outreach.
Oftentimes, all a nonprofit doing good work needs is exposure and that spotlight shone brightly so the world can see its authenticity and originality. By partnering RunningWorks with a Beautiful Together, we are reinforcing those same values aforementioned of family, teamwork and instillation of confidence within every individual. Even the name speaks volumes, for at RunningWorks, we believe each and every person suffering in extreme poverty will do beautifully, together.
Trust is one of the hindering factors in reaching marginalized populations, so gaining that trust by consistently doing authentic work and always "showing up" is paramount. This is something Steve and Tamara Lackey understand, and we are honored to be chosen by Beautiful Together to enact change one stride at a time.
---
Beautiful Together Partners with RunningWorks to Help Homeless Children
Our newest Beautiful Together project is focused on working to improve the quality of life for impoverished youth in America – specifically, homeless youth who have recently cycled out of foster care and are struggling to find a home, a job, and a community. We are grateful to be partnering with RunningWorks, an organization that works hard to stop the destructive cycle of homelessness.
One of the major things we have learned is that, as helpful as homeless shelters can be, it is often difficult for homeless youth to figure out life on the streets, to learn how shelters and feeding programs work, to get transportation to and from life-changing opportunities – and so much more. In order to break the cycle of homelessness, there needs to be access to something as simple as showers, the ability to get clean, to feel better, to stay healthy in unhealthy environments. This is difficult for homeless youth for many reasons – not just the long lines they share with adults but also repeatedly being part of environments where they may not be prepared to protect themselves as needed.
Some of the children RunningWorks assists are as young as 4 years old. Many are young teens who have left abusive or neglectful situations, a foster care system that repeatedly moved them from home to home (sometimes over ten times) for years, or they are simply kids who have made a mistake and now face the overwhelmingly daunting cycle of poverty.
We would like to supply Running Works with a set of private, portable showers and a generous supply of toiletries and towels, as well as some much-needed bus passes, so they can not only offer homeless youth showers on site, but they can also move the showers with them as they continue to grow as an organization. This relatively simply thing – clean, safe showers for homeless youth – offers them not only the dignity that we all deserve, but the opportunity to stay healthy and have the best opportunity to present themselves
in a way that can dramatically change their lives. RunningWorks operates on the mentality that sometimes you need to love people before they can love themselves and you need to believe in people before they believe in themselves. We love that. We believe in that.
The cost of a portable showering system, and related necessities, will cost $9500. If you can donate, please do. If you can help spread the word, please do.