By Carolina Camaro Hurant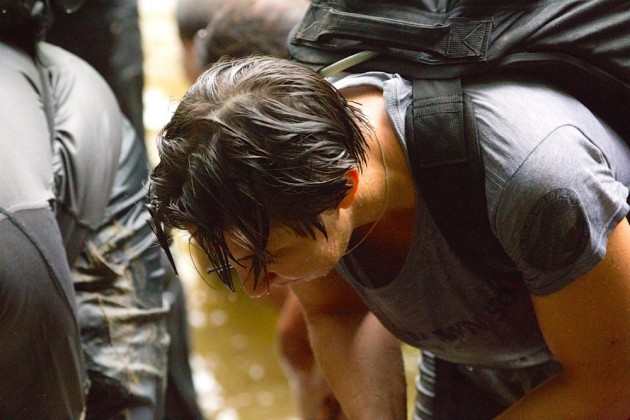 It's no surprise that women are getting more involved in the world of hardcore fitness. From mud runs to obstacle course races, ladies are getting down and dirty. If you're a female fitness warrior in search of your next challenge, look no further.
GORUCK is an endurance event that has been graduating fearless ladies to its ranks since September 2010. The GORUCK Tough, the original challenge event, is a 10-12 hour event covering 15-20 miles. You carry a ruck (a backpack) with 20 or 30 pounds if you are under 150 or over 150 pounds. In addition, you carry all your supplies such as food, clothing and water.
As a team of 30-40 people, you "ruck" and complete tasks including but not limited to carrying a buddy, carrying a log, carrying water jugs, lunging, bear crawling, push ups, etc. Cadre Garrett, one of the GORUCK leaders says, "The hardest part is signing up, the second hardest part is showing up. After that it all gets easy because you get to meet the people that comprise of your TEAM and you realize that you are all in this together and that you had nothing to be nervous about to begin with. That's the power of the TEAM."
There are other GORUCK events, each to suit different challenge levels. The GORUCK Light has a higher female to male ratio, 50/50 and a 99% completion rate. Over the years, more and more women have started to participate in the GORUCK events. Cadre Garrett had some powerful things to say about the women of GORUCK, "I stopped being surprised by the female members of a GORUCK team a long time ago. There are just as many natural leaders and strong-minded women among the participants as men. The strong female element on a GORUCK team was a surprise to me when I first started working GORUCK events in 2012. Probably because in my 13 years of US Army experience, I never worked with women, they were not allowed to work in the Infantry or Special Forces. But well over 100 GORUCK events later, the female element in a GORUCK team no longer amazes me, I expect them to be awesome integral members of their team every time."
Here are what some local GORUCK ladies had to say about their personal experiences.
Claudia, 38, from Chapel Hill says, "GORUCK taught me that I can push myself further than I ever thought possible. You think you know your breaking point and then you do a GORUCK event and you realize how much more you have left in the tank. Inspiration from your unit mates serve as a good source of drive forward and pushing through."
Jessica, 38 from Raeford, NC says, "The biggest piece of advice I'd give a fellow female is don't let the voices in your head win. Those voices are going to tell you that you're not strong enough and that the male participants are going to have to pick up your slack. Those voices will tell you to quit time and time again, but you just have to quiet those voices. Think about the role model you are becoming by participating in this kind of event. Now, I can show my 13 year old daughter that it's okay to be a tough, strong, badass woman."
These women have certainly inspired me; so much so, that I have signed up to participate in a GORUCK event this Spring. Wish me luck!
For more information about GORUCK or GORUCK events visit their website http://www.goruck.com/
# # #
Carolina Camaro Hurant is a runner/crossfitter/yogi. She is the owner of Inspire Fitness, a small group and private training outdoor fitness studio that offers classes, one on one training and nutrition coaching. Carolina graduated from the George Washington University with a degree in Exercise Science and Nutrition. She has been personal training for over 10 years. Carolina loves being outdoors with her family.