by Mwangi Gitahi
A few times a year, running shoe companies release their newest products and make updates to our favorite trainers, racers and trail shoes. This fall, runners can expect a continued emphasis on neutral trainers as well as trail offerings, where the overarching design principles emphasize lighter and more flexible materials for improved performance.
Here are a few of our favorites from the newest batch of road and trail shoes, sure to add a spark to your training.
ADIDAS | Adizero Boston Boost 6 | Category: Neutral/Lightweight | Price: $120
Weight: Men's 8.8 oz/Women's 7.3 oz | www.adidas.com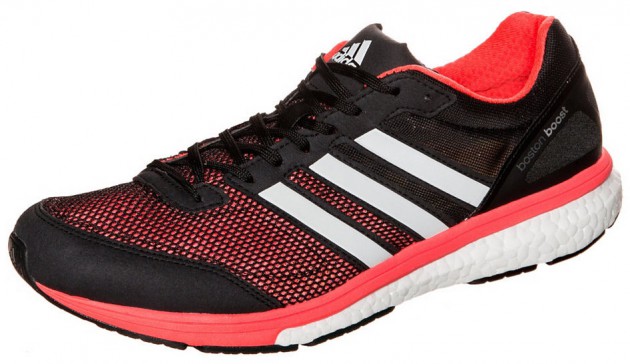 The Adidas Adizero Boston Boost 6 is a lightweight trainer designed for runners with a neutral foot strike. This version incorporates Adidas' Boost foam technology and Continental rubber sole to create a smooth, fluid ride. It's also designed with material adaptable to a wide range of temperatures which allows it to provide a comfortable ride in different climates. The shoe features a knit mesh upper, an updated feature from the previous versions, which is flexible and breathable and creates a snug, comfortable fit. The upper conforms to your foot and flexes as you step to prevent blisters. This shoe also runs true to size. It is an excellent option for runners looking for a lightweight, responsive trainer.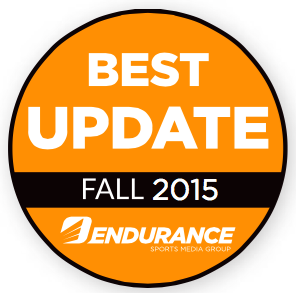 ASICS | Gel-Nimbus 17 | Category: Neutral/Cushioned | Price: $150
Weight: Men's 10.8 oz/Women's 8.8 oz | www.asics.com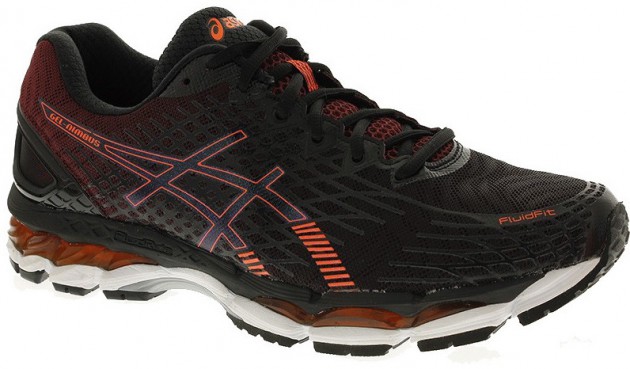 The ASICS GEL-Nimbus 17 is designed for runners seeking a premium, neutral daily trainer that offers ample cushioning and reliability. With a newly-designed upper and updates to the midsole, the shoe is lighter and retains the cushioning runners have come to enjoy in the Nimbus. The GEL-Nimbus 17 also offers a secure fit along with a smooth, comfortable heel-to-toe transition. It is meant to handle the demands of higher mileage training.
BROOKS | Glycerin 13 | Category: Neutral/Cushioned | Price: $150
Weight: Men's 11.3 oz/Women's 9.3 oz | www.brooksrunning.com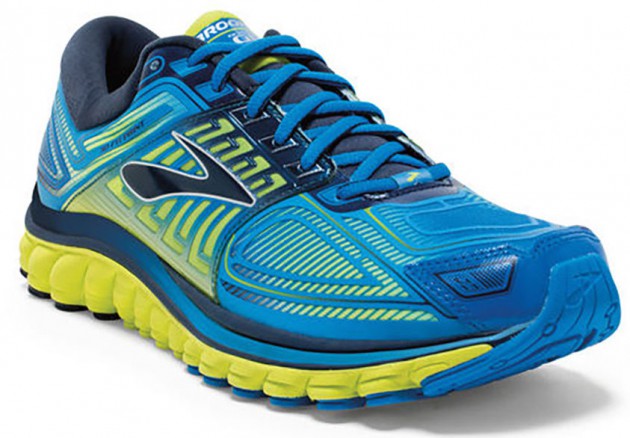 The Brooks Glycerin 13 continues its tradition of offering premium cushioning to runners. It is targeted for  runners with a neutral gait, seeking a shoe which provides plush feel and delivers a smooth, responsive ride. The Super DNA midsole provides a plush ride while the Ideal Pressure Zones create a premium running experience by allowing uniform distribution of weight during ground contact. The improved seamless upper design, along with an updated midsole saddle, allows for a personalized, secure fit around the entire foot. The Glycerin 13 is Brooks' top- of-the-line cushioned shoe, and for good reason. The updates to this latest version can be felt from the very first run. The Glycerin 13 maintains its plush ride and smooth transition while handling the rigors of high mileage training.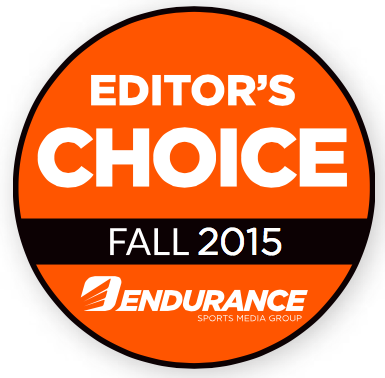 HOKA ONE ONE | Clifton 2 | Category: Neutral/Lightweight | Price: $130
Weight: Men's 8.3 oz/Women's 7.2 oz | www.hokaoneone.com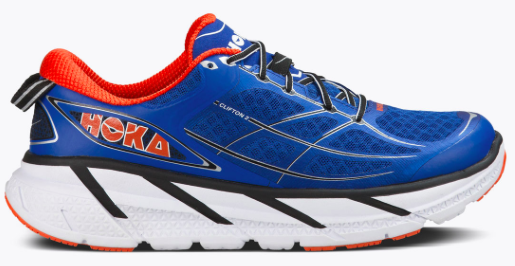 The Hoka One One Clifton 2 is an ultra lightweight shoe that provides an incredible amount of cushioning. The shoe features a no-sew speed frame upper and early stage meta rocker technology that makes the ride comfortable and smooth. The upper also features a padded tongue for greater comfort over the instep. Overall, the design of the Clifton 2 provides a newer, more refined version of the original and very popular Clifton 1. It is an incredible road running shoe for all distances.
MIZUNO | Wave Enigma 5 | Category: Neutral/Cushioned | Price: $150
Weight: Men's 10.9 oz/Women's 8.8 oz | www.mizunousa.com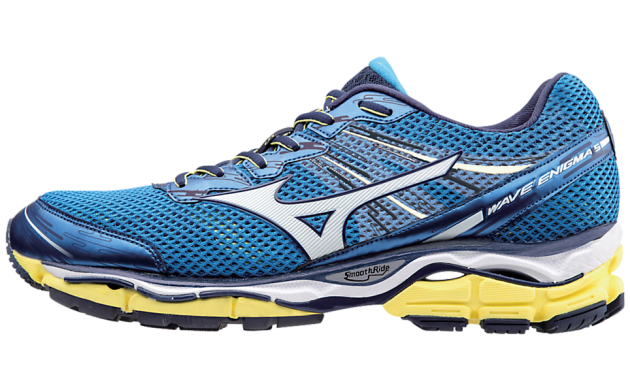 The Mizuno Wave Enigma 5 features a more cushioned midsole utilizing two new foam types, the u4icX and u4ic, to go along with a new u-shape full-length parallel wave that helps evenly disperse the forces at foot strike and provide a responsive feel. Also updated is the sock liner, which provides a comfortable, chafe-free fit, protecting the foot without causing any blistering. The toe box provides a somewhat narrow fit and the sizing also runs small, at least a half or even a full size smaller than the previous version. The Wave Enigma 5 is designed for high mileage runners or runners who simply desire extra cushioning.
NEWTON | AHA II | Category: Neutral/Lightweight | Price: $110
Weight: Men's 7.4 oz/Women's 6.3 oz | www.newtonrunning.com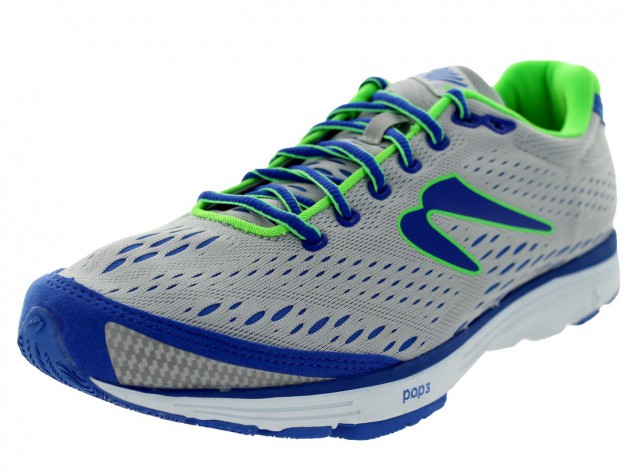 The Newton Aha 2 features a lower-profile design than many of the brand's previous models, and hits a happy medium between lightness and cushioning. Newton lowers its traditional forefoot lugs with the Aha as part of its newer 'Gateway' models, allowing newcomers an opportunity to ease into the added metatarsal support. The shoe encourages a quick transition through the gait cycle, provides a responsive ride, and can be used for daily training and distance racing equally well.
NIKE | Lunarglide 7 | Category: Stability | Price: $125
Weight: Men's 9.8 oz/Women's 7.9 oz | www.nike.com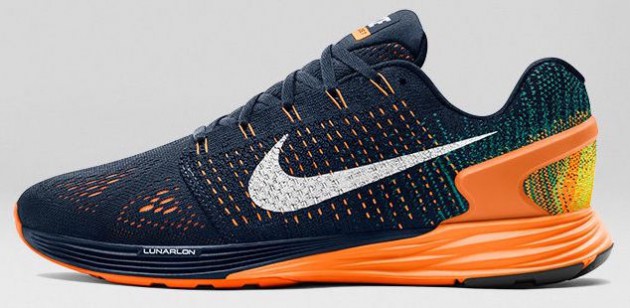 The Nike LunarGlide 7 offers a reliable combination of stability and cushioning for mild to moderate overpronation. An upper that features both re-engineered mesh and Flyknit material combined with a dual-density midsole featuring reengineered Lunarlon foam offers a secure, personalized fit while delivering a smooth and supportive transition throughout a runner's gait. The shoe remains lightweight and versatile for those runners who require mild to moderate stability in a lightweight, daily trainer without compromising performance.
SAUCONY | Ride 8 | Category: Neutral/Lightweight | Price: $120
Weight: Men's 9.4 oz/Women's 8.5 oz | www.saucony.com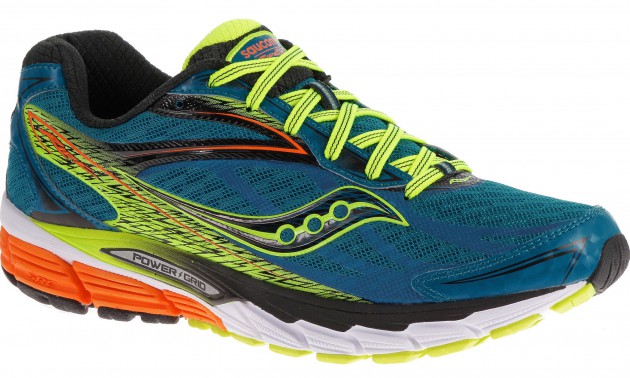 The Saucony Ride 8 offers runners a good balance between cushioning and responsiveness. This shoe uses SSL (Saucony Super Light) EVA foam in the midsole which reduces the overall weight of the shoe while providing a decent amount of energy return with every stride. The upper features a finer mesh than that used in the Ride 7 and also features Saucony's FlexFilm seamless overlay which gives the shoe some added strength and support. The RUNDRY moisture-wicking lining does a decent job of wicking away moisture and is relatively plush in the heel cup. The Ride 8 is a durable trainer designed for both speed and for higher mileage.
NEW BALANCE | Vazee Pace | Category: Neutral/Lightweight | Price: $110
Weight: Men's 7.5 oz/Women's 6.5 oz | www.newbalance.com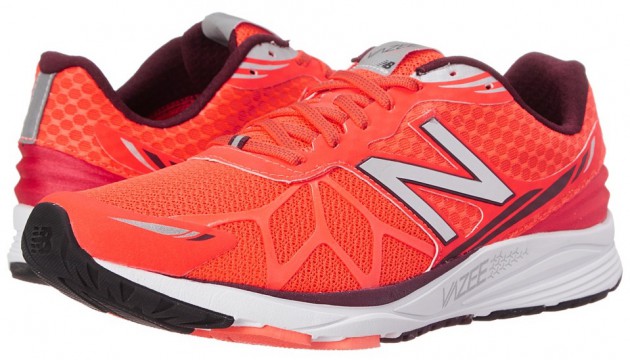 The New Balance Vazee Pace replaces the 890 series in the New Balance performance line. This neutral performance trainer uses New Balance's REVlite foam technology on an 890 base, combined with the new Zante upper. The upper is seamless and extremely breathable, keeping your feet cool even during long runs in heat. It has overlays throughout to keep your foot locked in, and the redesigned Zante upper hugs the midfoot before opening up into a wide and roomy toe box. A slightly wider heel may lead to slipping for some, however. Weighing in at 7.5 oz with a 6mm heel drop, this shoe is meant for speed; but, it can take the beating of a traditional trainer. Under testing, the Vazee Pace handled 15-mile long runs just as well as it handled track repeats. Overall, it's a good new addition to the performance neutral market.
PEARL IZUMI | E:Motion Road N3 | Category: Neutral | Price: $130
Weight: Men's 11.7 oz/Women's 10.2 oz | www.pearlizumi.com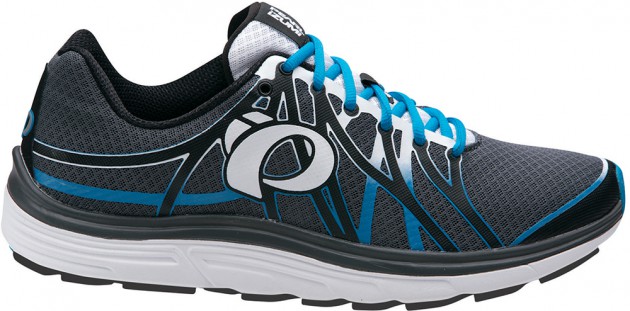 The Pearl Izumi E: Motion Road N3 draws from the success of previous models in the E:Motion line, offering a road trainer with maximum cushioning. The shoe boasts a seamless upper, wide toe-box, and luxurious cushioning sufficient for the long haul. Neutral runners will appreciate the accommodating ride.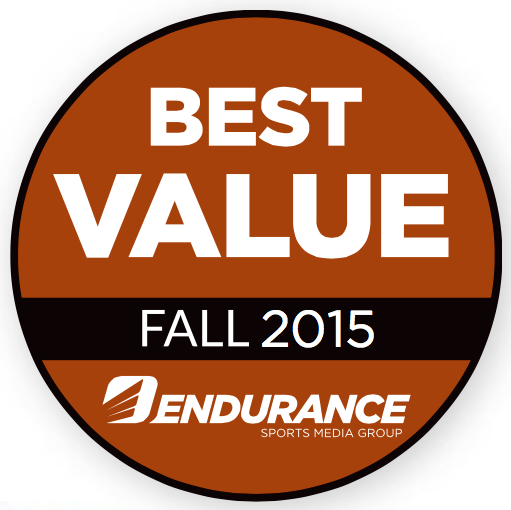 SKECHERS | GOrun Ultra Road | Category: Neutral | Price: $110
Weight: Men's 10.4 oz/Women's 8.3 oz | www.skechers.com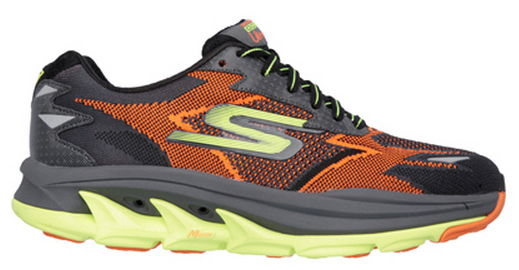 The Skechers GOrun Ultra Road is the newest, maximum-cushion shoe released by the Skechers Performance Division. This shoe features Skechers Performance Resalyte material and is built in two pieces, which allows the shoe to have superior cushioning and also adds a layer of resiliency that gives the GORun Ultra Road a snappy response off the ground. A tight knit upper also provides a supportive fit without the use of unnecessary overlays. This upper is also roomy and easily accommodates a larger volume foot. The GoRun Ultra Road is good choice for a daily trainer or long distance mileage.
 [divider]
Mwangi Gitahi is a competitive runner, running coach and a self-proclaimed shoe geek who coordinates the team of reviewers at runningshoesguru.com and compiled the reviews for this guide. He aspires to be a lifelong runner and enjoys training in the many bike paths and trails of Rhode Island.