The effects of sun damage on the skin are well documented and studies have shown that endurance athletes have an increased risk of skin damage. Still, some surveys have reported that only about half ever apply sunscreen before working out. As summer hits full swing be sure to take these simple precautions to protect your skin and your health!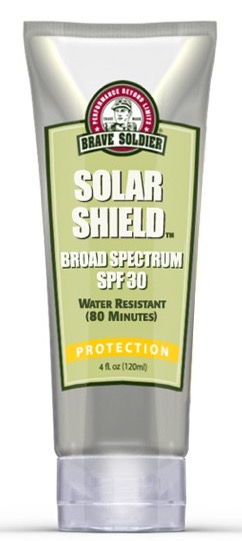 Wear Sunscreen
Always wear sunscreen! Whether sunny or overcast, everyone should wear a sunscreen with at least 15 SPF. Choose a sunscreen like Brave Soldiers' Solar Shield which is a hypoallergenic moisturizing sunscreen specifically formulated to provide broad-spectrum UVA & UVB protection, the sun's most damaging rays. Solar Shield is water resistant up to 80 minutes and contains the powerful sun block, micronized zinc oxide. Apply the sunscreen 20 minutes before heading out the door to ensure it's absorbed into the skin. Athletes embarking on a long training day or race may want to bring a small travel size sunscreen to reapply. Besides protecting your skin from sunburn, wearing some types of sunscreen regularly can reduce skin aging. Solar Shield includes moisturizers and anti-oxidants such as Vitamin E, green tea extract, Hawaiian kukui nut oil, and other botanical extracts combine to fight the drying effects of the sun.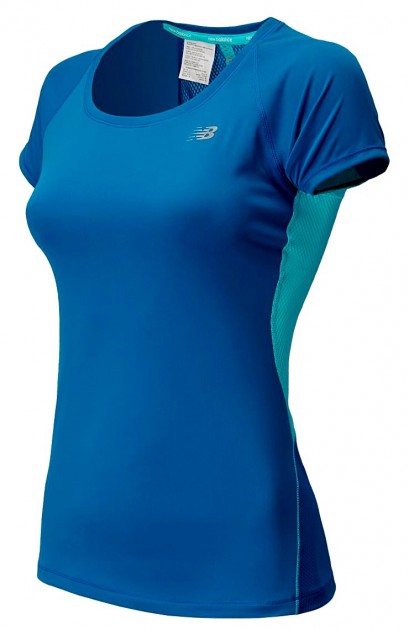 Cover Vulnerable Spots
The ears, lips, shoulders, and top of the head are the most vulnerable body parts exposed to the sun. It's not surprising that these areas have a higher incidence of skin cancer. So, avoid extra damage and sunburn by applying sunscreen liberally to these areas. Wearing a cap or visor can also be beneficial to blocking the rays of the sun. In addition to protecting your skin, the cap will keep your head cool. While it may be hot out there, it's always best to wear a shirt instead of going shirtless or in a sports bra. Some technical clothing gear is designed and labeled as "sun protective." Look for a UPF (ultraviolet protection factor) of 30 or more, like the New Balance Ice Short Sleeve shirt. The Ice shirt has amazing breathability and it feather light. Be sure to opt for darker fabrics because even though lighter-colored fabric might feel cooler, darker fabrics shield more ultraviolet rays.
Avoid Running at Peak Sunshine Hours
One of the best things about running is the opportunity to get outside and "absorb some vitamin D". While it might be nice to get out during the day for a lunch run in the fall, winter, and spring, during the summer your best choice might be to avoid running between 10 a.m. and 4 p.m. Instead, opt for an early morning or evening run, when the sun's rays aren't as strong. You may find that a sunrise or sunset run might just invigorate your passion for running even more.
Eat a Plant-based Diet
Early research focused on the sun-soaked Mediterranean has shown that despite a typically outdoor lifestyle, people in the Mediterranean are less likely to get melanomas than Americans. Scientists believe that in addition to their olive skin tone, the disparity may be from our very different eating habits. An Italian study published in the International Journal of Epidemiology showed that the region's largely plant-based diet, brimming with vegetables and fruits as well as olive oil and fresh herbs, cut melanoma risk by 50 percent. Researchers point to the plant-based diet's antioxidants. Scientists believe the abundance of antioxidants found in the Mediterranean diet help protect against cellular damage caused by the sun's ultraviolet (UV) radiation, still the biggest risk factor for skin cancer, according to dermatologists.