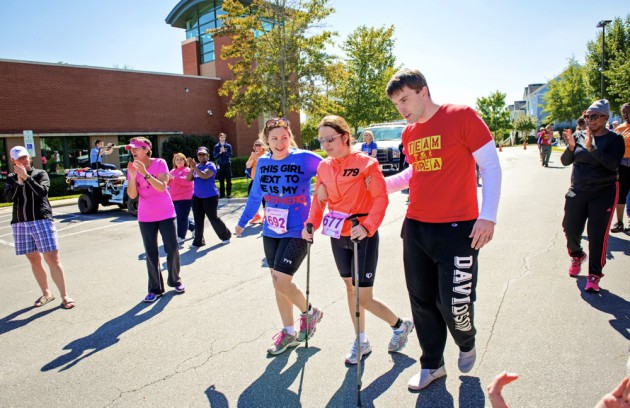 Approaching the finish with my friend, Julie Wesner, and husband, David Peet. Photo by Tamara Lackey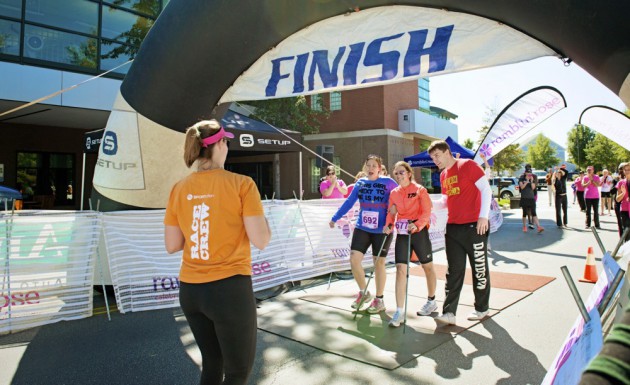 So excited to see that Ramblin' Rose medal…we worked hard for it! Photo by Tamara Lackey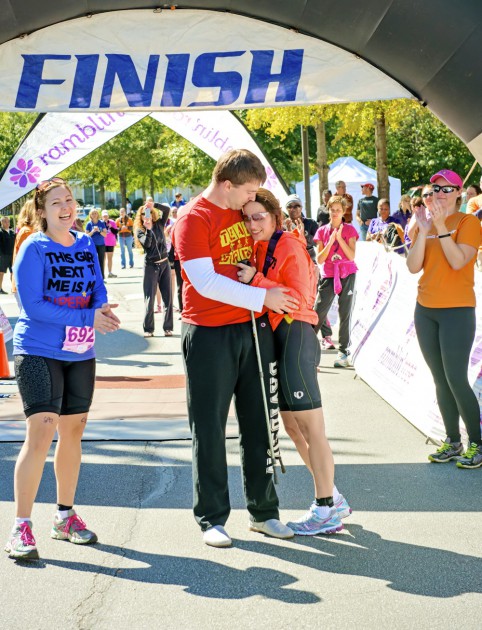 A moment and feeling I will never, ever forget. Photo by Tamara Lackey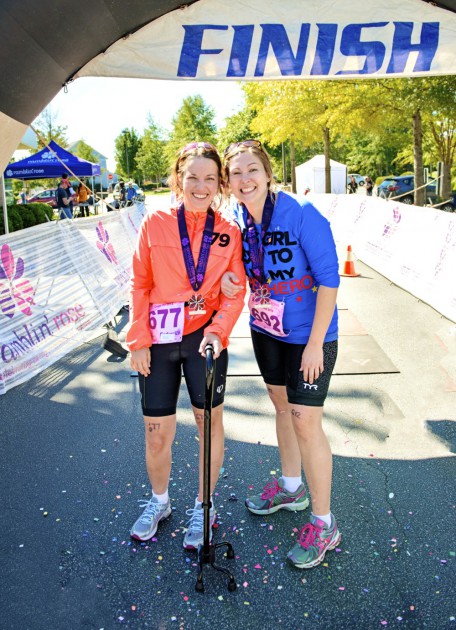 Thank you Ramblin' Rose and Endurance Magazine for the experience of a lifetime! Photo by Tamara Lackey
Walking through the finish chute with everyone cheering and crying, honestly, I couldn't look around.  I would have lost it.  People say I inspired them, but it is nothing compared to what reverberated through me from all sides.  It was the very best of humanity.  
By Andrea Peet
I believe everything happens for a reason. I may not fully understand why I was diagnosed with ALS (Lou Gehrig's disease) at the age of 33, but I do know that it is teaching me how to live, appreciate each day, and about the unbelievable compassion of others.  Nowhere was that more evident than at the Ramblin' Rose triathlon in Chapel Hill on October 5, 2014.
I was not athletic growing up.  Most of my extracurricular activities revolved around playing french horn in the band.  By middle school standards, I was pretty good, coming in first in a state competition with a score of 179 out of 200.  The same year, my parents bought me a brand new horn made by Holton Farkas, model 179.   From that point on, 179 became my lucky number.  That becomes important a bit later…
In 2011, I discovered I could no longer get away with my college and grad school diet of pizza, quesadillas, and Diet Coke.  I had no discipline for the gym, but a friend suggested an 8k run.  A goal?  That clicked.
By 2012, I had worked up to a full marathon, but I realized I liked the cross-training of triathlon.  At Christmas, my husband declared 2013 "Year of the Triathlon" as I unwrapped a box of shirts for the whole family with "Team Drea" emblazoned on them.
I did five triathlons in 2013, culminating in the inaugural Carolina Half in September, a 70.3-mile race in and around Davidson College, my alma mater.   I was terrified of the distance, the hills, and the cutoff times, but those feelings melted into patience and gratitude as I worked my way through the day.  I was hooked and couldn't wait to do another one.
But after the race, my hamstrings stayed wound tight and I started tripping over my toes.  I went to a physical therapist in November who sent me to a neurologist saying "your muscles just don't seem strong enough for having just done a half ironman."
Fast forward through five neurologists, many tests, and several medical theories over the next eleven months before I finally got a diagnosis of ALS.
ALS is a fast-moving degenerative disease where the brain loses the ability to communicate with the muscles.  Since the muscles aren't being stimulated, they atrophy.  Most people with ALS die within 2-5 years.  In that time, their minds stay fully intact, forced to watch as they lose the ability to walk, talk, eat, swallow, and eventually, breathe.
So I was shocked when I learned of Jon Blais.  Jon "Blazeman" Blais became an Ironman in 2005, five months after being diagnosed with ALS at the age of 33 (my age).  NBC covered his unbelievable journey to Kona.  His bib number?  179.  In honor of Jon's amazing feat, the World Triathlon Corporation (WTC) made bib 179 honorific, reserved for athletes racing for a charity, often ALS.
Jon created the Blazeman Foundation before he died two years later to fund research to defeat the disease once and for all – even though he knew it probably wouldn't save him.  His parents now run the charity in his honor, not taking a salary so that 99% of the donations go to finding a cure.
Facing my own ALS diagnosis, I was incredibly inspired by Jon and thought I might be able to manage a super sprint triathlon before the season ended and use it as a fundraiser for the Blazeman Foundation.  My friends and family donated more than $9,000 in two weeks.  I was astounded.
My friend Julie Wesner raced with me. Julie and I have been inseparable since the age of two.  She had never done a triathlon before, but she took swimming lessons and bought a bike to train for the race with me.  I was excited for us to do it together, but I had no idea how much I would need her.
Race morning was chilly – 43 degrees at the start.  The cold caused my muscles to clamp down, but I couldn't do anything like running or jumping jacks to warm up.  So I just stood in patches of sunlight and was grateful for the warmth.  I was relieved to get into the UNC Wellness Center.  While waiting for our turn in the pool, I watched women and girls of all ages, races, shapes, sizes, and swim abilities just doing their best with volunteers, race staff, and other competitors cheering them on.  It was really nice.
The swim was fine, but it was so much colder walking through transition sopping wet.  I clutched onto Julie and we wrestled my trike out with some help from volunteers.
I love my recumbent trike.  I thought it would be sad to give up my road bike, but it's so much fun.  The sun was out, the sky was perfectly blue, and for once, I couldn't fall.  I thought about Jon Blais, all the people supporting me, and what a great feeling it was to use my muscles.  So much of what I love to do has been taken away from me this year – to get a glimpse of it back even for a day was just plain awesome.
As we started the "run," my legs weren't cooperating.  My toes curled, my feet dragged, and my knees locked out backwards with every step.  Julie held onto my arm the whole time.  I really never thought about giving up, I was just frustrated by not being able to walk normally no matter how hard I concentrated.
Never did it cross my mind that anyone would be waiting at the finish line for us besides our friends and family.  But the announcer had told everyone that they didn't want to miss the last place finishers and almost a hundred people stayed for almost 40 minutes.  Apparently they had a dance party, which should be standard for all triathlons!
Walking through the finish chute with everyone cheering and crying, honestly, I couldn't look around.  I would have lost it.  People say I inspired them, but it is nothing compared to what reverberated through me from all sides.  It was the very best of humanity.  What is it like to have that force of compassion directed at you?  It defies words.  Jon Blais knew.  And now I know too.  All I can say is thank you to all the members of the newly expanded Team Drea.  Thank you for creating a memory and an emotion that my friends, family, and I will never, ever forget.
Andrea Peet blogs at www.teamdrea.blogspot.com. You can make a donation at www.active.com/donate/teamblazeman/teamdrea.