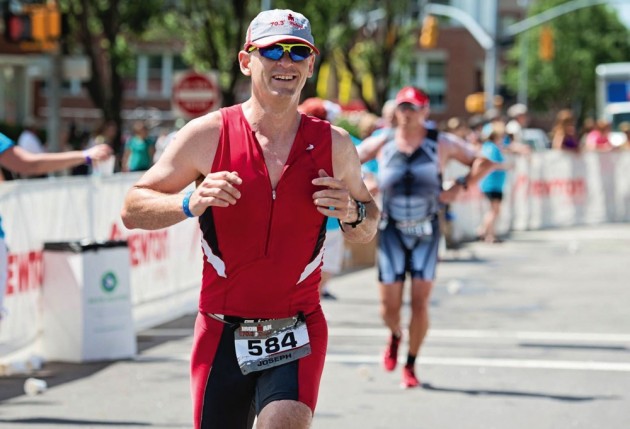 Now in its tenth year, the Ramblin' Rose Women's Triathlon family continues to grow. Since the first event in Chapel Hill in October 2006 more than 25,000 women have become Ramblin' Rose triathletes.  In addition to welcoming these new triathletes to the Ramblin' Rose family, we also welcome the husbands, sons, fathers, brothers and other family and friends who come out to support their soon-to-be triathlete on race day. The signs, shirts and cheers of an athlete's support crew help define the magical moment of a Ramblin' Rose woman becoming a triathlete.  Endurance Magazine is proud to kick off this season with our Annual Ramblin' Rose Triathlon Guide.  In addition to information about our events and beneficiaries we also share the stories of a few women who have been participating in Ramblin' Rose for years.
We also feature the story of Andrea Peet, who capped our 2014 season with an amazing finish in Chapel Hill.  Peet became a triathlete in 2013 when she completed five triathlons, culminating in September of that year with her first half iron event, the Carolina Half.  Though terrified of the distance, her fear melted into patience and gratitude as she worked her way through the day.  But, after the race, her hamstrings stayed tight and she started tripping over her toes.  A visit to a physical therapist in November 2013 was the beginning of a medical journey that included five neurologists, many tests, and several theories before a frightening diagnosis.  Be sure to read her inspiring story "179".
Deciding to participate in your first triathlon is a certainly a great way to shake up the New Year but, what if you have already completed in a triathlon or are already a seasoned triathlete?  Do you need to have an even bigger and better goal for 2015?  If you are not ready to commit to that big New Year's resolution mountaintop goal just yet consider D.C. Lucchesi's advice in "And Now for Something Completely Different".  Lucchesi offers up five little changes that will make this year a biggie without breaking the bank or sending you off to some far away location to participate in "The World's Toughest [You Fill in the Blank]".
If a first triathlon is in your future this year then I highly recommend David Cross' article on buying your first pair of swimming goggles.  Buying goggles used to be a simple decision because of the relatively few choices in goggles.  These days, however, there is a bevy of choices depending on where and when you will be swimming.  You may even want to consider keeping two pairs of goggles on hand.  If you plan on doing laps in the pool as well as some open-water swimming or racing you will want to have some clear lense goggles as well as some tinted goggles to help alleviate sun glare.  I also recommend purchasing some anti-fog towelettes like SBR Sports' "Foggies" which not only defogs but, cleans the lens at the same time.
Another off-season consideration for many this time of year is strength training.  What exercises for strength and prevention of injury should you be doing as an endurance athlete?  CrossFit-style exercises and workouts have been popular over the past few years and if you are inclined to join a CrossFit gym you should not have any problems as it seems nearly impossible these days to drive down the street and not see a new CrossFit gym!  Regardless of whether you choose to join a CrossFit gym the winter is indeed a great time to add resistive exercises to your routine. Brian Diaz offers some guidance on how to determine what you should be doing this off-season as well as some sample routines in his article "CrossFit for the Endurance Athlete".
As always, be sure to check out our many other great reviews, exercises, and recipes and get ready for an awesome New Year!
— Joe Nuss
Inspire. Perform. Endure.