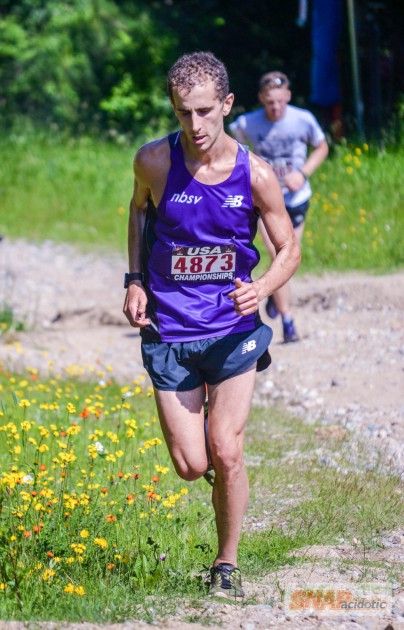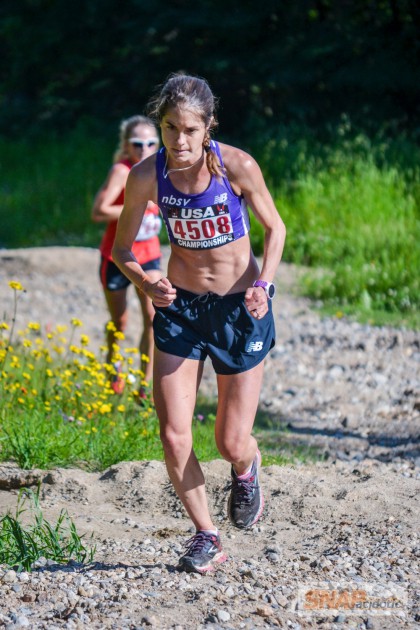 Introduction
With only a mile to go in the women's U.S. Mountain Running Championship race at Loon Mountain, New Hampshire, Megan Deakins, a former student at Duke University, needed to pass one more runner to qualify for the U.S. Mountain Running Team and travel to Italy for the world championship.
The Loon Mountain race has a reputation as one of the toughest in the region due in a large part to a nearly 1 kilometer ascent of the North Peak via a black diamond trail known as Upper Walking Boss. "The Boss," as it's affectionately known, is a grassy slope with angles that exceed a dizzying 40 percent grade. In order to qualify for the team, Deakins would need to pass one more runner on "The Boss." Three thousand feet below at the start, her fiance, Dave Roche, also a student at Duke, was furiously refreshing the race's Twitter feed to track her progress. He knew it would be close. He knew she could do it. Then, mercilessly, the Twitter feed went dormant. No updates.
For 10 agonizing minutes Roche kept refreshing the feed. Finally an update came in – she did it! Deakins advanced to fourth place on "The Boss" and earned her spot on the U.S. Mountain Running Team. She rode the gondola back down to the base of the mountain just in time to catch Roche before the men's race.
Now, it was time for Roche's race. If he qualified, he and Deakins would join the U.S. Mountain Running Team in Italy and race in the world championship for their honeymoon. It was if they had been training for authentic Italian gelato all their lives. But, if he didn't qualify, they'd probably just eat frozen yogurt or ice cream like they always did. The two could eat ice cream or frozen yogurt forever. With that in mind, the race started. Fueled on love and endorphins, Roche joined the rest of the running team hopefuls in a blistering 4:30 per mile pace as they set off to conquer Loon Mountain …
The Big Day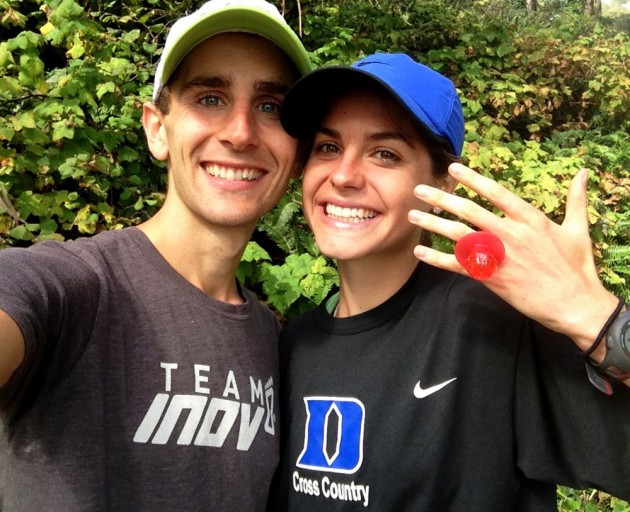 By Dave Roche
Aug. 14, 2013, was a normal day. It began with a long trail run (10 miles, 2,000 feet of climbing), Megan's ponytail leading the way. We shared an awesome lunch, which we cooked together in Megan's Palo Alto apartment. We adventured through some scary, exciting places (though this was just the furniture sections of several Goodwills in the area, rather than a formidable mountain). And we had a frozen yogurt date. I think it says a lot that our normal day, one we've shared a thousand times, is also my idea of a perfect day. So as we were sitting there, hungrily contemplating whether to go with red velvet cake or lemon cream cookie, it made sense when Megan said, "I want to do this forever."
Aug. 15, 2013, began as a normal day. But, it was really "The Big Day." We woke up at 5 a.m. to go for a run, Megan sipped her green tea while I glugged a gallon of coffee, and we laughed at the updates on our Facebook news feed. But some abnormal things started slipping into the routine. Like when I covertly placed three secretly acquired Ring Pops into my travel bag. And when Megan nervously packed a food bag with enough provisions to get us through a week in the wilderness.
I think she knew. Looking into her eyes on the drive through San Francisco, I definitely knew.
We arrived at the Marin Headlands just as the sun crested over the horizon. Of course, the sun is an abstract concept in San Francisco, much like dark matter. It exists, it must, but there's no way to be sure. So we set off into the fog, across the Golden Gate Bridge.
We went down to the water and I followed Megan's footsteps along the beach. I tried to covertly take pictures, hoping to avoid rousing suspicion. Megan was beautiful. The city was beautiful.
At 5 miles, we turned around, skirting the beach back toward the bridge. My heart rate was maxed out from nerves and excitement. Megan's 6-minute-miles certainly added to the cardiac stress. Luckily, we came to the car at mile 10 for a brief pit-stop before heading up into the trails. I stealthily grabbed the Ring Pops and two shirts before taking off up the trail.
In retrospect, this run was like a million others we've done together. But there was something about the fog, and the city, and the moment that felt different. I guess an everyday run is always different when it's with a one-in-a-million girl.
After 12 miles through the city and onto the Marin trails, we reached a rainforest. We have amazing memories from that spot from when we visited Stanford in October 2012. Megan's mom uses a picture of her running on that spot of trail as her screensaver. And most importantly for what was about to happen, it was the top of the mountain. No need to go further, it's downhill back to the car and there isn't much training stimulus from that. How about we stop here and walk back?
The sun came out. Of course it did. The weather is so cliche. She looked even more beautiful in the sunny rainforest. I loved her snot, spit, and sweat as much as her beaming post-run smile.
We walked through the forest, over fresh mud and glistening ferns and orange flowers. We were hand-in-hand, which is rare for us because it is an inefficient way to walk. I was worried that she could feel my heart beat through my palm. Then I looked at her. How can I worry about anything when I get to see that smile? How could life ever be stressful when it's spent adventuring with your best friend? All those thoughts, and millions (billions!) more went through my head in an instant. My heart beat slowed, and everything felt perfectly peaceful.
"Megan, you are the most beautiful, the most brilliant, and the most badass person I've ever met. The last three years have been the best of my life. I want to spend the rest of my years with you, I want to be there for you through sickness and health, and I want to raise adventure kids with you."
I got down on one knee and opened the strawberry Ring Pop.
"Megan, will you marry me?"
Gelato? Or Ice Cream?
The race was physical and intense. Elbows flew. When the course angled down for a few hundred yards, the pack sorted out at 4:10 pace and Roche moved into third as the next climb began. After another uphill kilometer, the race turned into the men-only section, a swampy bog with rocks, some rolling trail, and lots of mud. The leaders were running sub-6-minute pace up a gradual climb and opening gaps in the field. The top two runners began to pull away while Roche and a slew of other incredible runners were fighting for the remaining four spots on the Mountain Running Team.
At mile 4.2, after emerging from the woods, the real climbing began on a 30 percent grade ski slope. One point three miles and 1,300 vertical feet later, the U.S. Mountain Running Team would have its team for Italy. Would Roche be eating gelato in Italy? Or ice cream at home?
Suddenly, he was passed by four runners and found himself in eighth place with less than a mile to go. On the half-mile descent to the last climb, a half-mile that would average 37 percent grade, Roche went all out. Running at 4:15 per mile pace, he passed Ryan Bak and was coming up on Andrew. Roche's race to qualify for the US Mountain Running Team, just like his fiancee's, would be decided on "The Boss."
"At that grade," says Roche, "there really is no way to prepare or strategize. Just push and fight, hand-over-fist if necessary." Almost immediately, he slowed to a power-hike, hands on knees and even grasping at the dirt. Then, every 10 meters or so, a short sprint. Then power hike. Then sprint. At 40 percent grade, his hikes were about as fast as Andrew's run, and his sprints ate into his lead. Moving up the hill, Roche passed him and moved into sixth place. "I would be joining Megan on Team USA if I could just get a few hundred more yards to the finish," said Roche.
Just then, he heard a siren song from the top of the mountain: "This is for an Italian honeymoon! Dig deep, David!" It was the US Team leader, Nancy Hobbes, an amazing woman who has spearheaded trail and mountain running worldwide. Just a few hundred yards more. A minute later, 50-some minutes after Megan gave him a kiss 3,000 feet below, Roche finished to the booming announcement: "David Roche will be wearing red, white and blue in Italy!"
Gelato!