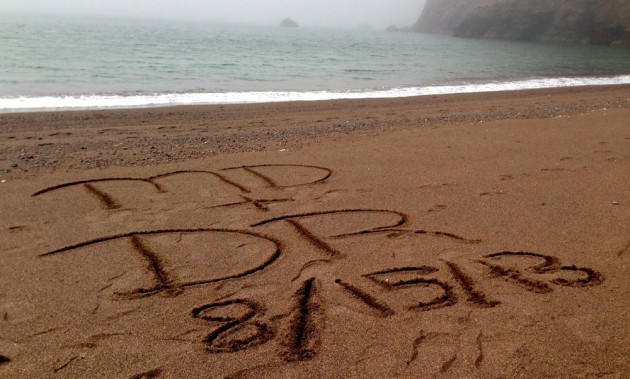 Twenty-six-year-old Dave Roche grew up on a tree farm in Crumpton, Maryland, and currently lives in Sunnyvale, California, with Megan Deakins and their "poop-machine puppy" Addie. Megan is 24 and was born in Devon, Pennsylvania. The two met at Duke University, where Megan played field hockey and competed in trail races as Megan "Butthead" and Megan "Beavis." They love frozen yogurt, ice cream and gelato.
EM: How did you get into trail running?
DAVE: I used to be a normal road runner, then I thought, "When the zombies come, they are going to expect us to be on roads." Basically, optimal zombie apocalypse preparation led me to the single-track of North Carolina when I started law school in 2010. Prior to that, I actually went to college to play football (I was a 200-pound running back), before an injury led me to cycling in 2007, which led to running in 2008, which led to losing some of that pesky upper-body muscle. Luckily, I found the world's most amazing girl, who coincidentally does not view biceps as a prerequisite.
EM: Have you ever found something interesting on a trail run?
MEGAN: When David and I are running together, he will sometimes spot a rock in the shape of a heart or will spot some beautiful wildflowers. When he finds them, he will carry them all of the way back home, even if we still have miles to go. We've often encountered all kinds of snakes, as well as a large share of roots that look like snakes.
EM: What is your favorite trail to run in North Carolina?
DAVE: North Carolina is where I fell in love with trail running, and the trails (and ice cream shops) of North Carolina are where I fell in love with Megan, so North Carolina will always be my favorite. My No. 1 favorite trails in the whole world are along the Eno River. Our first date was a hike on Holden Mill trail, and our first run was a loop of Cox Mountain. I probably ran 1,000 miles on those trails, and I imagine I could go back in 20 years and remember every single rock. I'll always be a North Carolina runner at heart.
EM: What is your favorite trail-running shoe? 
MEGAN: I've actually never worn a traditional trail-running shoe. A lot of my recent races have been on trails that have significant portions of fast, runnable trail sections. On these sections, I like to focus on fast running as much as possible, and I've had a hard time feeling comfortable at faster speeds in the more traditional or "lugged" trail shoes. Right now I am training in the New Balance 1080 trainers and I haven't had any issues yet with traction or slipping. However, I will be trying out the New Balance Fresh Foam Trail shoes in the coming weeks. I think that they will provide a good bit of speed.
EM: What's your advice for someone planning to propose to their loved one on a trail run?
DAVE: Make sure the trail run is long enough to get them glycogen depleted, then propose with a ring that contains glucose. Twelve miles plus a Ring Pop, and I'm pretty sure Megan had to say yes.
EM: Describe the perfect trail run/ice cream date.
MEGAN: The great part about our relationship is that we do what we consider to be a perfect run/ice cream combo date twice every weekend. In terms of trails, we are not picky – as long as the trail goes up and has runnable sections, we're hooked. Some of our favorite routes, though, involve Black Mountain at Rancho San Antonio, Windy Hill up to Skyline Boulevard, and Montarra Mountain in Pacifica, California. For frozen yogurt, our favorite in California is Yogurtland. We both love the peanut butter, chocolate, pistachio, and mint chocolate chip flavors with Heath bar and sprinkles as toppings. David always lets me have the last few bites of his frozen yogurt. I would say that's true love.