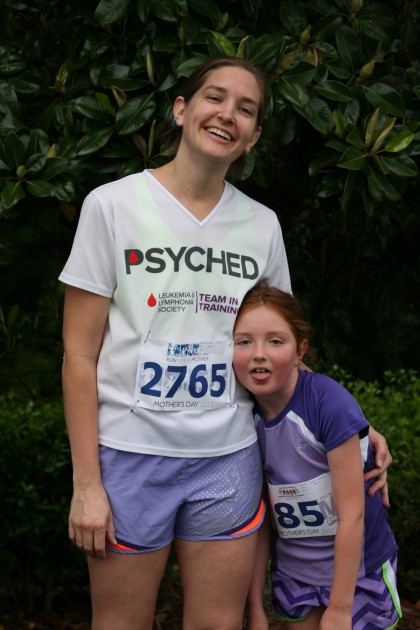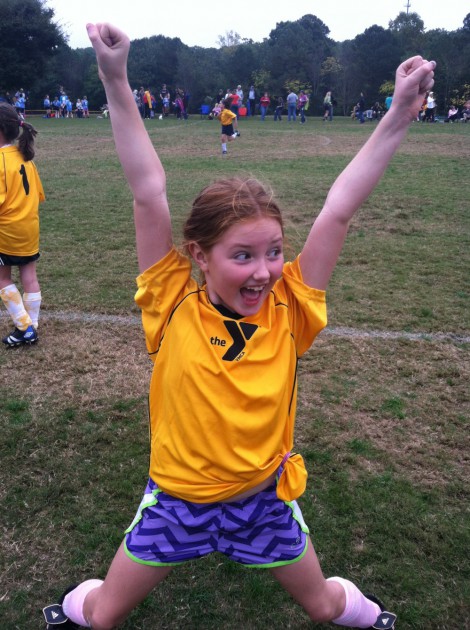 By MacKenzie Buice
It's Sunday morning, 2:30 a.m., and you're in the happiest place on earth. You've run a half-marathon the day before and now it's time to get up and do it again. That's right – you've logged 13.1 miles just yesterday and you're putting on your sneakers to get right back out there, only this time it's a full 26.2-mile marathon. Welcome to the Walt Disney World Marathon's Goofy Challenge, a feat self-described former "non-athlete" Ginger Templeton conquered last January.
"We were never runners," says Ginger's husband, Matt Templeton, though between the two of them they've now run four full marathons, completed a Goofy Challenge, and recruited and captained their own teams – all in less than two years.
For the parents of two – Lindsay, 9, and Michael, 7 – running was the furthest thing from their minds in 2008. During one week that August, Lindsay's grandmother and another family friend both pointed out her yellow-orange complexion to her parents. Having already chalked up her exhaustion to summer hiking and swimming, the Templetons decided it'd be worth having Lindsay checked out.
Bloodwork revealed anemia and dangerously low hemoglobin, palette and white blood cell levels. Right away, Lindsay and her parents were referred to Brenner Children's Hospital in Winston-Salem and oncologist Thomas McLean. At Brenner, it was quickly revealed that Lindsay had leukemia. That evening Lindsay received two transfusions and, the following day, a bone marrow biopsy.
Possible diagnoses of acute lymphoblastic leukemia (ALL) and neuroblastoma were considered before the Templetons were face-to-face with the diagnosis of acute myeloid leukemia (AML). Six months and rounds of aggressive chemotherapy, including Thanksgiving, Christmas and Valentine's Day stays in the hospital, didn't keep Lindsay from becoming an articulate 3-year-old who had a strong grasp of what she was up against, so much so that Matt and Ginger had difficulty speaking frankly with her doctor in front of her. "Lindsay went through chemo like a beast. Five tubes, five pumps, she was laughing and singing and dancing."
Through Lindsay's diagnosis and treatment the Templetons were introduced to the Leukemia and Lymphoma Society (LLS), the world's largest nonprofit health organization dedicated to funding blood cancer research and providing education and patient services, in Charlotte. LLS approached Lindsay and her family about supporting their Team In Training (TNT) athletes as an honored teammate. Honored teammates serve as a mission connection to inspire and motivate TNT participants who have committed to completing and endurance event such as a marathon, half-marathon, cycle or triathlon event while fundraising for the cause.
But it was not until the Templetons relocated from Charlotte to Raleigh that Ginger started to get the running bug herself. Ginger started slowly running on her own and had worked up to seven- or eight-mile runs when it hit her. "I could do this; I can really do this" rolled through her mind one day while out for a run and she decided she wanted to take on her first full marathon. "I wanted to contribute in some meaningful way. A full marathon was symbolic of how hard Lindsay's fight was," Ginger says.
Unable to attend group TNT training due to a busy work schedule, Ginger trained on her own for the 2013 Walt Disney World Marathon. Although she did not physically train with the team she was supported by TNT coaches Bob and Peggy Jackson and mentor Alex Caldwell throughout her months of preparation. Ginger describes her training as obsessive-compulsive, making sure every last quarter of a mile was run in order to be confident on race day.
When the Templetons arrived in Disney on race weekend and met the rest of the North Carolina team, Ginger felt "these are the people I was looking for." And just like that the Templetons became a part of the TNT family.
The following summer it was Matt's turn. Not only did he sign up for his first full marathon, the City of Oaks Marathon in Raleigh, he decided to recruit his co-workers for a corporate team. The eight-member CH Robinson Team, captained by Matt, raised nearly $9,000 for the local event in November 2013. "My company has a strong match program, and it became a daily conversation in our office. We had support from the top down and it was life-changing for teammates. It just kind of took off," Matt says of the experience.
The Templeton family has not slowed down since their Team In Training journey began. In January 2014, Ginger completed the back-to-back half and full Disney Marathons for the Goofy Challenge as well as the Rock 'n' Roll Raleigh Marathon in April with her team, the Raleigh School Cancer Crushers. Matt and CH Robinson have committed to coming back to City of Oaks for the second year this November.
Lindsay, who has now been in remission for five years, and her brother Michael aren't being left out – both have participated in kids' runs and are involved in soccer and swimming, and Lindsay has even completed a kids' triathlon.
"With running my mood is better, I'm a better parent, they see us as runners," says Ginger. "I just want to be with my kids all the time; they're my world."
# # #
MacKenzie Buice, MS is a Team in Training Campaign Specialist with the Leukemia & Lymphoma Society in their Cary, North Carolina, office. She is a long-distance runner with a background in nonprofit fundraising. Visit teamintraining.org/nc of 919-367-4115 to learn more.