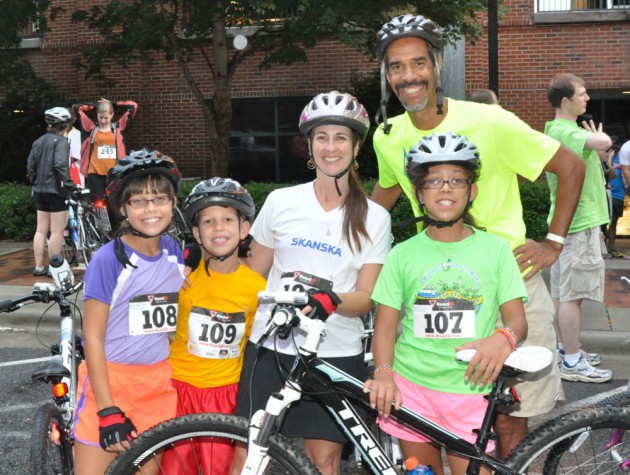 Habitat for Humanity of Durham is eager to share the eighth Habitat Bull Moon Ride and Run. This is a 12-mile bike ride and a simultaneous 5k run/walk on Saturday, July 19, through downtown Durham, starting at 8:15 p.m. Those who have participated in the past know it's a big rollicking fundraiser that celebrates Habitat and the Durham community.
The Habitat Bull Moon Ride and Run likes to believe it's a bit different from the other events in town. This event starts at night, and people come dressed in lights, glow sticks and anything that brings the fun! There's also cold beer, amazing food and an awesome party waiting for you at the end.
Create a team with friends, family or co-workers to ramp up the fun. Kids of all ages are welcome; young kids can be pulled by bike trailers/tandems or pushed in strollers. Just remember to light up those trailers and strollers for safety and for added fun and flair.
Register at www.riderunforhabitat.org before July 1 and save!
Proceeds benefit Habitat for Humanity of Durham. Some common myths about Habitat for Humanity of Durham are that it gives homes away and that its homeowners can't afford their own homes. But in fact, Habitat builds and sells homes to its approved homeowners. Habitat offers a hand up, not a handout. The opportunity is a zero percent interest loan. Habitat mortgages are typically $250 less than rental rates! The typical mortgage payment is $525. Since the first payment all goes to principle, the Habitat model improves a family's situation from day one.
Habitat keeps its homes affordable by accepting sweat equity work (usually 250-400 hours) instead of a typical cash down payment; relying on volunteer labor (come out and volunteer with us sometime); and building energy-efficient "green" homes.
To learn more about Habitat for Humanity of Durham, visit www.durhamhabitat.org.