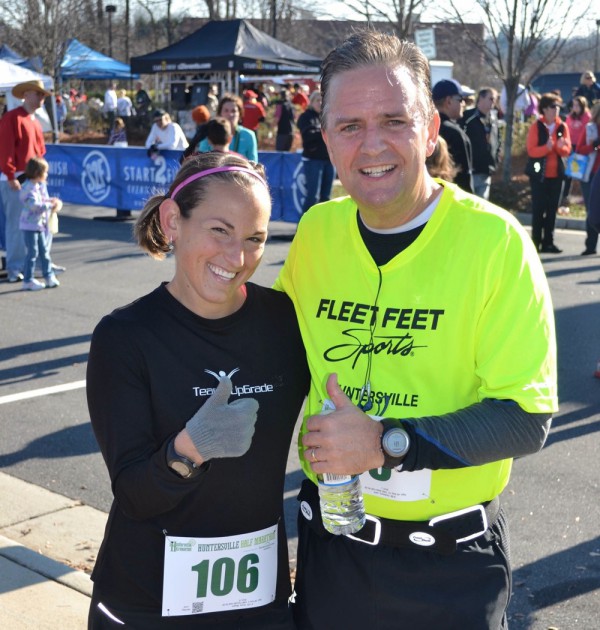 By Sarah Hart
Jack Haddock was active in his younger years. He grew up in Charlotte, earned his degree from Appalachian State, and then settled in Davidson with his family. Year after year, Jack worked hard in his career and spent time with family and friends; however, he noticed that his health was no longer a priority. "I was at a point in my life that I needed to do something about my health," Jack says. "I was overweight and out of breath in everyday basic activities, including trying to keep up with my children."
He stumbled upon an article in the newspaper about excuses people use for not exercising. In the article, Megan Hovis, an UpGrade Lifestyle Personal Trainer and registered dietitian, had some motivating words that inspired Jack to contact her for a consultation.
Jack remembers Megan asking, "Why are you here?" His reply: "It was either today or years from now, after a heart attack or stroke; today seems like a better option." When he said this to Megan, it became real and he was committed. Megan recalls, "Jack was set on changing his lifestyle to improve all aspects of his health and to be the best father and husband he could be."
Based on Jack's health and history, together they formulated goals for BMI and overall weight, including body fat and muscle weight, making losing visceral fat a top priority. Jack was pleased with Megan's positive approach, which incorporated one-step-at-a-time goals.
Megan designed a balanced fitness plan with weekly training and assessments. Jack was to run a half-mile and build gradually while working hard on strength, core and flexibility. For nutrition, Jack received specific guidelines for quality, quantity and timing of intake. He remembers Megan saying, "Have a small treat once a day, but only one."
Jack found it hard to change his bad habits, such as sweet tea and soda. At first, exercising solo was tough; however, he found it helpful to be a part of Megan's running group classes in Huntersville.
"I was surprised to have lost 15 pounds in the first three weeks and then an additional seven pounds in the next three weeks," Jack says. He lost primarily body fat weight while maintaining essential muscle weight for an efficient metabolism.
Megan, always encouraging, motivates by sharing how little steps lead to bigger steps. She asks the hard questions: "How was your nutrition this week?" You can run from her questions, but you can't hide. Jack says, "Before a big race or when I had a tough day, she would send me a text with just the right comment. She truly understands and motivates."
Megan says that what impressed her most about Jack was his determination. "Even when he was very uncomfortable in training, he always finished his tasks; he followed his plan and did not deviate. It was amazing to watch!"
Jack's typical weekly schedule before Upgrade included heavy beer, fatty foods, Southern cooking and sugary drinks with no exercise at all. His "Upgraded Lifestyle" includes water with every meal, choices like oatmeal, turkey, fish, Subway, a light beer from time to time, and a mix of swimming, biking, running, and strength and flexibility training.
"I am most proud of achieving a number of running goals; completing numerous 5ks, 10ks, and half-marathons," Jack says. "I even placed in my age group in a couple of local races." Before this journey started, Jack had no idea he would get so much pleasure out of setting a race goal, training for it and crossing the finish line.
He also developed a new network of running friends, many of whom are UpGrade clients. UpGrade Lifestyle has various fitness services in which Jack participates, including yoga, swim lessons and indoor cycling classes. This year, Jack is working toward completing his first triathlon and maintaining his active and healthy lifestyle. And now, Jack's children are trying to keep up with him!
"Jack is a wonderful example of how if you really want something to happen, you have to make it happen," Megan says. "He worked hard and is the epitome of success. We are all so proud of him!"
# # #
Sarah Hart is the founder of UpGrade Lifestyle and a multisport athlete. She enjoys charting her clients' success as they achieve their highest level of health and performance. She can be reached at sarah@upgradelifestyleinc.com.