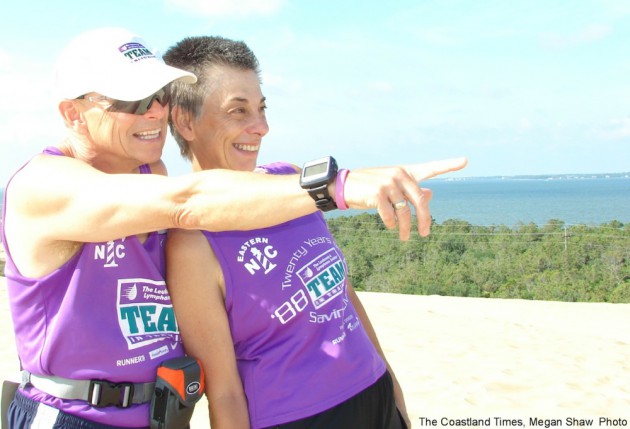 By Gwen Tolman
Webster's Dictionary defines the word "epitome" as a perfect example: an example that represents or expresses something very well. When thinking of someone who is the epitome of Team In Training (TNT), the name Ed Beckley comes to mind. Everyone wonders what impact he or she will leave on the world, but not many people actually do something about it. Ed's chosen purpose is to speak for those without a voice and fight for those who cannot. He is relentless and he will not stop until the ultimate finish line has been crossed – a cure.
TNT is a fundraising program for The Leukemia & Lymphoma Society (LLS). The program is designed for beginners who complete a four- to five-month training program with certified coaches for endurance events like marathons, half-marathons, triathlons, century bike rides and hike adventures. In exchange for an expense-free event weekend, participants are asked to raise money toward the LLS mission: to cure leukemia, lymphoma, Hodgkin's disease and myeloma, and improve the quality of life for patients and their families. Since 1988 TNT has trained more than 600,000 participants and raised more than $1.4 billion toward blood cancer research and patient services.
Ed joined TNT in the early 1990s after losing his father-in-law to chronic myelogonous leukemia (CML). "I prayed to God that if there were anything I could ever do to prevent another family from going through this I would do it, but I just did not know how I could help," Ed says. He read an article about TNT in Runner's World and shortly thereafter a friend informed him of a team forming in Richmond, Va. This was the sign that Ed was looking for so he immediately got involved. Ed has since participated in 31 TNT events and raised more than $100,000 for LLS.
Of all the events that Ed has participated in, the most memorable is the Disney Marathon in 1995. Ed spoke to the TNT group before training began about his first TNT experience, the Marine Corps Marathon. Afterward, a young boy in a wheelchair approached him and asked Ed if he would do a marathon in his honor. "My heart almost broke in half then and there," Ed says. "I told him I most definitely would run a marathon for him. He was in leg braces as well, and not only had leukemia, but muscular dystrophy." Ed became very close with that young boy, who went into remission later that year. He was able to walk up to Ed before he left for the Disney Marathon and present him with a Mickey Mouse charm for good luck. This is just one small example of the impact Ed has on others and how much of a difference he has made.
Ed and his wife, Bobbie, have been involved with many aspects of LLS for the past 20 years. They have been TNT coaches, mentors, volunteered as staff, sat on the LLS board, participated in Light The Night (another fundraising program for LLS) and helped others raise more than half a million dollars for the LLS mission. "It is because we lose, and because we win, that I do TNT again and again and again," Ed says. "TNT has become such a part of me, that I cannot fathom running a race for the mere concept of personal satisfaction."
Ed and Bobbie are two of the most selfless people on this earth, who only wish to pay it forward and do all they can to make a difference in the lives of all who are affected by cancer. "We don't do it for awards, and don't care anything about that," Ed says. "All we care about is the cures, and we offer ourselves as examples to others whenever it is needed. That is all that matters to us, that others jump aboard and get it done."
# # #
Gwen Tolman has been a campaign manager for Team In Training (TNT) in the Charlotte area since the fall of 2009. She initially became involved in honor of her cousin who is a blood cancer survivor and has completed five events with TEAM. She is inspired and motivated on a daily basis by the volunteers who give their time to make a difference in the lives of cancer patients. Gwen is honored to help others throughout their own TNT journey and watch them go from beginners to endurance warriors!