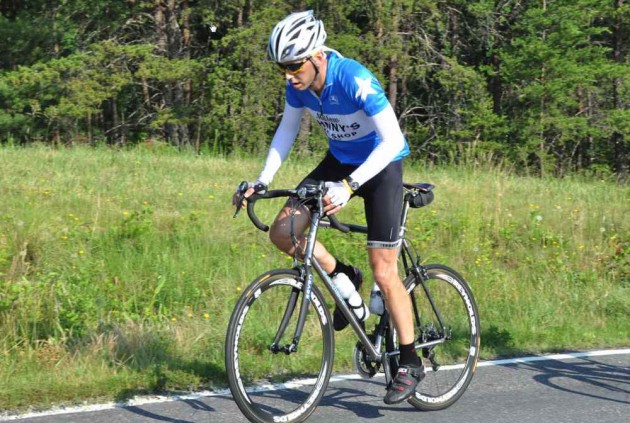 By Cherith Hunter Roberson
Kevin Penn describes himself as a husband, father, son, brother, friend, local executive and weekend warrior athlete.  Another label – one that he doesn't often use to define himself – is leukemia survivor.
As a cancer survivor, Penn adheres to the "pay it forward" motto and is active in many ways with the Leukemia & Lymphoma Society (LLS). "LLS provided me and my family with so much knowledge and support that I try to contribute to the organization any way I can," he says.
He wasn't very aware of LLS before 2008. Then, three weeks after his 37th birthday, he started experiencing extreme fatigue. "In typical male fashion, I just thought that I'd overdone it on the bike and that I might have a touch of the flu."
A lifetime cyclist and former racer, Penn went for a bike ride in Umstead Park, determined to train through the fatigue. The moment of truth materialized when he was passed on a hill by an out-of-shape guy riding a department-store bike and wearing cutoff jeans and tennis shoes.
Penn recalls his "ego could not handle it" and he decided to visit his doctor to find out what was wrong. In retrospect, Penn says "that fellow cyclist may have saved my life." The day after his doctor's appointment, a Friday, he received a phone call that changed his life. The doctor's nurse asked him to check into the nearest emergency room. "I still hadn't grasped the severity of my illness and asked if I could instead check in on Monday to not interfere with my weekend plans."
In no uncertain terms, he was instructed to hang up the phone and proceed directly to the ER. "That's when I realized this might not be the flu."
Within hours of checking into the ER, he and his wife, Kristin, who was five months pregnant, were told that he had acute myelogenous leukemia (AML) – a cancer of the bone marrow and blood – and that a specialist was on his way to talk with them about the disease and treatment options. "My knowledge of leukemia was so limited that I didn't even know how to spell it," he says.
While waiting for the specialist, Penn jumped onto his smartphone to research the disease. The first site he encountered was LLS.org, of the Leukemia & Lymphoma Society. During the two hours that the Penns waited for the specialist to arrive, they were able to educate themselves about AML, what a treatment plan might look like, survival rates and available resources. They quickly realized that some types of AML have a low chance of survival – only around 20 percent – and that Penn was in for the fight of his life.
Penn was admitted to Duke University Hospital's blood-cancer ward the following day and underwent a series of treatments that included intensive chemotherapy. For reasons that they assume were related to the extreme stress, Kristin went into labor and delivered their second son at 28 weeks, effectively missing her last trimester.
She describes this time as incredibly difficult for their family. She was bouncing between Duke's neonatal intensive-care unit, where their son was fighting for his life, and visiting her husband on another floor, where he too was in a battle to survive.
The Penns credit the incredible support of family and friends with helping them get through this struggle. Sometimes, the best thing a person could say was 'This sucks, and I'm there for you.' On occasion, Kristin would hear the sound of a lawn mower and look outside to see a neighbor taking care of their lawn. "That was what we needed," says Penn.
He achieved remission after six months of treatment and returned home. Unfortunately, blood cancers are tenacious and his AML returned within a few months. This earned him a trip to Duke's bone marrow transplant group in May 2009. "I had no idea the hell I was in for. The transplant prep regime and total body irradiation completely destroys you."
Thankfully, Penn's doctors are some of the best in the world, including his oncologist, Joseph Moore. Moore is an advocate in the fight against blood cancer and raised more than $119,000 as the Leukemia & Lymphoma Society's Man of the Year in 2011. He, along with many other brilliant researchers and doctors, is fighting for advances in treatments and has seen survival rates double, triple and even quadruple in some cases. These advances are thanks in large part to LLS funding more than $875 million in research over the last 65 years.
Penn underwent a bone-marrow transplant after it was determined one of his brothers was a positive match. After receiving his treatments, he was too weak to walk but he never lost his competitive spirit.  Knowing Penn was a marathoner and endurance cyclist, one of his nurses told him about the 2-mile Light The Night Walk with LLS and challenged him to participate. He trained by walking laps in the ward, one at a time. Slowly he built up his strength and by October he stood strong with thousands of other cancer patients, survivors and supporters at LLS's annual Light The Night Walk.
"It was an incredibly moving and emotional experience. I felt a unity and togetherness surrounded by others who also had been impacted by this awful disease," he says.
Penn has been able to return to his weekend-warrior athletic endeavors thanks to his medical caregivers, his family and friends and the countless number who work to find cures and treatments for blood cancers. "I am alive today because of them and I owe them the most sincere and deep gratitude," he says.
The Penn family will be participating in the Light The Night Walk in Raleigh on Saturday, Oct. 12. The walk raises money to fight blood cancers and support the LLS's mission to cure leukemia, lymphoma, myeloma and Hodgkin's disease and improve the quality of life of patients and their families. To sign up, go to www.LightTheNight.org/nc.
# # #
Cherith Hunter Roberson is a campaign manager for the Leukemia & Lymphoma Society.