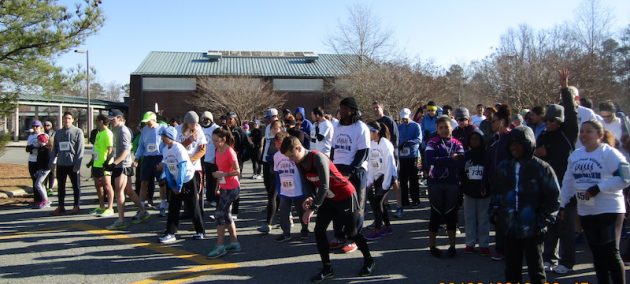 Celebrate the holidays and ring in the New Year with the gift of good health for a good cause.
Register now to participate in the Sixth Annual Saint Paul Village Community Walk & 5K Run on Saturday, March 3, 2018! Join folks of all ages and skill levels to support the Saint Paul Village, TROSA and Arc Triangle.
Over the last five years participants from Orange, Chatham, Alamance, Guilford, Durham and other counties have gathered at the McDougle Middle School track for the Walk & 5K Run. As the event has grown, so has its community outreach and support to area charitable organizations each year. Together we will continue to be a blessing to the entire Chapel Hill – Carrboro community as Saint Paul AME Church realizes the vision of a campus that includes a new sanctuary, multi-purpose/banquet hall, gymnasium and family life center, day care center, health center, affordable living facilities and more.
So, whether you walk or run, or cheer from the sideline, come on and move something!  Food, beverages, and family-friendly fun activities will be available along with awards and door prizes at our post-race celebration. Be an early bird and register now. Recruit friends and family and form your own team for even more fun. Every participant will be a winner!
It takes a village – Saint Paul Village!
Register today at: www.stpaulamechapelhill.org