By Amber Corbin

April 2015 was the beginning of a life-changing journey for me and my best friend, inspired and enabled by QuintilesIMS. I was 45 years old, a single mom of two teenagers with an active career— I manage a small global team for QuintilesIMS from Durham, NC. I had gained a few pounds that I wanted to shed, was already going to the gym a few times a week, but I was still pretty stressed and not seeing the body changes that I wanted.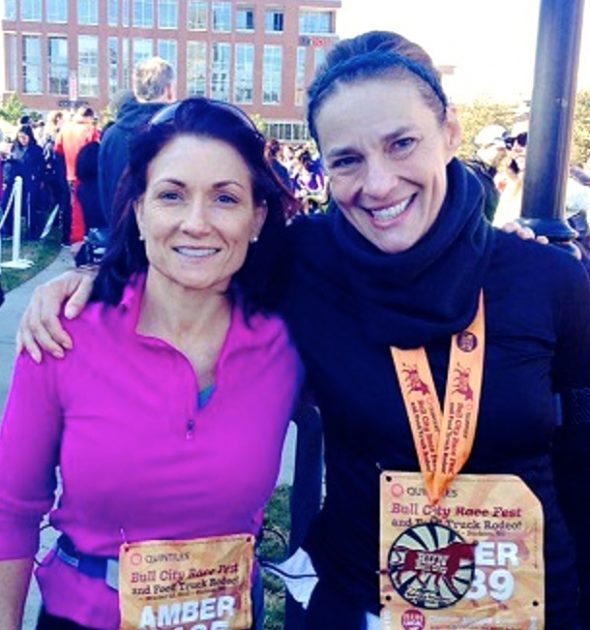 That April, I started running with my friend, Amber Kirby. We could not run two miles! After a few hard weeks, we made it three miles. Then I got the email from HealthyUHealthyQ: QuintilesIMS was sponsoring the Bull City Race Fest in October 2015; they encouraged all of us to make the commitment to a healthy lifestyle that included running and QuintilesIMS would cover the entry fee.  Amber and I made the commitment to run the half marathon together.  But we had such a long way to go from 2 miles to 13.1 miles. 
Amber found a training plan: by adding just a mile a week to our runs, we were able to add the mileage needed. Turns out you don't have to go from 2 miles to 13.1 right away. Making small progress each week added up to BIG GAINS!  My manager and co-workers were very supportive of my taking the time needed to train, and QuintilesIMS even provided the Cigna Health Coach to monitor my weight and body composition to ensure I was getting the nutrition needed to build muscle for endurance.
Amber and I ran the QuintilesIMS Bull City half marathon in October 2015 and finished!  We had the "running bug" and were hooked. Together we ran the Flying Pirate Half Marathon in April 2016, and then our first full marathon in October. We even finished second and third in our age group!
In just sixteen months, my resting pulse has lowered to 60 bpm, my body fat has reduced to 21.5%, and we've found a hobby that we truly love. I am a good role model to my team by balancing the demands of a long-distance running hobby with a global position, and I have developed confidence and made many new friends.
Next Goal: Great Wall of China Marathon!
###
Amber can be contacted at Amber.Corbin@quintilesims.com