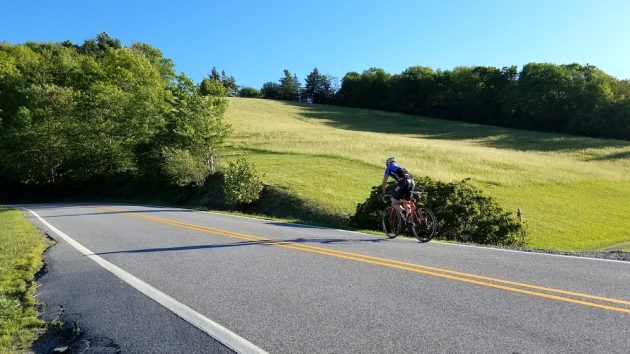 By Brian Sain
Summer is in full swing and so is riding season in the Blue Ridge. Long warm days mean big miles in the saddle and getting in the best cycling fitness of the year. Many folks come to the mountains to test themselves on the hilliest terrain in the Carolinas. There are a number of climbs synonymous with road cycling in the High Country like 221, 194, Shulls Mill Rd, and Hwy 181. But with the summer season, comes summer traffic levels, and sometimes these roads can be less that ideal for getting into your 'Thomas Voeckler inspired' climbing zone, so we have some climbs you may not know about; they will get you where you want to go and challenge you at the same time.
Friendship Church Rd
Surface 100% paved | 1.8 miles
7.7% average grade | 749 ft elevation gain
Friendship Church Rd is a great way to get to the Parkway from Boone. You can access it off of Bamboo Rd just past Deer Valley. The climb starts off with a steady steep pitch and doesn't relent until close to the top offering a great opportunity for extended out-of-the-saddle climbing and a couple long-range views. You are rewarded with a quick little descent to the Blue Ridge Parkway at the end.
Old Turnpike Rd
Surface 100% gravel | 2.7 miles
4.5% average grade | 650 ft elevation gain
Although this climb is entirely graveled it can always be ridden on road tires due to the local car traffic packing the dirt. Access this road at the very bottom of Shulls Mill Rd at Hound Ears Country Club golf course. This climb starts with a steady mile of climbing before it crests and has a small section of downhill. It then kicks back up and brings you back out on Shulls Mill Rd at the tennis courts of Yonahlossee Racquet Club. You can then continue climbing on Shulls Mill Rd back toward the Blue Ridge Parkway and Blowing Rock.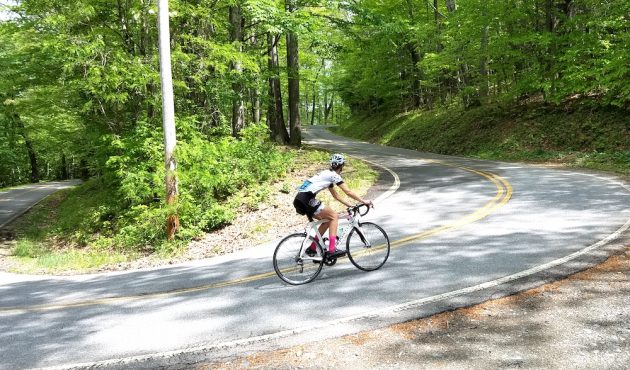 Old Yonahlossee Rd
Surface 50% paved 50% gravel | 2.22 miles
4.4% average grade | 528 ft elevation gain
The 2-mile climb on US 221 from Linville to MacRae Meadows at Grandfather Mountain is a fabulous climb, but during peak vacation season it can be a little hectic. As an alternate, try the Old Yonahlosse climb. If you are also a runner you may already be familiar with this road, as it is featured on the Bear Run during the Grandfather Mountain Highland games. Pick up this climb about a 0.1 miles up US 221 from the traffic light in Linville. The climb starts out paved and features a couple sweeping turns before it makes a sharp left onto gravel and enters the protected forest land of Grandfather Mountain. Near the top the forest opens up to the grassy fields of MacRae Meadows before running back into US 221.
Clark Creek Rd
Surface 100% paved, Climb from hwy 105 | 0.8 Miles
12% average grade | 521 ft elevation gain
Climb from Hwy 194 | 1.6 Miles
8.3% average grade | 732 ft elevation gain
One road, two climbs, both incredibly steep. Whatever your smallest gear is, you will use it on the slopes of Clark Creek Rd. This road climbs up and over the ridgeline of Seven Devils from Hwy 105 to Hwy 194. It is a challenging alternative to riding Broadstone Rd which takes you into Valle Crusis. As difficult as these climbs are, the scenery is well worth it. Use caution on the descents, as the steep pitches can really get away from you.
Globe Rd
Surface 100% gravel | 5.1 miles
7% average grade | 2,000 ft elevation gain
This is a special climb for several reasons:
1. Its one of the hardest gravel climbs in Pisgah.
2. It ends on Main St in Blowing Rock.
3.There is a bar right at the top.
This very unique combination makes it a must ride. A gravel bike or hard tail mountain bike is highly recommended for the steep grade and gravel. Though one local pro rides it on his road racing bike with 28mm tires almost weekly, I do not recommend it. Easiest way to ride Globe Rd is to descend it, but it can also be looped by descending the mountain via Elk Creek Rd, 181, or 321, then riding in the valley and climbing back up.
# #
Brian and Allison Sain opened Rhoddie Bicycle Outfitters in September 2015 with the goal of connecting people to all the cycling opportunities the Blue Ridge Mountains of North Western North Carolina have to offer. No matter your preferred style of cycling, they can direct you towards your own adventure