By Brandon McDearis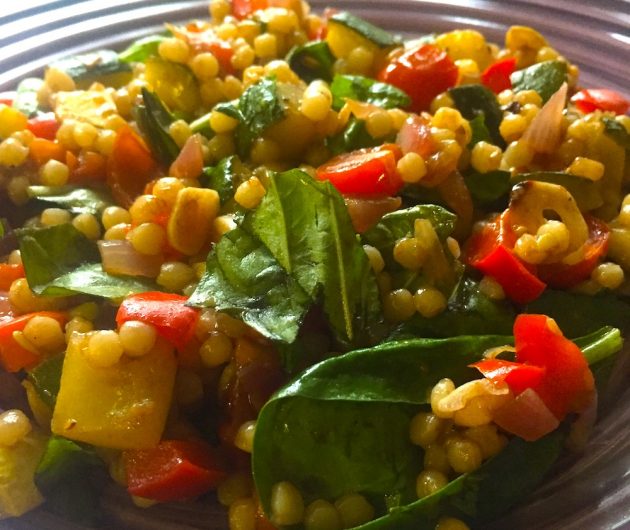 Couscous is one of those familiar items seen on many ethnic menus and inside the grocery store, usually on the aisle with the rice and quinoa. Most people assume it is a grain of some sort, but it is actually steamed balls made of semolina flower that originated in Northern Africa. It's much bigger "cousin" Israeli couscous looks similar, but is much larger and lighter in color. However, aside from their name and shape, the two are actually quite different.
Israeli couscous does indeed originate from Israel, where it is called Ptitum, but its history doesn't go back as far as one might think. It was first created in the 1950s when rice was scarce in the country, and it is only fairly recently that it has been marketed and sold around the world as Israeli, pearl, or Jerusalem couscous.  Israeli couscous differs from the traditional North African couscous in more than it's size and color. It is considered a pasta, like orzo, and is toasted giving it a slightly nutty flavor. Israeli couscous is very versatile for cooking and can be used much like pasta, rice or whole grains. Served hot or cold Israeli couscous holds up well when reheated or added to soups.
The recipe below pairs Israeli couscous with a roasted vegetable medley and Mediterranean flavors. The couscous is the main draw here, but much less could be prepared and used as a filler for the vegetables. It's meant to be served hot, but works great chilled as a salad. While it can be a meal on it's own, it pairs well as an accompaniment. The recipe makes about 8-10 servings.
Ingredients:
2 cups Israeli couscous

4 cups vegetable stock

2-3 tablespoons olive oil, more possibly needed

½ red onion, diced

1 red pepper, diced

2 yellow squash, seeds removed and diced

2 zucchini, seeds removed and diced

4-5 cloves garlic, minced

1 cup cherry tomatoes, halved

2 cups fresh spinach

¼ cup chopped basil

3-4 tablespoons balsamic vinegar

1 tablespoon honey

salt and pepper to taste

Parmesan cheese, handful
Directions:
Preheat oven to 400 degrees.

Prep all vegetables.

Toss onion, pepper, squash, zucchini and garlic in olive oil and salt and pepper in a bowl.

Spread vegetables out on a sheet pan and roast for about 10 minutes, turning the pan halfway through.

Add the cherry tomatoes to the pan of vegetables and cook for another 3-5 minutes or until vegetables start to get golden brown.

Meanwhile, bring 4 cups of stock to a boil in a medium-sized pot and add the couscous and a generous pinch of salt. Reduce heat to low, cover, and simmer for about 10-12 minutes (stirring occasionally) until couscous is just tender with a slight bite. Strain couscous and transfer to a large bowl; stir in 1-2 tablespoons of olive oil to prevent sticking.

Add the remaining ingredients, mix thoroughly, adjust seasoning as needed and serve.
Nutrition Facts:
Calories: 246 / Fat: 4g / Saturated Fat: 1g /Carbohydrates: 45g / Fiber: 5g / Protein: 6g
# # #
Brandon McDearis is the owner of Your Way Cuisine, www.yourwaycuisine.com, a personal chef and nutrition consulting business. He is also a professional wanderer that spends much of his year trotting the globe and working in places such as Alaska, Australia, and Antarctica.