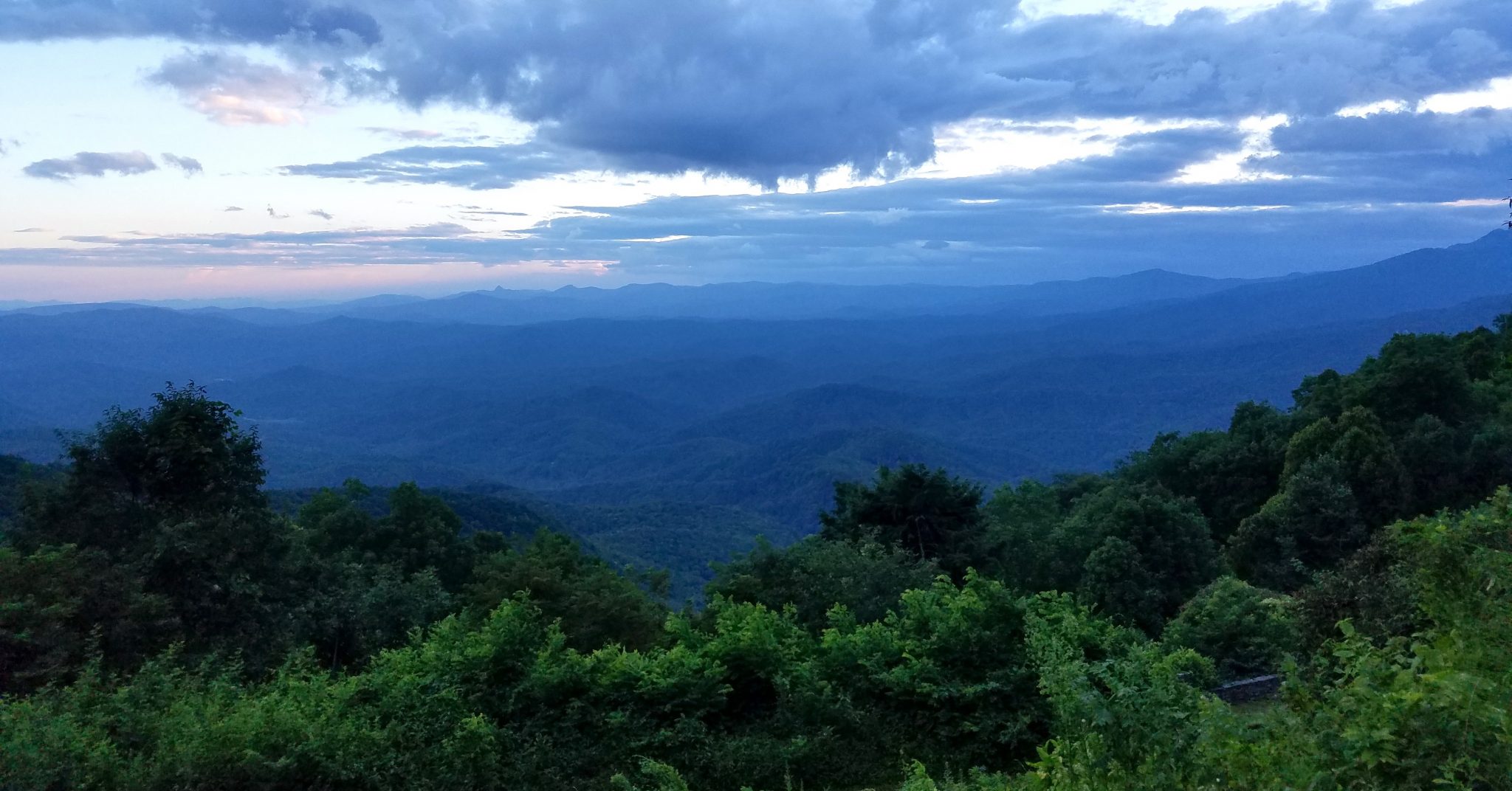 Looking to escape the heat this summer? Take a short drive to western North Carolina for a bicycle trip in the Blue Ridge Mountains. Whether you like riding your bicycle on the road, trail, or gravel, the Blue Ridge Mountains have something for you and the town of Blowing Rock is the perfect base camp for your adventure.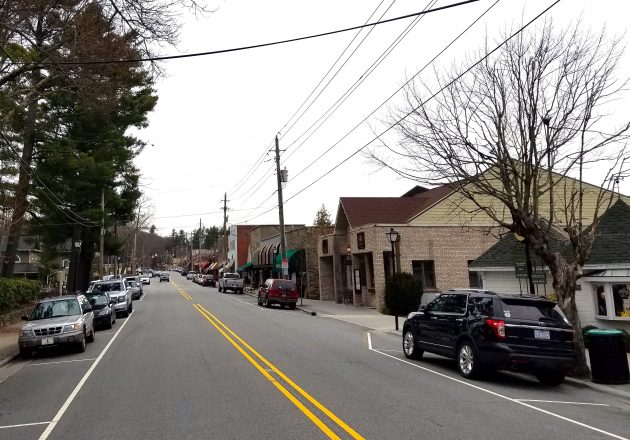 At an elevation of 3,566ft Blowing Rock stays about 10 to 15 degrees cooler year round than the valley below. Add in a gentle breeze coming across the surrounding high mountains and Blowing Rock becomes the perfect refuge from the usual southern summer heat. Nicknamed the Crown of the Blue Ridge, Blowing Rock is situated along the Blue Ridge Parkway, at mile marker 294, and the town limits border the northern edge of Pisgah National Forest.
Within a matter of seconds one can be on some of the best paved and gravel roads in the entire country. If mountain biking is your thing, take a short drive and you can be in the heart of a network of classic Pisgah style single track or one of several area mountain bike parks. If you prefer greenways and smooth trails, Blowing Rock is working on that too! The Middle Fork Greenway is in progress and will soon connect Blowing Rock to Boone via a 6.5-mile greenway along the Middle Fork of the New River. Whatever type of riding you prefer, you are sure to find it on a world class level near Blowing Rock. To make the most of your trip, be sure to connect with Rhoddie Bicycle Outfitters.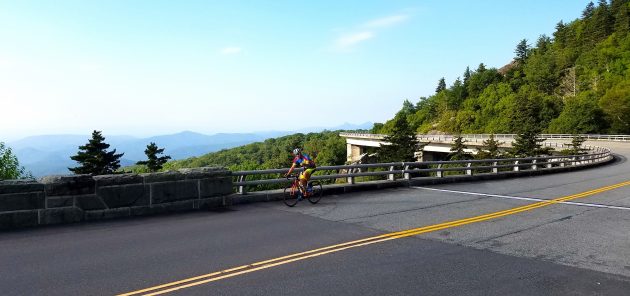 Whether you have been visiting Blowing Rock your entire life, or planning your first trip, you can rest assure you will have a wonderful and unique experience. The Blue Ridge Mountains hold so much beauty and the magnificent views are ever changing. Experience the Blue Ridge via bicycle and enjoy a captivating combination of impressive routes, marvelous terrain, stunning scenery and a hometown vibe!
Along with being in an ideal geographic location for bicycling, Blowing Rock has an abundance of superb lodging, dining, and shopping to meet everyone's needs. While there are a plethora of options, here are a few to help you plan your trip: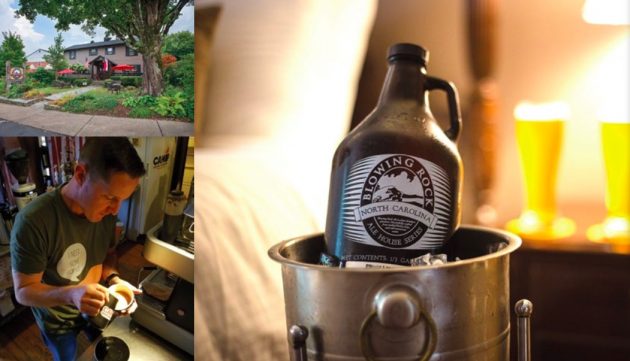 Where to Stay
Groups: Chetola, Mountainaire Inn and Cabins, Meadowbrook Inn, White Fence Farms, Alpine Inn
Couples: Gideon Ridge, The New Public House & Hotel, Inn at Ragged Gardens, Blowing Rock Inn, Hillwinds Inn,
Where to Eat
Breakfast: Sunny Rock, The New Public House & Hotel, Blue Ridge Bites and Brews, Camp Coffee Roasters
Lunch: Blowing Rock Market, Blowing Rock Ale House, Town Tavern, Mellow Mushroom, Blue Ridge, Bites and Brews, Canyons
Dinner: Bistro Roca, Blowing Rock Ale House, Storie Street Grill, Woodland BBQ, Canyons, Foggy Rock, Gideon Ridge, The Gamekeeper, Roots, Six Pence Pub, Bob Timberlake Restaurant
Desert: Kilwans Ice Cream, Ugga Mugga Bakery
Where to Drink
Coffee: Camp Coffee Roasters
Beer: Blowing Rock Ale House, Town Tavern, Canyons, Foggy Rock
Wine: Sunset Vines, Blowing Rock Market, Gideon Ridge, Bistro Roca, Storie Street
Liquor: Bistro Roca, Twigs, Town Tavern, The Gamekeeper
Blowing Rock's Bicycle Shop
Rhoddie Bicycle Outfitters is located in Blowing Rock with the primary purpose of serving anyone looking to experience the Blue Ridge Mountains via bicycle. A well-stocked, full service shop offering merchandise, rental bicycles, repair services, maps, trip planning, and rides, Rhoddie has something for everyone. Rhoddie's rental fleet of Cannondale bicycles includes the Synapse disc brake endurance road bike, the Slate front suspension gravel bike, and the Scalpel Si cross country full suspension mountain bike. Most weeks during the summer season Rhoddie has organized rides free to all who want to participate and often switch between road, mountain, and gravel routes.
Rhoddie is incredibly proud of the many cycling opportunities the Blowing Rock area has to offer and love sharing these rides with all who are interested. The best way to find out about organized rides happening during your visit is to follow Rhoddie on social media, contact via the website www.rhoddiebicycleoutfitters.com, or call ahead of time 828.414.9800. Rhoddie is more than happy to give recommendations about other aspects of your trip from accommodations to meals; there is an abundance of great places to enjoy in Blowing Rock!