Typically, when I think about Colorado, I think about winter activities like skiing and snowboarding. But last summer when the Carolina weather turned blazing hot with smothering humidity I took my family on a cool-climate getaway to Colorado. While there, I discovered the amazing town of Winter Park— the perfect antidote to the sweltering Carolina summer. Located on the Western side of the Rocky Mountains less than a two-hour drive from Denver, the town is also about 45 minutes south of the Grand Lake entrance to the Rocky Mountain National Park making it the perfect base camp for a hiking, biking and family fun summer vacation.
Bucket List Hiking
Winter Park boasts an average high temperature in the low 60's and an average low in the 30's— perfect shorts-in-the-day and long-pants-and-sweatshirt-at-night weather for hot-blooded folks from the Carolinas. With hundreds of miles of bucket list hiking trails to explore, some that can be accessed right from downtown Winter Park, you are bound to find a hiking trail for you and your family.
Some of Rocky Mountain National Park's best hikes are easily accessible from Grand Lake just north of Winter Park. Lone Pine Lake, Spirit Lake, and Lake Verna are beautiful lakes accessible from the Grand Lake entrance via the East Inlet Trail. Adams Falls— one of the park's prettiest waterfalls and one of the easiest and most popular hikes— is also easily accessed here. The Green Mountain Trail offers incredible hiking just 3 miles north and provides access to the Big Meadows area of the park, which provides some of the best chances to view elk, moose, and other species of park wildlife, probably more so than the more frequently visited Eastern side of the Rockies.
Scenic Mountain Biking
In addition to access to hundreds of miles of hiking trails, Winter Park has over 600 miles of mountain bike trails, too. Dubbed "Mountain Bike Capital USA" Winter Park offers something for all levels of riding ability from children and families to adrenaline-fueled adventure-seeking downhill junkies. You can bring your own bikes or, just rent from several bike shops in town. Epic Mountain Sports, a great local bike shop, offers rentals for kids and adults. There are several great scenic trails accessible right from the shop's front door, like my favorite: the Winter Park Southwest and Northwest Trails.
Adrenaline-Fueled Downhill Mountain Biking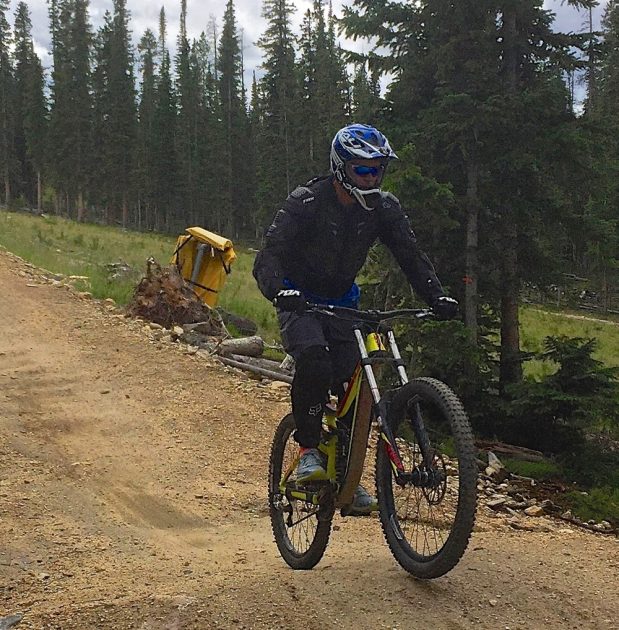 The coolest part of the mountain biking scene is at the local ski resort— Winter Park Resort, the fourth largest in Colorado in terms of skiable area— when it shifts gears in the summer and focuses on its Trestle Bike Park. Whether you are an experienced downhill mountain biker or looking to try downhill for the first time, Trestle Bike Park is THE place to experience it. With "green" runs for the beginner (like me) all the way up to a "Pro Line" for experts, the park trails have over 200 features. Experienced downhill bikers will love the tough and challenging terrain while newbies will want to book a coaching session at Trestle® Bike Park School, like I did. You'll get a guide and some lessons to teach you the basics like bike control, braking and cornering, which you can practice on the "green" run dedicated to first-timers and newbies. My guide coached me through my first run downhill run offering tips and advice along the way and in no time, I was tackling the more difficult trails!
Family Fun
Hustling and bustling with families Winter Park Resort is also filled with restaurants and family friendly activities. If your kids are looking for an adrenaline-rush but, not quite ready for downhill they will definitely love the exciting Alpine Slide. Children and families can ride the chair lift to the top and descend 600 vertical feet over 3,000 feet of track on an alpine-like sled. In addition to the slide, the resort also offers a human maze, scenic chairlift rides and mini golf as well as great shopping and live music. Personally, I loved "High Note Thursdays" in Hideaway Park. It's a free weekly concert in the center of downtown Winter Park every Thursday from June through August. The park is a great venue for music and picnicking on the lawn.
Dining
From the eclectic vegetarian-friendly breakfast and lunch menu of The Mountain Rose Cafe to the warm cozy atmosphere of Deno's Mountain Bistro (originally a stage coach stop in the early 1900's) to the great-tasting local brews of the Hideaway Park Brewery and Taproom, Winter Park has something for everyone in terms of food and drink all nestled between mountain ranges never out of eyesight while walking down Main Street.
To learn more about an awesome summer vacation this year in Colorado, check out http://www.playwinterpark.com.
---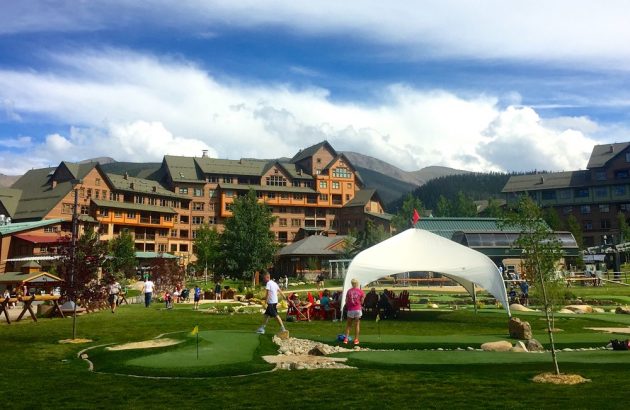 Winter Park, CO
Winter Park, CO, is a year-round destination for skiing, snowshoeing, hiking, mountain biking and other outdoor activities. Winter Park is home to the Winter Park Resort and is just a short drive to the Rocky Mountain National Park.
For more information about the area including places to stay and vacation deals, check out http://www.playwinterpark.com.
Epic Mountain Sports
You don't have to travel with your bike to experience mountain biking in Winter Park, CO. Instead, rent one from a great shop like Epic Mountain Sports. Whether you're looking for single track, a more moderate cross country adventure, or just want to cruise a path with your family, this shop can help.  
For more information including trails you can access right from the shop, check out http://www.epicmountainsports.com
Winter Park Resort
Home to the Trestle Bike Park with it's amazing downhill mountain biking trails Winter Park Resort is the longest continually operated ski resort in Colorado. The resort offers lodging, dining, shopping, Colorado's longest alpine slide and an abundance of other activities.
For more information about Winter Park Resort including summer and winter activities check out https://www.winterparkresort.com
Trestle Bike Park
The world-class Trestle Bike Park is the closet bike park to the Denver metro area and has been home to the Colorado Freeride Festival for over a decade. Bring your own bike or rent one at the resort where you can also hire a guide and get lessons. The park also offers winter "ski biking".
For more information about Trestle Bike Park, rentals, trails, etc., check out http://trestlebikepark.com
Rocky Mountain National Park, Grand Lake Entrance Station
Just a short drive from Winter Park, CO, at the western edge of Rocky Mountain National Park sits the historic town of Grand Lake, Colorado. This entrance is one of the best kept secrets of the park. Explore the Colorado River's headwaters, look for moose and hike to the site of Lulu City, a former mining town, among many other things.
For more more information including maps and alerts, check out https://www.nps.gov/romo/gl_entrance_station.htm