"Training for the Rambling Rose was something we got to do together. Somedays I pushed her and some days she pushed me."
Janice Bowers, 38 | Cary, NC | Mom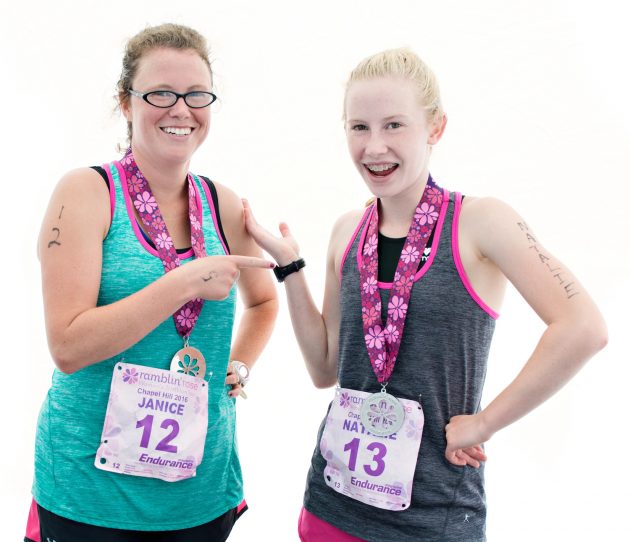 I have always enjoyed running and biking, and thought that a triathlon would be a great challenge! I enjoyed training with my daughter, Natalie, the most. I also loved how encouraging all the women are! It was like we were all in it together.
I am that Mom, you know the one, that yells too loud at sporting events. I'm always telling my kids, "you are better than you think you are." It was getting to the point that my daughter was getting burnt out with running and swimming (and totally embarrassed of Mom). One day on a training ride, I was frustrated that we weren't going faster and I told Natalie to "see what she could do." I looked down at my bike to switch gears and she was gone. I knew at that moment that this is parenthood, one day we are going to look down and the kids will be out seeing what kind of difference they can make in the world.
Ramblin' Rose gave me time to spend with my daughter working towards a common goal. We got to spend quiet Sunday mornings going on long bike rides together and talking about life. I am so honored that I got to spend that time with my daughter. She was the most supportive person in my training. She would turn my words on back on me, "Mom, you are better than you think you are."
In 2017, I want my younger daughter Rachel to do the Ramblin' Rose with me, it would be great for all of us to train together. 
# # #
"I know you can do it. Don't doubt yourself. Challenge yourself to step outside of your comfort zone. As long as you do it for yourself you won't be disappointed."
Natalie Bowers, 16 | Cary, NC | Student
My Mom and I have talked about doing a sprint triathlon for years, so I jumped at the chance to finally get the chance to do one. I swim and bike in the summer and run cross country and track during the school year so I loved how a triathlon combines all of my favorite sports.
My most memorable moment came near the end of the race. As I was running up a hill, a woman told me, "You're looking great girl!"  It was really uplifting and helped me really push through to the end.  It was great how supportive everyone was during the race!
Ramblin' Rose has given me the courage to try out some more triathlons! Now that I've got my first triathlon under my belt I can't wait to get some more.  My life is also different in that I'm more thankful for how active my family is. It's a real blessing knowing that my family will participate in fun races like Ramblin' Rose with me, as well as always have my back when I want to try something new!
My Mom was definitely the most supportive person, always encouraging me to go faster and push myself further.
One of my goals for 2017 is trying a longer triathlon, as well as beating my Ramblin' Rose time from this year!
<Photo by Tamara Lackey Photography>