By Joe Philpott
We runners tend to worry about lots of stuff.
We worry about pretty much everything. Did we run far enough? Will missing two days with the flu cost me in that race two months from now? My hip hurts. What if it rains? Did I get enough sleep? Maybe we are just pre-making excuses in case we fail. The unknown can be a scary thing. I think these worries are usually akin to how we felt in the 8th grade when we had to stand in front of the class and deliver some report. Most of us were petrified with worry but it went fine and we did not pass out, we did not die, and we became a little stronger.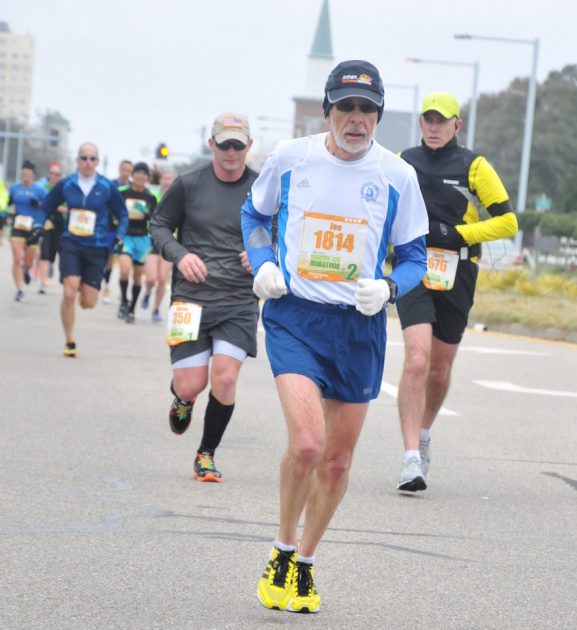 In my own case, I get pretty worked up prior to my races, or even before hard workouts.  For example, a couple of quotes from my journal. "Been running since '59. Tomorrow I go to the line in the Martinsville 1/2 Marathon. Prior longest was the VA 10 Miler, 25 yrs ago. Keep telling SELF that at 67, its just another nice long run on a Sat morning. SELF keeps saying I'm not ready, legs dead; butt hurts; allergies acting up. In '66, the anxiety was more focused…threw up before races and went out and ran! Anyhow, I am much nervous! We'll see." –  I won my age group in a really good time.  "Tomorrow AM. The Great Goblin Gallop 5-K. My first race since March. After a summer of injuries, I'm looking forward to testing myself a bit. Not very confident about my conditioning though. Anyhow, it will be a nice sunny morning run followed by Ferrum College Football in the afternoon."  –  I won my age group in a really good time.  
I distinctly remember a time in 1965.  An hour before the start of the 2-mile run at the Virginia State Indoor Championships, I was outside the fieldhouse barfing into a trashcan. My parents were in the audience… their first time seeing me run, I should add. I was so nervous, so hyped up, that I wasn't sure that I could even get to the starting line. The gun fired and I ran. In fact, I won in record time. That race stands out as one of the highlights of my 58 years of running.
I'm not ready.
What runner hasn't laid in bed the night before a big race and worried about their training. Have I done enough?  Have I done too much?  Have I been eating right? Should I have done one more speed workout?
The night before I ran the Shamrock Marathon I really struggled to get my mind quiet enough to fall asleep.  I started to agonize over whether I should have done one more long run. Then I started to obsess about my taper, the 2½ to 3 weeks prior to the marathon when you start to lower your training mileage and intensity to build strength for the big day. The theory being that marathon training takes a big toll on the body and the mind and the taper is necessary to refresh both. I became convinced that I had taken it too easy and given up valuable tough workouts. Of course, in my mind, I was eating too much and getting fat as I approached race day.
Generally, as they say, it's all in your head! Just pre-race jitters. Most likely you will run well and meet your expectations. What's the worst that can happen?  You get beat.  You run slower that you wanted.  You had to drop out.  So what…you showed up, you worked hard, you alibied, cried or celebrated.  And tomorrow, you'll be out there running an easy three miles and thinking about the next time!
Competing.
In local races, we generally know our competition. We know pretty much how we are going to run. However, we often don't know how the other guy is going to run.  Have they been training harder than me? Are they lying about that calf muscle?  And, what about my knee? Gee, all things normal, I can generally beat him or he can normally beat me. But what about today?  
Like most things in this life, worrying doesn't solve the problem. The solution is to go to the starting line and give it your best. Some days you get the bear, some days the bear gets you. Regardless, the post-race party will be great fun!  All will be smiling, winners and losers alike!
Still, you get my drift. I suppose we runners do appear to be a little wacky at times. Some would say most of the time!
# # #
Joe Philpott is a retired banker who often wishes that he had pursued a career in coaching.  At 72, he still enjoys competitive age group racing at distances from the mile to the marathon. In addition to 5Ks he has age group wins at the Yuengling Shamrock Marathon, Richmond American Family Fitness Half Marathon, Martinsville Half Marathon, Virginia 10 Miler, Richmond's HCA 8K, and Blacksburg's Draper Mile. He loves sharing his insights from five decades of running with developing runners of all ages.