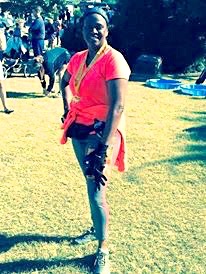 What is my "Why?" My why is because I want to save my children the pain and burden of having to care for a sick parent. Two years before my father passed away, my family and I took on the duty of caring for him as he suffered from dementia and COPD just to name a few of his ailments. 
Being his primary care taker took such a toll on both my family and me; when he passed, I swore this would not be a burden on my children. I committed myself to an active lifestyle, starting running on my own, and then in May of 2013, was introduced to Black Girls Run! This group of phenomenal women was made of women like me – all ages and sizes. 
Through Black Girls Run! I gained lifelong friends and became part of a running community that supports and encourages one another. Not only do we support each other in our running, we also work hard to support the community in which we live by hosting water stations for different races around the Raleigh-Durham area such as the Tobacco Road Marathon and the Tar Heel 10 Miler. 
In October of 2013, I celebrated my 50th birthday with running my first half marathon. In November of 2013, I ran my first full marathon and have been running ever since. Through my running journey I lost weight and am the healthiest I have been in years. For me, running is a place of peace and tranquility when I can shut everything else out. The best part of running is that I have my daughters running with me; teaching them to live a healthy life through exercise and diet.
Running has become more than just what I do. It's who I am… a runner.