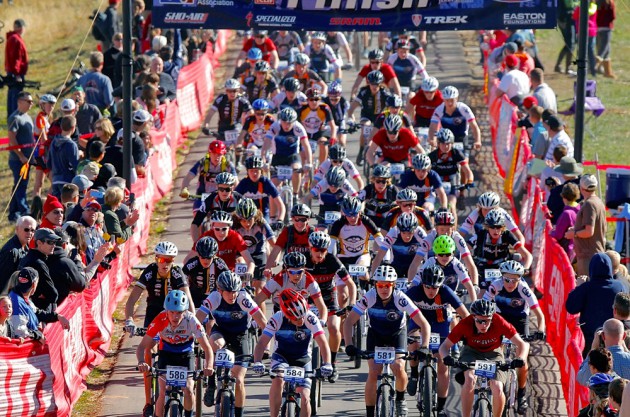 How would your high school or middle school child like to have the opportunity to ride and race on a mountain bike team with his or her peers? Does your child love to ride a bike, but you just don't have the time, the skill or the experience to help get him or her get started or to the next level? Perhaps they just haven't found an appealing club or team sport at school, or are looking to try something else. Maybe they are already an accomplished cyclist and are looking for a way to compete against other similarly aged student-athletes. Maybe you're just looking for ways to get them to spend more active time outdoors.
Great news! Interscholastic mountain biking has arrived in the TarHeel state!

The North Carolina Interscholastic Cycling League was recently awarded "emergent league" status by the National Interscholastic Cycling Association (NICA). NICA is a non-profit physical activity and positive youth development organization that promotes mountain bike training and racing for middle school and high school student-athletes. There are now 19 leagues in 18 states, with almost 8,000 student-athletes toeing the line every spring and fall. NICA is growing by leaps and bounds, about 60% per year, and is achieving some pretty amazing outcomes:
88% of student-athletes report improved physical fitness as a result of participation in NICA
78% of student-athletes report that their respect for the environment and other trail users has increased
73% of student-athletes report that their participation in NICA has inspired family and/or friends to start cycling
Participation by girls in NICA increased 67% from 2013 to 2014
Pinkbike calls NICA "the future of mountain biking," but NICA is about more than racing in the dirt. In North Carolina, their mission is to enable every teen to build a strong mind, a strong body and strong character through lifelong participation in cycling; specifically focusing on:
Filling a niche for students whose needs are not met by traditional interscholastic sports
Getting kids outside
Welcoming and supporting diversity in ability, ethnicity, gender, orientation, and skill level – everyone participates in our races, everyone scores, and everyone is cheered; no one is benched.
Promoting trail-building efforts and environmental awareness
Improving focus and academic performance in our student-athletes
Promoting health & fitness in teens and their families
The pre-season begins October 2016, and racing starts in March of 2017. The league will hold five weekend racing events across the state. Teams can form as school clubs, composite teams (student-athletes from different schools forming teams), or independent teams.  Home-schooled student-athletes can join any of these teams or form their own.
Coaches needed – no experience necessary.  Skilled and dedicated NICA coaches are the heart and soul of NICA leagues.  NCIA will train and certify you using the same materials and resources that 3,100+ successful NICA coaches across the US use. If you want to be a head coach, assistant coach, ride leader or volunteer, plan to attend their Leaders Summit in late summer.
Donors, grants and sponsors needed.  The organization is committed to ensuring that every teen that wants to participate in the North Carolina Interscholastic Cycling League can do so, regardless of means. To meet that goal, they are seeking partners to help fund scholarships and loaner bike programs; NCICL is a 501(c)(3) organization.
Women needed as role models. Currently, 19% of NICA student-athletes are girls; that's a good start, but research shows that for girls' involvement to have an impact, that number needs to be at or above 30%. The organization is starting an outreach program, Crank Sisters, to provide opportunities and encouragement for girls and women to get involved with the League.
Want more information, to volunteer, or to register for our Leaders Summit?