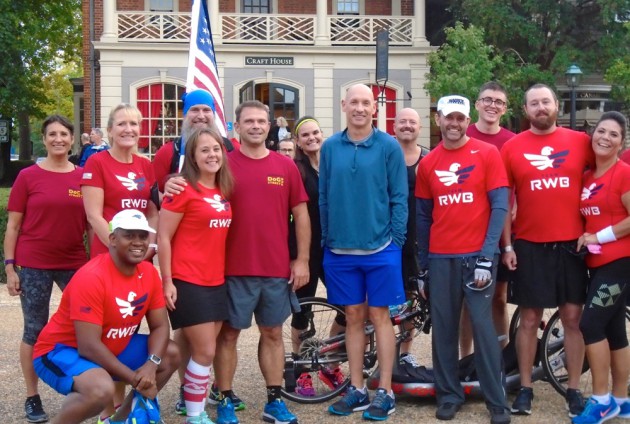 By Brandy Centolanza
When retired Navy veteran Thomas Tate was nearing the end of his career in the military, he gained a lot of weight. Dissatisfied, he decided to take up running to get back in shape.
"I visited a small local business on the Peninsula, and asked for help with shoes and gear," recalls Tate, who had been stationed at Naval Station Norfolk and has since settled in Newport News, Virginia. "I spent $600 that day, and the following morning I tried to run three miles and only made it one and a half miles in thirty minutes. But I was determined to lose the weight and be more physically fit."
That was nearly five years ago. Today, Tate runs 30 to 75 miles per week and is 70 pounds lighter. Part of his regimen is running a 5K every Monday evening through Colonial Williamsburg as part of the DoG Street Pub Running Club. The club began in March 2014 as a way to encourage people to come out into the community and get fit. Tate is one of the more dedicated club members, turning out each week even in inclement weather for the physical as well as the social aspects. He motivates other runners through Team Red, White & Blue, a fitness support group for veterans that runs with the club.
"One does not have to be a runner to be a part of this club," says Tate. "All ages, children, parents, grandparents, friends, visitors from out of town, strollers, dogs, and walkers are welcome and encouraged."
Beyond Colonial Williamsburg, Tate also likes to run the Yorktown Battlefields near his home.
"You get to enjoy a path that is clear, shaded, you meet various runners on the course, and you can get in 30 plus miles without having to worry about doing the same trek twice, or worrying about cars or having to stop for intersections," he says.
Tate admits that he doesn't particularly like to run but rather enjoys what he gets from it.
"I run to maintain a healthy lifestyle, and to meet new folks with different values in why they run," he says. "I love what it has done for me health-wise, so I will keep moving."
He encourages any veteran looking to maintain their fitness to check into local running groups.
"None of this is easy, but it isn't hard either," Tate says. "It is 100 percent mental, and your body will do what you train it to do."
# # #
Brandy Centolanza is a freelance writer who covers health, parenting, travel, and community issues for several publications in Hampton Roads and Richmond, VA. She lives in Williamsburg with her husband and two children.